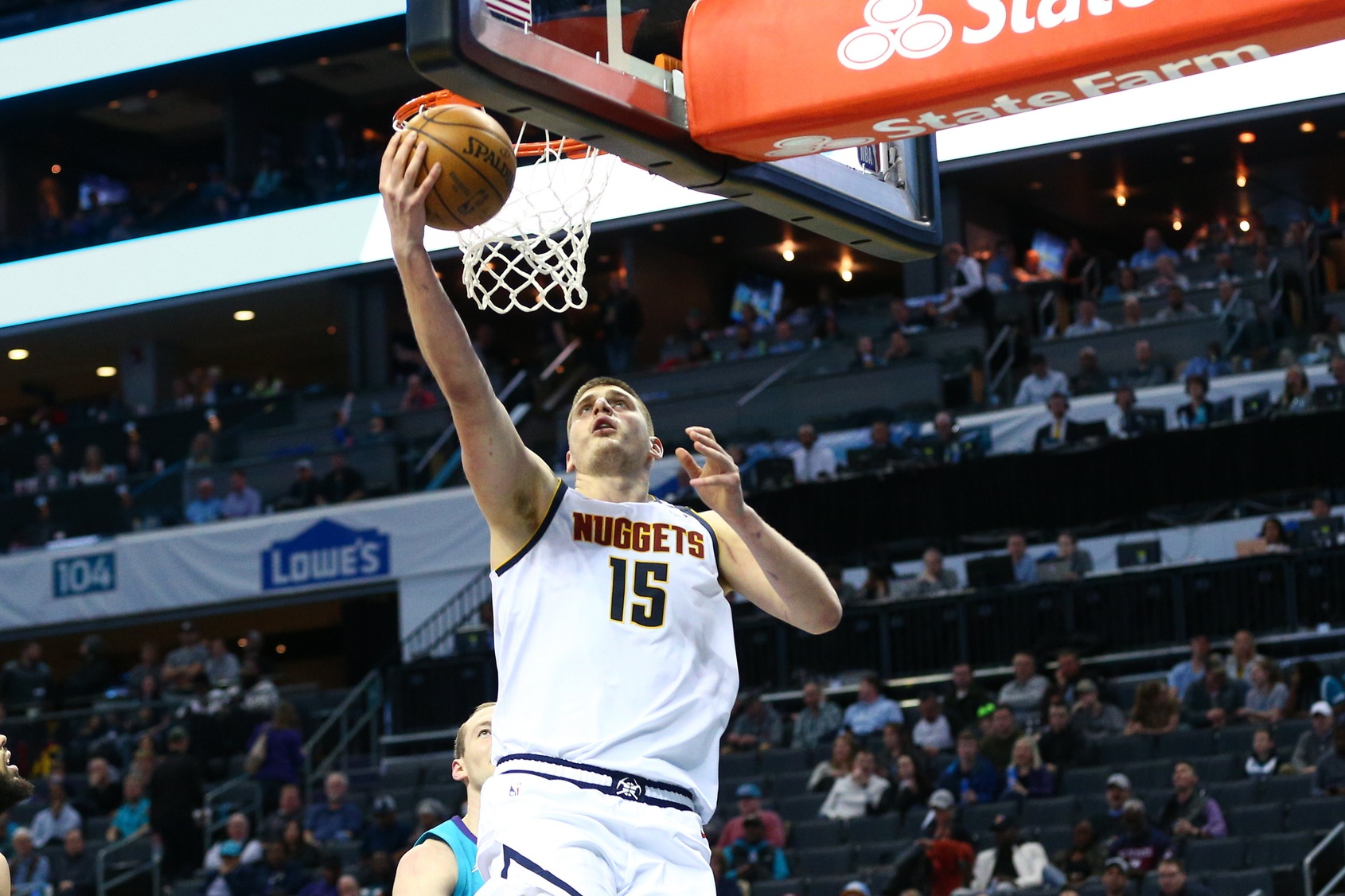 There are 15 games remaining on the Denver Nuggets regular season schedule, and Nikola Jokic has all but wrapped up the MVP Award.
Sure, that's one man's opinion (actually, an opinion shared by many men and women), but it's harder to make an argument why any other player should win, or why Jokic shouldn't, than it is to reasonably suggest that he's practically running away with the honor. Go ahead, try.
Here, use the betting odds to start your effort:
Jokic is currently the leader when it comes to the odds, coming in at -350. His numbers speak for themselves, but if there was any doubt that Jokic was deserving, Monday night's "eye test" was all anyone – check that, anyone objective – needed. The Nuggets were off. It was sloppy. It was ugly. And in reality, Denver had no business beating the Grizzlies on a snowy night in Colorado, but after two overtime periods, they did just that. Will Barton hit the game's biggest shot, and Facu Campazzo had the game's biggest steal, but this was Joker's night. The MVP favorite had 47 points and 15 rebounds – on 20-31 shooting (!). More importantly, he seemingly took over anytime the team needed him most.
During the postgame press conference, the subject of "signature moments" was the primary line of questioning. While everyone agreed the win over Memphis was a signature moment as it pertains to Jokic's candidacy for MVP, Michael Malone had the "correct" answer:
"He's had 56 of them," Malone accurately said.
Well, if that was an effort to say why Jokic should not win MVP, it failed. Miserably. Next…
Philly's Joel Embiid is an excellent player; he's currently one slot behind Jokic according to the oddsmakers. But the gap is big, as Embiid's odds are currently +350. Embiid scores at a greater clip than Jokic, and rebounds about the same, but doesn't compare in terms of assists. The biggest reason Embiid has no business beating out Jokic, however, is that even if the Joker sat out the rest of the season, he would still have played in more games than Embiid, even if the Sixers big man plays in all of Philadelphia's remaining games.  Jokic is better anyway, but his consistency makes it a no-contest comparison.
At +1600 is Milwaukee's Giannis Antetokounmpo. There's no doubt that the Greek Freak is an incredible athlete, but he's also won the award two seasons in a row. Only three players in NBA history – Bill Russell, Wilt Chamberlain and Larry Bird – have won three in a row. If Michael Jordan or LeBron James haven't done it, Antetokounmpo isn't doing it either.
Steph Curry is next up at +1800. Curry is having an incredible season. Averaging 31 points per game – almost 11 more than last season – Curry hardly appears on the downhill slide. How can anyone who shoots .491 from the field be sliding? But, Curry has missed eight games and his team is 29-29 and currently on the outside looking in with regard to the playoff picture. Without Curry, the Warriors would be awful, which is actually an argument for his case for MVP. But that's not enough. Incredible? Yes. Most valuable? Probably not.
We'll stop the list at James Harden, who currently sits at +2500. If you ask the man himself, he is the MVP. While it is impressive that Harden leads the NBA in assists per game, it's also easy to understand considering who he's passing to. Harden is an unbelievable player, but he's one head of a three headed monster. When everyone in Brooklyn is healthy, it's quite conceivable that Harden isn't even his team's most valuable player – maybe not even a runner up. Besides, voters should have a hard time forgetting that Harden couldn't lift his Rockets teams in years past, even when playing alongside a bevy of solid players. They can't feel good about voting for a guy who began the season out of shape, frequenting gentleman's clubs and demanding trades. A vote for Harden feels dirty, doesn't it?
This isn't first, nor will it be the last pitch for Jokic to win the MVP. But after taking over the game against Memphis on Monday night, this race is beginning to feel like a runaway.
If Joker doesn't win the NBA's MVP award, then the honor has become a joke.