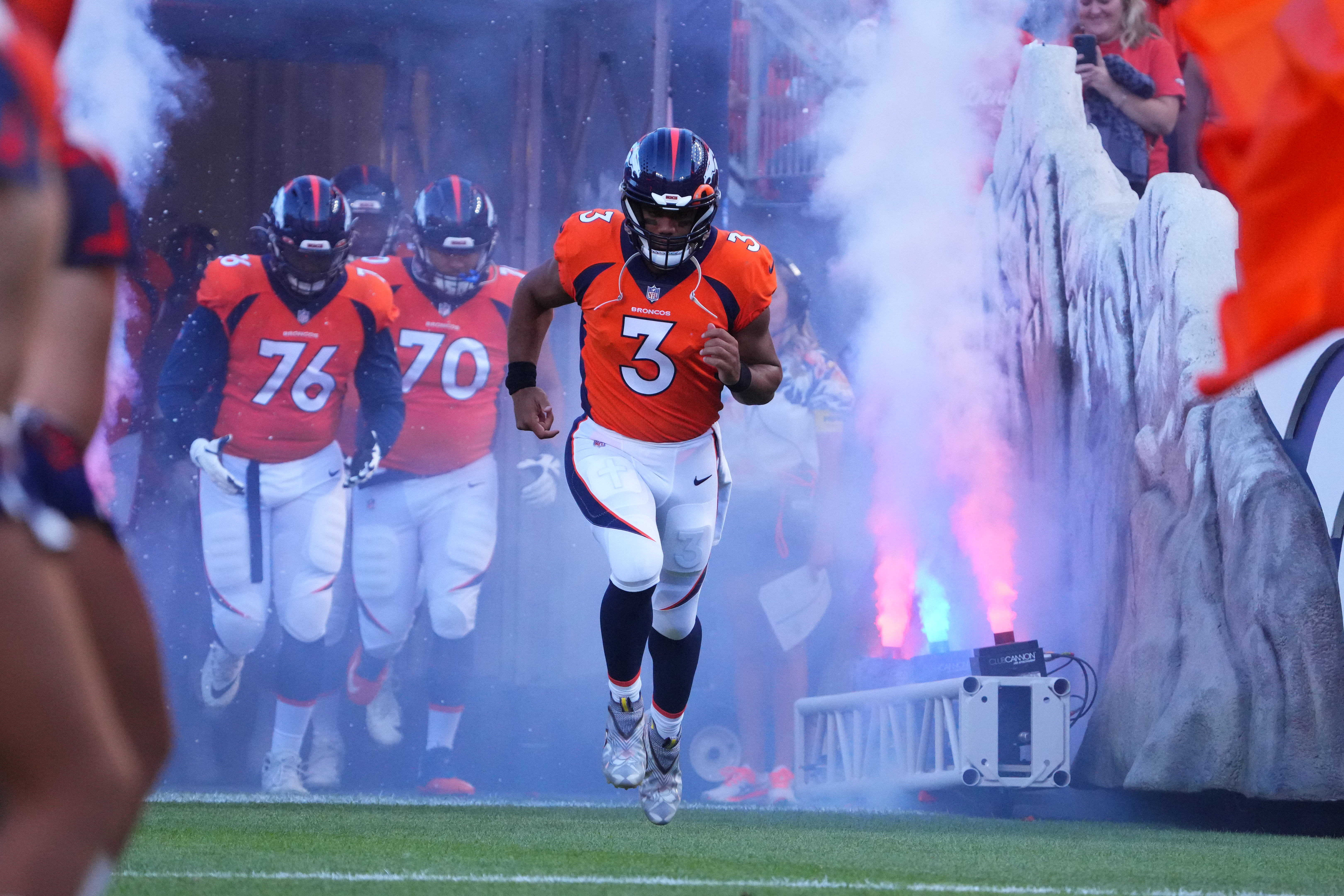 Broncos Country should be happy to learn that they won't have to suffer through another quarterback drought for nearly a whole decade, as the Denver Broncos agreed to a five-year, $245 million contract extension with Russell Wilson on Thursday.
The deal will allow the Broncos to keep the future Hall-of-Fame quarterback in the Mile High City for at least the next seven years.
"I'm excited to get this journey started," Wilson told the media in an opening statement. "I came here knowing I was going to be able ready to play on these two years and everything else, but George came to Mark and I and [said], 'Hey, what are you thinking?' We started to talk about everything, and we got really excited about the idea of being here for a long time. My focus—obviously, my number one focus was winning. That's why I came here, was to win. My number one focus was winning and doing everything, the whole process of that. We're on that journey right now and looking forward to it. I think the second thing is that to be able to make a difference. I really believe that [when] much is given, much is required."
Since it was announced early Thursday morning that Wilson and the Denver Broncos agreed to this extension, much of the talk surrounding the deal has been about the bargain George Paton was able to strike.
The average annual value (AAV) of Wilson's contract against the cap over the next years is 'only' $42.9 million, which puts Wilson just ahead of the extension Derek Carr signed earlier this offseason. It was widely expected that Wilson would demand to be the league's highest-paid quarterback, and, considering a human being as foul and venomous as Deshaun Watson managed to get a fully guaranteed deal, some even expected Wilson's deal to be fully guaranteed.
Wilson's extension is not only relatively affordable, but the fact it isn't fully guaranteeed gives the Broncos some added flexibility. If five years from now, Wilson is showing clear signs of decline, the franchise will be able to move off the star fairly easily.
What makes all this even more astounding is that Wilson held all the leverage in the negotiations as the result of the trade the Denver Broncos swung in order to land Wilson. They had made too much of an investment to let him walk in free agency. Funny enough, we saw this in Seattle, as the Seahawks still had to make Jamaal Adams the highest-paid safety in league history, despite him being a relative disappointment.
Despite that lack of leverage though, Denver managed to land Wilson for a reasonable price. How was this possible? Wilson took a mild discount in order to improve the team's ability to pursue a championship.
"To me, what it was really about was being able to win championships and being able to have enough space in the salary cap so George [Paton] can make his magic and we can get guys like Randy Gregory when he comes on the team or other great players," Wilson told the media on Thursday, in regard to the 'deal' he gave the Broncos. "We want to make this a destination location. It's one of those things [where] we have an amazing tradition, amazing football team. We have a lot of amazing new faces in the Walton-Penner [Family Ownership] Group. [Owner] Mr. Rob Walton, himself, Greg Penner, [Owner] Carrie [Walton Penner], [Owner] Condoleezza Rice, [Owner] Mellody Hobson, [Owner Sir] Lewis Hamilton and [Team President] Damani [Leech]. These are world class visionaries and world class executors and winners. At the end of the day, you want to be surrounded by that, and what's important, too, is making sure you surround yourself with amazing players. For me, I love these guys. It's been a blast and an amazing joy. For me, it wasn't really about how much, necessarily. It was about how many Super Bowls we can win. That's really the focus."
That should come as music to the ears of Broncos Country. Tom Brady already demonstrated in New England, and now in Tampa, the value brought on by that personal financial flexbility.
The Denver Broncos will now hope they get to experience the same end result.