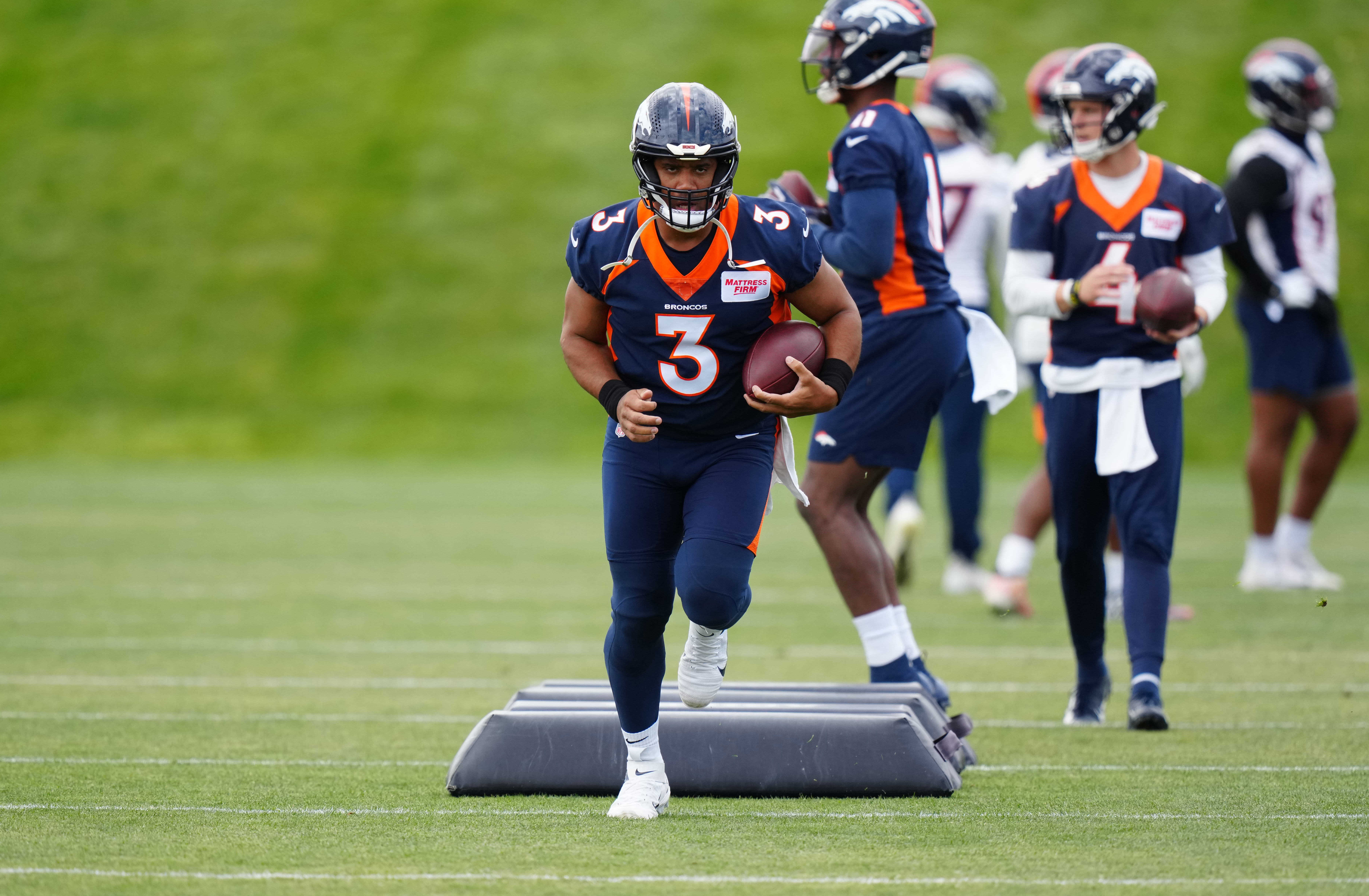 Russell Wilson is officially the face of the Denver Broncos.
That's right, we've ushered in the Russell Wilson Era in the Mile High City, and that's a great thing for Broncos Country.
Why? Wilson is a pro's pro, he's a vocal leader, but — as the most-gifted player on the team — he's also a leader by example, showing up "extra early" with the rookies to mandatory minicamp practices in Dove Valley.
When asked about how good the Broncos offense can be this year, Wilson said, "We look really good." Which is certainly encouraging. But as his answer continued on, it evolved and he decided to shout out his younger, mostly backup teammates.
"I think about guys like Andrew Beck that gets here early in the morning—'Saube' (Eric Saubert), 'Albert O', [WR] Courtland Sutton, Travis Fulgham," Wilson continued. "These guys are getting here early. Melvin Gordon has been getting here early and spending time.
"Then I think about the rookies. They get here super early and extra early with me—30 minutes earlier," Wilson said. "[It's] Montrell Washington, Brandon Johnson, Greg Dulcich. Those guys are spending quality time. I think about the linemen and how connected they are, too. We're going to have a really good football team."
Look, simply playing on the same team as a superstar and surefire Hall of Famer like Wilson has got to be incredible for these young players, and even guys like Sutton and Gordon, veterans who have battled through uncertainty in their careers. But beyond just playing with Wilson, he's using his status to reinforce and celebrate those young players who are making the most effort.
In that way, Wilson continues to "lead by expectations" as well as by example. He's there "extra early," 30 minutes before basically everyone else, and he's letting those young players know he not only notices that extra effort, but also reinforcing that's what is going to make or break the Broncos as a playoff team this year.
"I think we have a chance," he said.
It's been clear that Wilson — along with his superstar singer/swimsuit model wife Ciara — are in another stratosphere when it comes to fame. They've been everywhere lately including: Throwing out the first pitch for the Rockies, attending Denver Nuggets and Colorado Avalanche games, in New York City for Ciara's SI Swimsuit cover party, and even in Monaco for the F1 Grand Prix.
But, when asked about how he balances work and life on Monday, Wilson was quick to let the local media know he's laser-focused on the Denver Broncos.
"First of all, football is the No. 1 priority. That's why it never suffers," he explained. "You do everything you can to spend the extra time, you get here early, leave late. You do all that stuff. One of the things that I believe in is that you pour your whole self into it, no matter where my feet are, I'm going to pour everything that I have into it."
Head coach Nathaniel Hackett said he was, at first, worried Wilson would be able to pick up the new offense this offseason with his insanely busy schedule. But, then backed up his quarterback's otherworldly work ethic saying, "It's unbelievable to watch. Every single second that he has, he's non-stop working. If he's on a plane, he's watching film, he's studying, he's calling people and he's calling me. That's what you appreciate."
For the last six years, the Broncos have been a middling-to-awful team with no real leadership from the quarterback position. Now, they not only have that leader in Wilson, but a complete change in culture, similar to the way Peyton Manning helped resurrect the then-broken Broncos 10 years ago.
Wilson isn't Manning, he's his own man and his own style of superstar. But, what he's working to do is what The Sheriff did a decade ago: Inject life and expectations into the franchise which has been floundering for far too long.