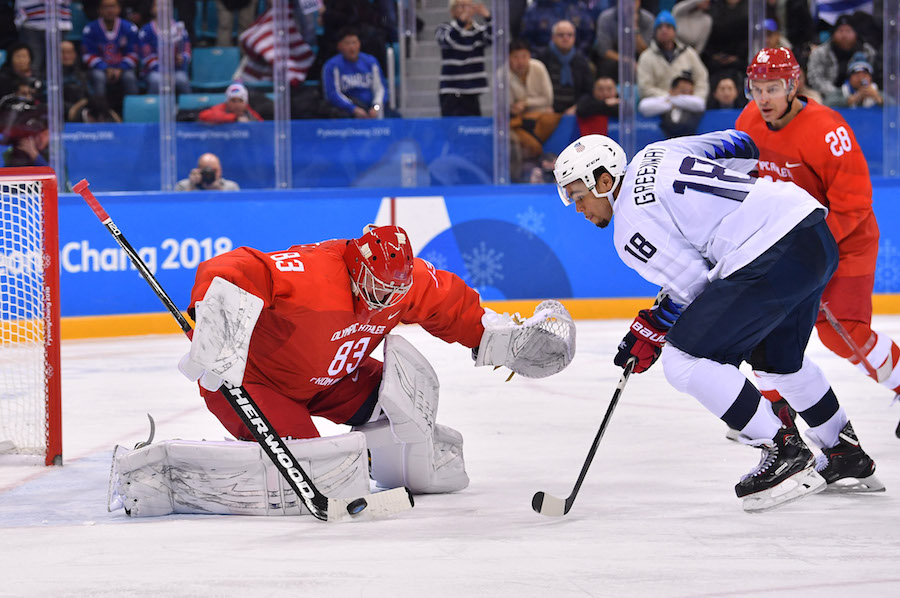 The Olympic Athletes from Russia exerted their dominance in the men's hockey tournament again on on Saturday with a 4-0 victory over the United States, clinching the top seed in Group B and advancing to the quarterfinals.
The U.S. team with the loss fell to 1-0-1-1 and into a tie-break scenario with Slovakia and Slovenia. The U.S. finished the preliminary round in third place behind Slovenia, to whom they lost 3-2 in overtime in each team's first game of the tournament.
Tony Granato's team now awaits its playoff opponent; the U.S. will finish preliminary play in either the seventh or eighth position, overall.
It was the second consecutive dominant performance by the O.A.R., who beat Slovenia 8-2 on Friday. Goaltender Vasili Koshechkin stopped all 29 shots the U.S. put on goal. The Americans surrendered three fewer shots, but Ryan Zaoplski could not match Koshechkin's effort.
It was a strong and steady press for the Russian athletes, who scored goals in each of the three periods — two in the second. Former No. 1 overall pick in the NHL Draft and Russian captain Ilya Kovalchuk scored the final two goals for the O.A.R.; the former Atlanta Thrasher and New Jersey Devil now skates for SKA Saint Petersburg of the Kontinental Hockey League (KHL). Nikolai Prohorkin scored the first two goals for the O.A.R.
Each side took 10 penalty minutes in the game, but each of the four O.A.R. goals was scored at even strength.
Highlands Ranch, Colo. native and Team USA forward Troy Terry did not register even a single shot on goal in the contest. Terry logged 14:56 ice time on 25 shifts and was minus-one on the night.
Group C wraps up preliminary round play on Sunday, after which time the United States will learn their opponent in the single-elimination playoff round. Those playoffs begin on Tuesday, Feb. 20.