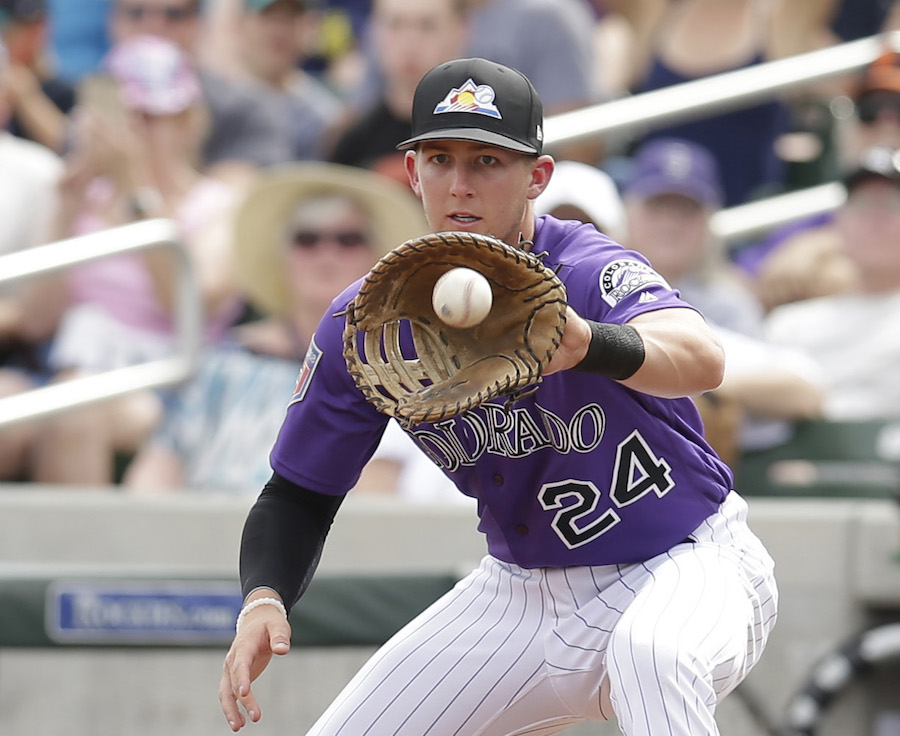 Ryan McMahon, by all rights, has earned a spot on the Colorado Rockies 2018 Opening Day roster.
His performance on the field has warranted his inclusion on Bud Black's lineup card come March 29. After hitting a combined .355 between Double- (.326) and Triple-A (.374) last season, including 20 home runs and 88 RBI, McMahon has torn up Cactus League pitchers to the tune of a .350 average and .974 OPS this spring.
His maturity shows he's ready for the bright lights of a season-opener. After being the clear-cut leader for the starting first base job through the first three weeks of Spring Training, his candidacy was complicated when the Rockies re-signed Carlos Gonzalez. The return of the Rockies' longtime right fielder pushed Gerardo Parra to left field and thus Ian Desmond into more direct competition at first. Since then, Black has moved McMahon around the diamond and in the lineup. McMahon hasn't blinked, continuing to put up consistent performances whether he's at first base, third base or designated hitter.
"His improvement at first has been noted," Black said last Thursday. "He looks much more comfortable. He feels as though he's belonging in this situation, big league camp, being with big leaguers. He's still young. He's still in his early twenties and this is his third major-league camp, so he should feel more comfortable and confident about where he is and getting to the big leagues."
So why might the Rockies leave McMahon off the Opening Day roster?
The Atlanta Braves have already answered that question for us this year.
The Rockies answered it in a similar manner in 2013.
By keeping McMahon in Triple-A to start the season, they can preserve almost a full year of team control on his free agency clock.
It's a quirky rule within the current Collective Bargaining Agreement that can't sit well with players (or even former players like Black), but it's part of the business of baseball as it exists today.
Ronald Acuña Jr. was by many accounts the best player on the Braves' Grapefruit League roster this spring. He is the top prospect in baseball, according to Baseball America. The 20-year-old slashed .432/.519/.727 during the spring with four home runs and four stolen bases. He will play for the Braves this year. Yet he will start the season with the Gwinnett Stripers so that the organization can keep him under team control for one extra year.
When a player reaches 172 days of service time — on average, there are 183 service days per MLB season but a max of 172 are counted — it registers one year towards his free agency countdown. He becomes a free agent during the offseason after crossing the six-year threshold.
The practice of manipulating a player's service time to keep him just shy of six years is not uncommon. The Rockies did it with Nolan Arenado in 2013.
Arenado currently has 4 years, 155 days on his ledger. Because he will end this year 17 service days short of the required six years, the Rockies will have him for another full year in 2019.
Arenado back in 2013 didn't have nearly the spring that McMahon has put together in 2018. Before making his big-league debut on April 28, 2013, Arenado hit .278 with an .852 OPS during Cactus League play. After hitting .364 in 18 games (and once that key service time date had passed), Arenado made the leap to the majors and proceeded to start 128 games that season. He earned his first of five consecutive (and counting) Gold Glove awards and finished seventh in N.L. Rookie of the Year voting.
This is not to suggest that McMahon will have a similar experience in 2018.
McMahon has a two-time All-Star — at two different positions — and three-time Silver Slugger now ahead of him on the depth chart in Desmond.
(NOTE: The Rockies' official depth chart still has McMahon ahead of Desmond on the depth chart at first base; however, Desmond has started twice as many games at first since March 11.)
Desmond's ability to play virtually any position outside of the battery, plus McMahon's left-handed bat, give Black plenty of platooning options with his lineup regardless of when McMahon joins the big league club. But platooning him with Desmond may not make sense for either of them. Desmond is at his best when he is seeing consistent playing time in a predictable role. McMahon projects as a full-time position player in the near future.
Where on the field, exactly, that will be could also play some role in whether the Rockies choose to promote him right away, and why it might make sense to keep him in the minors.
McMahon came up as a third baseman, but with Arenado's golden grip on that position through at least the 2019 season there was reason to see if McMahon could find his way onto the field elsewhere. As such, he tested second base and has been learning first base.
However, Arenado may become a free agent in 2020. Keeping McMahon limber at the hot corner wouldn't be the worst idea in the event Arenado's price tag climbs too high for the Rockies' liking.
There's no denying the value of experiencing life in the majors — learning from the players there and scouting those pitchers — but the best place for McMahon to continue to develop his skills at both first and third base, and to get consistent at-bats, on a daily basis would be at the Triple-A level.
Because McMahon is on the 40-man roster, the Rockies would need to wait at least 21 days to call him up or the time he was left off the roster to start the season would be applied as service time retroactively.
McMahon accrued 39 days of service time in 2017, further complicating his timeline.
To squeeze a "seventh year" out of McMahon like they did with Arenado, the Rockies would effectively have to wait until around June 1 before bringing him up to the majors this year.
If McMahon could contribute at even 75 percent of what Arenado has, it might be worth it.
For his part, Black hasn't exactly tipped his hand about McMahon's status come March 29.
The picture became a little more clear on Tuesday when the club assigned first baseman/outfielder Jordan Patterson to Triple-A, giving McMahon some breathing room. However, there is tight competition right now for the final two spots on the roster.
"I think that's something we've talked about," Black said about strong performances late in the spring from McMahon and outfielders David Dahl and Mike Tauchman, "a number of guys who are really fighting for a spot on the roster, or if not they had a good spring and we know that how they played this spring should carry over into their season wherever they start. That's the good thing here that we are seeing — good baseball from guys that we are counting on at some point this year, whether it's at the start of the season or whether it's somewhere once the season starts."
Dahl and Tauchman are locked in a battle with Raimel Tapia for Black's bench outfielder spot. The final spot on the 25-man roster could go one of those three, or to McMahon.
"Those decisions I think a lot of times will play themselves out even as you get closer," Black said last Friday. "These next couple weeks for us, when we go through this and we watch players play — both pitchers and position players — some of those decisions might be clear and some might be maybe not so clear. Maybe we have to make a hard choice, but you can make sure this: That as it comes to each guy, these are well-thought-out decisions why. In most cases we can explain most of them, but there's probably parts of it we won't be able to tell you publicly, which is always the case. We want to in most cases be extremely open, but there's other times — as you guys know — we can't say things because there could be a lot of things going on behind the scenes. I mean there's trades, something happening, or a guy's health. You know, he might not be 100 percent, but he's playable. But we'll be very thoroughly processed when we make those decisions."
Black is adept at keeping his hand close to the vest, and that answer wasn't to a question about a specific player, but the last part of it could easily apply to Parra and utility infielder Pat Valaika, who each missed significant time in Spring Training with injuries.
Valaika's oblique strain could help McMahon's cause. They're similar players in many regards, and Black may not want to go into the regular season with only one bench infielder — especially one playing at less than 100 percent. However, the ability to keep McMahon's service time clock from kicking into high gear might trump having extra help in the infield for the first two months of the season.
In a year where expectations are the postseason or bust, the Rockies may not have the luxury to hold back McMahon as they did with Arenado in 2013. The 2012 club, after all, produced a franchise-worst 98 losses before Arenado arrived and helped to start the turnaround that finally matriculated with a trip to the postseason last year. Playing the service time game with McMahon may not be worth the risk if Black thinks he's one of the 25 best players to help the Rockies get back to the playoffs.
That's a conversation to be had between Black and General Manager Jeff Bridich in very short order, if it's not already being had in parts.
As Black suggested, the nitty gritty of those conversations may not become public, but if McMahon stays in Triple-A until early June there's a pretty clear reason why.