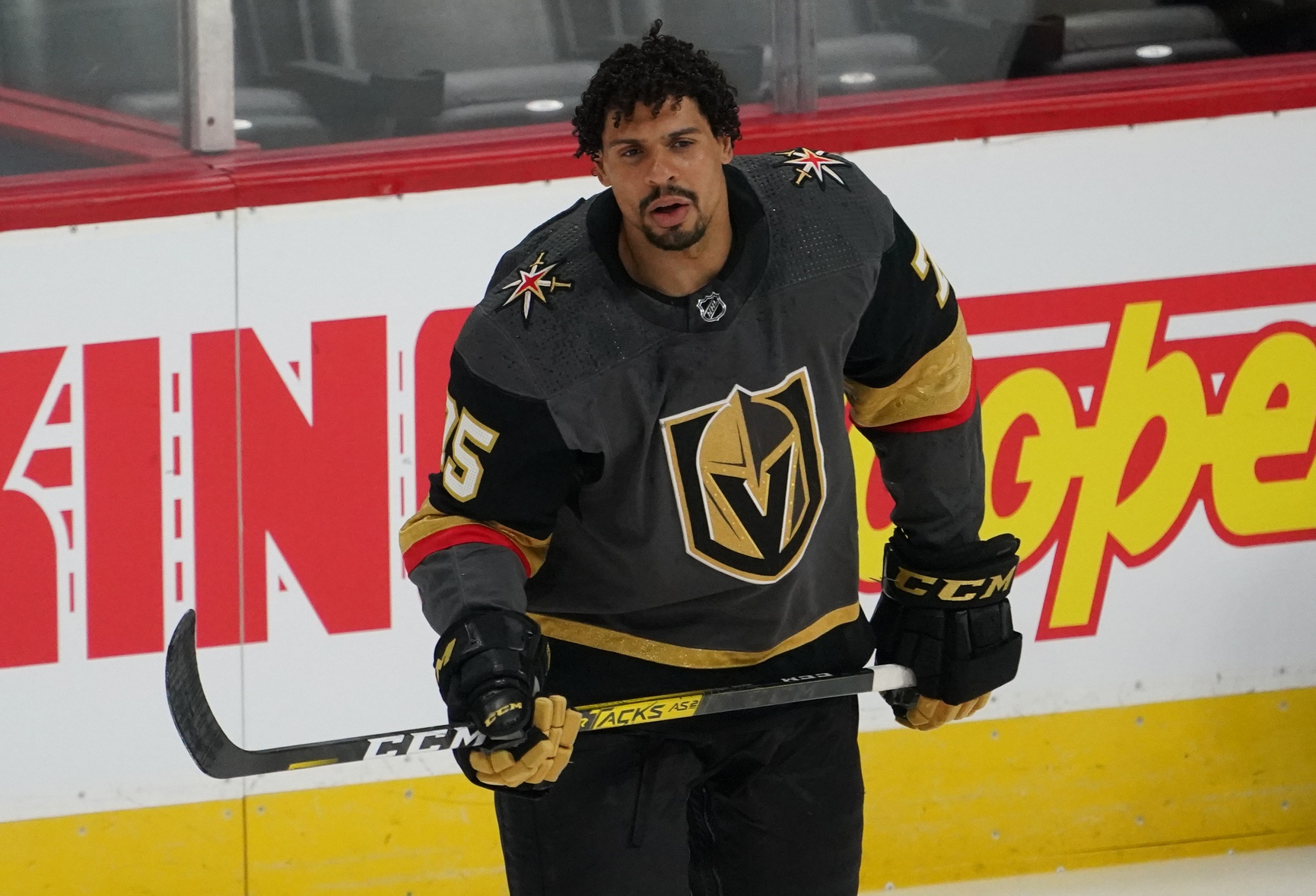 EDITOR'S NOTE: Mile High Sports Magazine contributing writer and author Terry Frei has covered the Avalanche since its 1995 arrival in Denver. He will be writing commentaries during Colorado's 2021 playoff run for the MHS site. 
In no way am I trying to excessively equate what's going on in the Avalanche-Golden Knights Western Conference semifinal series with the events that led to and included Vancouver winger Todd Bertuzzi's attack on Colorado center Steve Moore in March 2004.
Not yet.
I covered that incident's buildup, I was there that night in Vancouver, and I wrote as much as anyone on the planet — too much for some folks, I know — about it. That was both in the immediate aftermath and in the seemingly interminable wait for Moore's lawsuit to be settled as a court date finally approached in Ontario.
You can read my narrative here.
There indeed are many differences, and the biggest is the Moore-Bertuzzi mess came with that multiple-week, multiple-game buildup, going back to a Moore hit that injured Canucks' star Markus Naslund.
A Moore answer-the-bell fight with the Canucks' Matt Cooke earlier in that notorious game that was supposed to have put it all to rest. The most vehement of the Code proponents overlooked that.
Ryan Reaves' attack on Colorado's Ryan Graves involved single-game combustion. He was avenging and retaliating for the Graves hit that knocked the Golden Knights' Mattias Janmark out of the game. Taking Graves to the ice, pressing his head into the ice and pulling out a clump of Graves' hair … there, that'll teach him.
Unfortunately, despite Reaves' stunningly light two-game suspension, there very well might be more disgusting sideshows in the remainder of this series, which resumes with Game 2 Wednesday at Ball Arena.
I'm not irate about the contrast between Nazem Kadri's upheld eight-game suspension and Reaves receiving a slap on the wrist from Blues Brothers' Sister Mary Stigmata and her ruler. I'm just puzzled. Actually, I assume that if the Golden Knights looked at this as retribution and message sending, their mission was accomplished and given Reaves' role and minimal talent, they would have had no problem with a longer suspension as worth it.
Plus, given the emphasis on head injuries, Reaves driving Graves' head into the ice makes a dark joke of the "Player Safety" mission in the league office. The Princeton-educated George Parros, the head of the department, by the way, played two games for the Avalanche during his NHL career as an enforcer.
Much of the talk over the last few days has left me thinking: I've heard this before.
I've heard it during Moore-Bertuzzi, certainly, but also often in the many years I've covered the NHL.
The Code.
The NHL long ago legislated the worst of the excesses out of the game. Give it credit for that. Bench-emptying brawls are history, not because of campfire gatherings to sing "Kumbaya" and "Peace Train," but because the cost — on several levels — is prohibitive. Pure goons and the farcical sideshow/appointment fights tied to an attempt to fire up the boys and justify roster spots have become more rare, too. A few coaches remain dinosaurs and make room for the slugs, at the expense of players with NHL talent, but it's usually a detriment to team chemistry.
That said, what's so striking is the way that, despite the internationalization of the talent pool, so many elements of that North American-based "Code" remain in place in the NHL and pro hockey, unshakable and, to many, unchallengeable.
Contest it and the brainless, witless challenges from those who have memorized the text and subclauses is lazy and automatic: "Well, then, you don't understand the game!" It's the intellectual equivalent of sticking out your tongue in a debate.
Fighting? Both sides — pro and con — make the arguments on automatic pilot. Even Siri can make the case for or against if you ask her on a drive through, say, the San Fernando Valley. Pro: Deterrence and accountability. Con: The game's better than that. It doesn't need it. And it's especially gotten ridiculous as the Code expands to mean that even a clean, tough, hard-nosed, physical hit on a star is considered to merit retribution. Hit our star, even cleanly, and be prepared to drop the gloves, pal. 
I was covering the league when, ahem, rugged Dave Semenko patrolled Wayne Gretzky's wing. Clark Gillies was the protective, but also talented, winger with hyper-talented (in different ways) Bryan Trottier and Mike Bossy. I'm aware of those traditions. But I don't believe there ever were no-contact orange jerseys on those stars.
The Avs' Gabe Landeskog is a terrific captain and teammate. He conceded he believed the hit by the Blues' Brayden Schenn on Mikko Rantanen in the first-round series was clean. Many emotional and blinkered fans, of course,  disagreed. But after what he pronounced a clear hit, he explained he felt it necessary to "stand up for" his teammate and linemate, and to fight Schenn. I didn't hear anyone question that. Not one person.
The NHL belittles the NBA for its favoritism of stars, yet implicitly embraces the same concept without embarrassment.
In this case?
On display again has been the curious 180-degree standard often espoused within the game, among media and team-affiliated broadcasters, and among fandom.
It's all about whose ox is gored.
If your guy delivers the hit, it's usually as clean as a Lysol-scrubbed table.
If your guy is taking the hit — the same hit or a reasonable facsimile thereof — it's interpreted differently.
I'll say this nicely because I've been part of it: NHL writers tend to avoid making you guess which team they cover and favor. Noticing the contrast in the Twitter feeds, for example, can be darkly funny. In the first-round series, the Schenn hit was portrayed as dastardly, disgusting and worthy of banishment to Charlestown. To a mill job.
This was mostly overlooked after Game 1 of the Knights-Avalanche series Sunday:
— When Bertuzzi attacked Moore 17 years ago, the Avalanche led the Canucks 5-0 in the third period.
— When Reaves attacked Graves, the Avalanche led 6-1 in the third period.
I'm serious about this: After many years of seeing the cement-head excesses unfold late in out-of-hand games, I'm convinced the NHL should return to being serious about late-game shenanigans and make major/game misconducts / match penalties in those situations, however they're defined. Make them subject to automatic suspensions.
Unfortunately, if this series gets even uglier, the NHL got what it wanted.
How can you draw any other conclusion?
Terry Frei is a seven-time winner of a state's sportswriter of the year award. Among his seven books are "Horns, Hogs, and Nixon Coming," "Third Down and a War to Go," "'77: Denver, the Broncos, and a Coming of Age," and "Olympic Affair." Info is available on his web site.