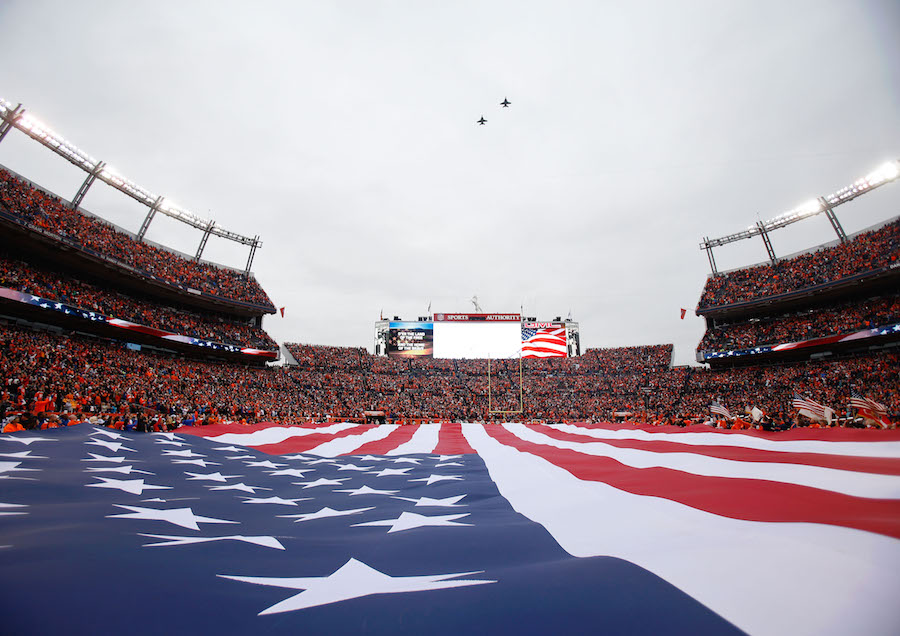 During our younger days, my friends and I used to try to sneak into baseball stadiums – like old Mile High Stadium for instance – and see if we could snatch a used lineup card that had been left hanging on a dugout wall. It was both a souvenir hunt and a mini-adventure. There were a few times we did manage to make our way down to the field and into the dugouts after hours to obtain that souvenir from a Triple-A baseball game. Most people would have been happy grabbing a foul ball. Not us. We liked adventures.
Those days are long gone of course. Today stadiums are buttoned up tighter than Tom Brady's lips during the Deflategate investigation. It's tough to move around freely from place to place while the game is going on these days, much less when the gates are shut for the night. But trespassing kids is not the reason. There are actual, real threats that exist outside the stadium gates that extend well beyond our borders. Today is the day we are reminded of that over and over again.
Those in charge of keeping us safe at games are largely the same people assigned with keeping us safe while we live our day-to-day lives. During the course of doing their jobs, these people often find themselves in some very un-safe locations – places like the Middle East, South America and beyond. They can tell fascinating stories. At a Rockies game last month, I found myself in a long and riveting conversation with a longtime federal agent. His life's work has taken him into some dire situations where anti-American sentiment still boils. I listened to his stories and I started to wonder. Thankfully nothing horrific has happened on American soil over these past 14 years, but when you hear about the sheer volume of hatred for America and our allies that still reside in other parts of the world, it's fair to ask: Are we safe at sporting events today?
While we'll never see anything resembling the football stadium scene in The Dark Knight Rises, I asked what I thought was the obvious question: Are we truly safe when we gather at huge sporting events? Wouldn't it stand to reason that if those who wish to do harm to citizens of this country were looking for a mass gathering to attack, they might choose a jam-packed football or baseball stadium as a target? The terrorist attacks of Sept. 11, 2001 killed almost 3,000 people. That's fewer than attend Triple-A baseball games in Colorado Springs. Those terrorists could have just as easily targeted Met Life Stadium on a football filled Sunday afternoon, and the number of fatalities would have quadrupled … and then some.
That was true then, the agent told me. But not anymore. Because of what we learned from that day, it won't happen ever again.
"We are safe here," the agent told me as we strolled around the club level. "There's a lot of preparation that goes into security at all these events now." There are more cameras, more police presence; people are more in tune to reporting suspicious activities. There's always going to be that threat. But we are safer today because of better technology, better security, a heightened state of alert and better training for law enforcement.
"Prior to 9/11 there was security but I don't think people thought it would be possible for extremists to commit mass murders in this country. 9/11 just opened everybody's eyes to the potential of what could be…and based on that, people have reacted. Training is better, briefings are better and the intelligence gathering is better. We are much safer now."
As we've seen all too vividly in recent months, threats don't just come from overseas. A single disturbed person can also do a lot of damage. Security measures at stadiums now have to account for everything from a well-organized terrorist attack to a misplaced drunk with a knife.
On Sunday, the Denver Broncos will open the new NFL season at Sports Authority Field, where the security has gotten a little tighter. Metal detectors have been installed at all the entrances to the stadium. This is reportedly being done to expedite the entry process and be 'less intrusive' than the old "pat down" procedure, allowing for a better flow of fans coming into the stadium. But it's also being done to "increase safety" for those attending the games. Similar systems are already in place at Coors Field and the Pepsi Center. By 2017 every NFL stadium will have walk-through metal detectors like these. Safe to say no one is sneaking in.
Better diplomacy and a heightened state of awareness – along with a lot of extra security precautions like these – have created a safer America. While movie directors may see packed stadiums as inviting targets, those who protect this country are far more ready today to protect any and all potential targets than they were 14 years ago. There's no sneaking into our stadiums anymore.
Listen to Mark Knudson and Michael Klahr, Saturday mornings 8am-10am on Sports Stampede Radio on AM 1340 Mile High Sports Radio.