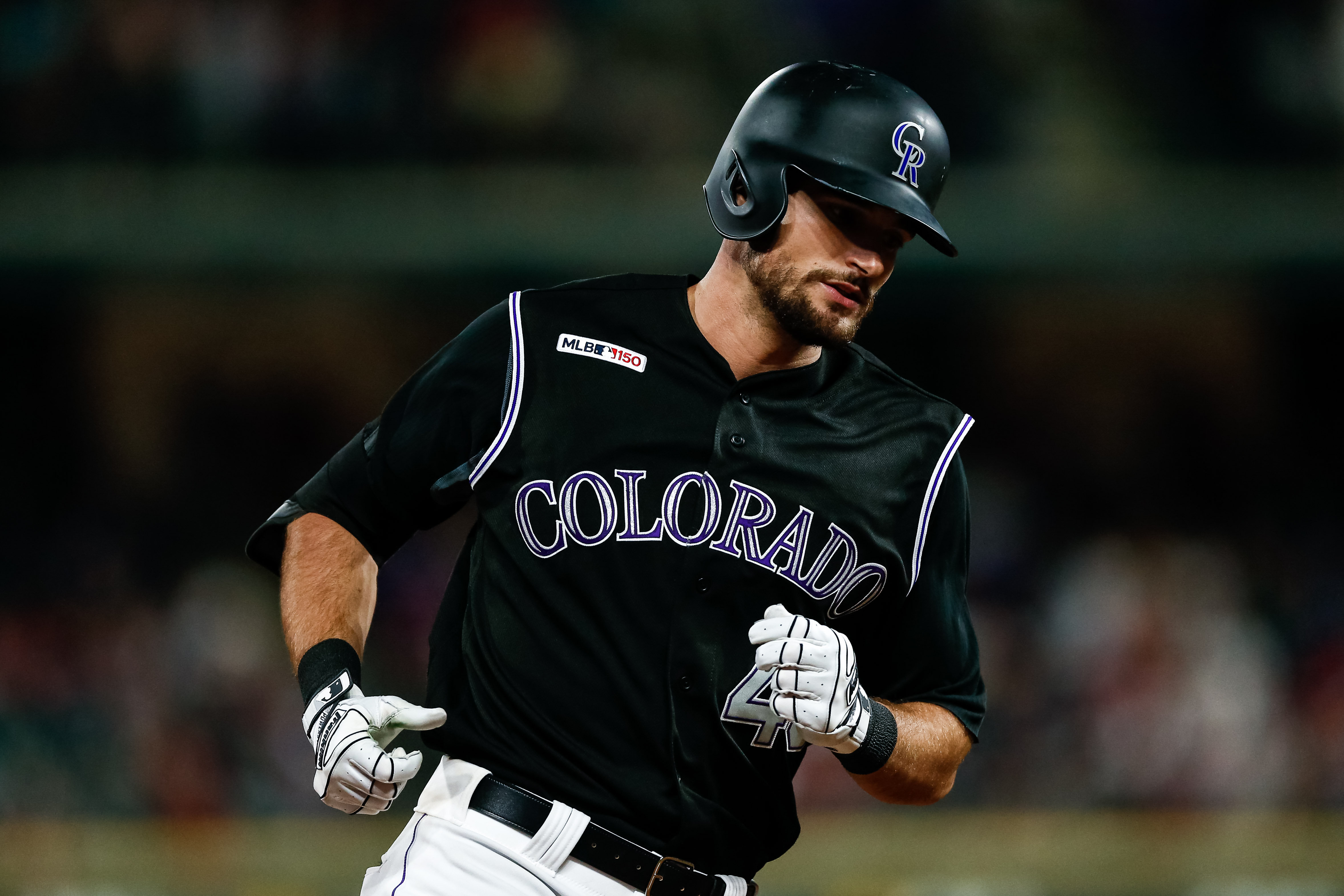 Players have shifted around between Colorado Rockies' minor league system and the big leagues for a majority of the second half. One of Colorado's top prospects was called to the show ahead of Tuesday's series opener due to their newfound infusion of young players in a lost year.
Sam Hilliard, the No. 9 prospect in Colorado's farm system, made his major league debut Tuesday evening at Coors Field, starting in center field for the Rockies after he was called up from Triple-A Albuquerque.
"It's a dream come true," Hilliard said. "I am just trying to soak it in right now and enjoy the moment. It doesn't feel real."
Roughly 15 family members and friends joined Hilliard for his big day at 20th and Blake. He made his debut memorable by crushing a two-run home run in the bottom of the eighth inning for his first career big-league hit.
The new guys seem to be making this a habit!

Congratulations on your first career hit AND home run, Sam Hill-YARD! pic.twitter.com/yXNwrhSoHv

— Colorado Rockies (@Rockies) August 28, 2019
Every big-league player remembers getting called-up to the show for the first time. However, instead of thinking he was moving up the ranks, Hilliard was under the impression he was being benched for not hustling in a game for Albuquerque.
Isotopes' manager Glenallen Hill decided to have a little fun with Hilliard before delivering the good news.
"I was playing yesterday and I came out of the game in the fifth inning, and he pulled me over and said 'What did you think about your effort level on that pop-up to left field?'" Hilliard said. "I said, 'It was good. I ran hard,' and he said he had to take me out. I got really upset and thought I was getting pulled because of lack of effort."
Hill's antics rattled Hilliard a bit. Confusion and frustration set in as the fifth inning felt like the longest frame in Hilliard's career. However, after the game, Hill called him into his office for a postgame chat to share the real reason he was pulled from the action.
"He liked to build up the suspense and make it nerve-racking for me," Hilliard said. "He called me into his office after the game, and he was just telling me lessons about baseball and playing hard, and that I was going to want to remember that when I'm in the box at Coors.
"That's how he dropped it on me. I don't really remember what happened after that."
Hilliard's call-up was warranted after he produced an onslaught of offense for the Isotopes, leading the club with 35 home runs. Hilliard's 35 longballs are attached with a .265 batting average, in addition to a career-high 101 runs driven in.
Hilliard is the fifth player in the Rockies' top-20 prospects to make the jump to the big leagues this season. Due to the amount of roster movement, Hilliard walked into the clubhouse in downtown Denver for the first time and was greeted by a herd of familiar faces.
"I am used to playing with a lot of these guys," Hilliard said. "The 'Cucarachas' are up here, and it makes it easier coming into a clubhouse with a bunch of guys I know really well."
Although Hilliard was starting in center field Tuesday night, part of him that thought he would make his debut on the mound someday. Hilliard was a pitcher throughout his early playing days but was converted to an outfielder in the minor leagues.
"(I was) later than most to transition," Hilliard said. "I knew I was a good athlete and could do it. The transition on the mental aspect of the game, that preparation – it took a while to adjust. I still have a lot to learn and I am never done learning."
While there have bumps in the road in Hilliard's transition to the outfield, he chooses to focus only on positive experiences, labeling failure as "an opportunity to get better."
Hilliard is known for his power stroke at the dish; however, his run production is matched with a bevy of strikeouts. The 25-year-old punched out in nearly one-third of his at-bats with the Isotopes this season.
"There is always room for improvement, and I understand where I need to improve. I am always working on that constantly," Hilliard said. "I am trying to stay positive. I never want to look at things in a negative light."
Still, Hilliard has experienced a tremendous growth since the Rockies drafted him in the 15th round of the 2015 MLB draft. After a couple of stints with the pro club during spring training, Hilliard specifically worked on the nuances of becoming a professional baseball player.
"I was just working on having a consistent approach," Hilliard said. "That is one thing I have always struggled with. Just trying to become more of a professional. The tiny things day in day out in the cage, never taking a day off. The accumulation of that really helped my success."
The club has shifted their priorities to playing the young guns extensively as the season begins to dwindle down and Skipper Bud Black is excited to see what Hilliard can bring to the table.
"Here is a guy that the (multiple) repetitions he has gotten over the years have made him a better player," Black said. "If you have a skill set, athleticism, speed, power and a work ethic, you are going to get better. I think Sam is one of the guys that has done that. His work combined with who he is as a person, he has put it together, especially this year… He's got the toolset to be a player."