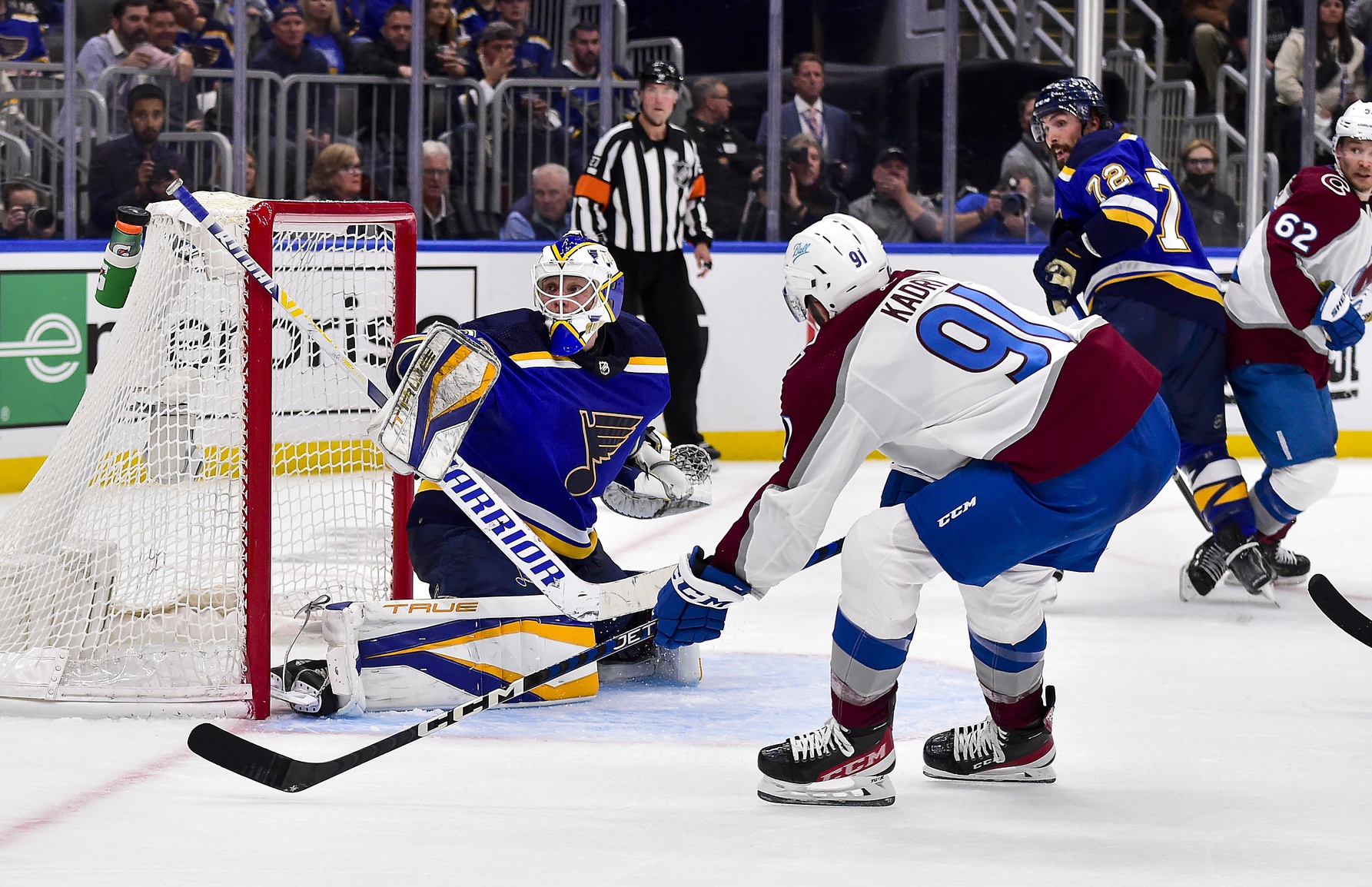 It was the Avalanche's turn to make adjustments and answer back. And they were successful in doing so in a tense Game 3 matchup at Enterprise Center.
Colorado lost defenseman Samuel Girard, who broke his sternum following a hit from Ivan Barbashev. The Avs erased an early one-goal deficit to defeat the St. Louis Blues 5-2 on Saturday. Girard will miss the rest of the postseason according to head coach Jared Bednar.
Artturi Lehkonen added an empty netter late to seal the victory for the Avs in the first of two consecutive games on the road. With a 2-1 series lead heading into Monday's Game 4, the tension between the two clubs has risen to new lengths.
Not only was Girard injured for a hit some of the Avs didn't like, but St. Louis lost starting goalie Jordan Binnington in a collision with Colorado's Nazem Kadri and Blues defenseman Calle Rosen. Neither team is happy with the result. And that was made clear in media availabilities following the third consecutive road victory for the Avalanche to start the playoffs.
"I thought it was a legal check," Bednar said of the hit Girard took from Barbashev. "He kind of goes in on his head side but he got a lot of body. He was turned the wrong way and he went in awkward and I mean it was a heavy, heavy check. Unfortunate. But to be honest, I think it was a legal check."
Bednar went into greater detail than Blues head coach Craig Berube did when describing his thoughts on the Binnington injury.
The goalie was replaced by backup Ville Husso, who surrendered four goals on 23 shots to Logan O'Connor, Artturi Lehkonen, Gabriel Landeskog and Kadri.
"Look at Kadri's reputation, that's all I have to say," Berube said.
Kadri was targeted while speaking to TNT studios in a postgame interview. A water bottle was thrown at him while he was answering questions.
Nazem Kadri said he believes Jordan Binnington was the player who threw the water bottle had him in the TNT postgame interview.

— Peter Baugh (@Peter_Baugh) May 22, 2022
Kadri was also booed for a majority of the evening by the sold-out crowd in St. Louis. The veteran center has a history against the Blues that makes him anything but a fan favorite. He was suspended for eight games following a hit that knocked Blues defenseman Justin Faulk out of the playoffs last season.
"From my perspective, there's nothing personal," said Kadri, who also added an assist on Lehkone's game-winning goal. "I'm just going out there to try to win and compete. And if people take that personally then that's on them.
"For me, what happens on the ice stays on the ice. I'm just a competitor. I want to win."
Berube said Binnington was still being evaluated for a lower-body injury. It's unclear at this time if he'll be able to return for the Blues on Monday.
At the other end, Avs starting goalie Darcy Kuemper stopped 29 shots to earn his fourth victory of the playoffs.
__
Aarif Deen is our Colorado Avalanche beat reporter. He covers Avs games live from Ball Arena and attends practices, media availabilities and other events pertaining to the Avs on the daily beat. He is also a co-host of Hockey Mountain High: Your go-to Avalanche Podcast. Deen joined Mile High Sports upon completion of his bachelor's degree in journalism and master's in business administration from the University of Michigan – Dearborn. Before Mile High Sports, Deen worked for the Michigan Wolverines Athletics Department as the assistant sports information director.
Listen to "Exclusive with NHL's Steve Mayer" on Spreaker.