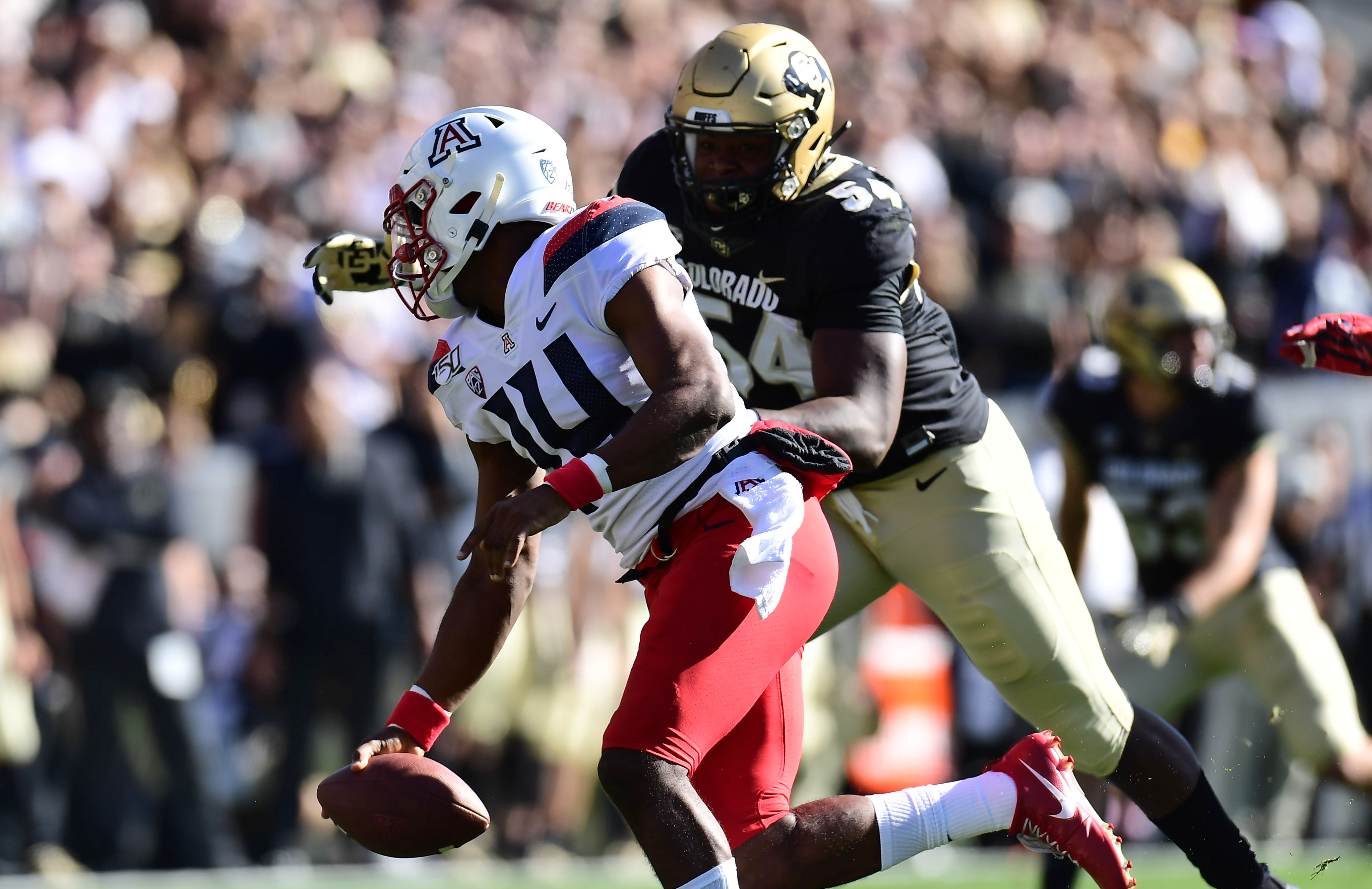 The back and forth shootout for first in the Pac-12 South certainly met expectations, as Arizona outlasted Colorado 35-30.
This is the fourth-straight win by Arizona in Boulder. They now are alone atop the Pac-12 South with a 4-1 record overall and an undefeated 2-0 in the conference.
There was little to be impressed with on the defensive side of the ball for either team. But against a quarterback with speed and elusiveness on the ground, Khalil Tate, Colorado's defense was able to limit the Arizona rushing attack to 83 yards. Tate's status was questionable for the game, his play was anything but.
SEE! YOU! LATER!

Tate ➡️ Peterson for the TOUCHDOWN!#BuildingTheA 🅰️ | #BearDown pic.twitter.com/sayFR5NbMG

— Arizona Football (@ArizonaFBall) October 5, 2019
Quarterback Khalil Tate is the first standout of the afternoon. The ankle and hamstring concerns leading up to the game may have contributed to his lack of rushing, 23 yards on 4 carries. Tate had no problem taking advantage of an injured Colorado secondary, though. He had a career day passing going 31-for-41 with 404 yards for 3 touchdowns and 1 interception.
And who caught the interception, the only turnover of the game? That's right. Mikial Onu. Unfortunately a few series after the takeaway, Onu came off the field in discomfort after chasing an Arizona receiver down the sideline. Already without Laviska Shenault Jr., Mustafa Johnson, Chris Miller, and Aaron Maddox, both Onu and K.D. Nixon were on the sideline late in the game. Nixon's absence on Colorado's last possession no doubt limited their offensive approach.
Once again, the steady production of Tony Brown was key to the Buffaloes staying within striking distance. Brown is the next standout for the home loss. Steven Montez was unable to find Brown in the end zone Saturday, but they did connect 10 times for 141 yards. Brown also took a beautiful reverse around the end for a touchdown in his only rushing attempt of the day.
One play after a 49-yard hookup from Montez, @tonybrownxviii takes it in by himself. He's becoming a cheat code.

📺 Pac-12 Network#GoBuffs || #BeatArizona pic.twitter.com/bIbp3V2xYu

— Colorado Buffaloes Football (@CUBuffsFootball) October 5, 2019
Brown has been phenomenal for the Buffs all season, and that continued Saturday.
Freshman receiver Dimitri Stanley also had a great day for Colorado. He racked up 75 yards on 4 catches and caught a touchdown on a pass from K.D. Nixon. He's the third standout of the day, and the receiver to receiver passing touchdown was the first trip to the end zone for Colorado of the game.
A look at that touchdown pass from @Superstarnixon to @Dimitri_114

📺 Pac-12 Network#GoBuffs || #BeatArizona pic.twitter.com/KC42vdCTlM

— Colorado Buffaloes (@CUBuffs) October 5, 2019
As the score flipped and flopped, back and forth, the only real separating factor was penalties. Arizona went much of the game without any penalties and had only one for five yards at the end of the contest. Colorado, on the other hand, had 8 penalties for 85 yards.
In a winnable game, albeit without some of their key players, the Buffaloes were unable to execute to the high degree of Arizona. Dropped passes and penalties stalled drives and settling for field goals in a shootout never lasts. There was even an opportunity early for Colorado to get the ball just outside the Arizona goal line on a muffed punt, but the Wildcats recovered.
Mel Tucker had an extra week to prepare for Arizona, but on game day it didn't all line up. He wore shorts for the second game in a row and his record in shorts is even now at 1-1. Tucker kept his cool as a cucumber demeanor throughout the game and will have plenty of teachable moments from this game to use in preparation for Week 7. A disappointing loss, especially at home to a sellout crowd, but Colorado will process, learn, and move on.
Colorado (3-2) plays No. 13 Oregon Friday October 11th in Eugene.