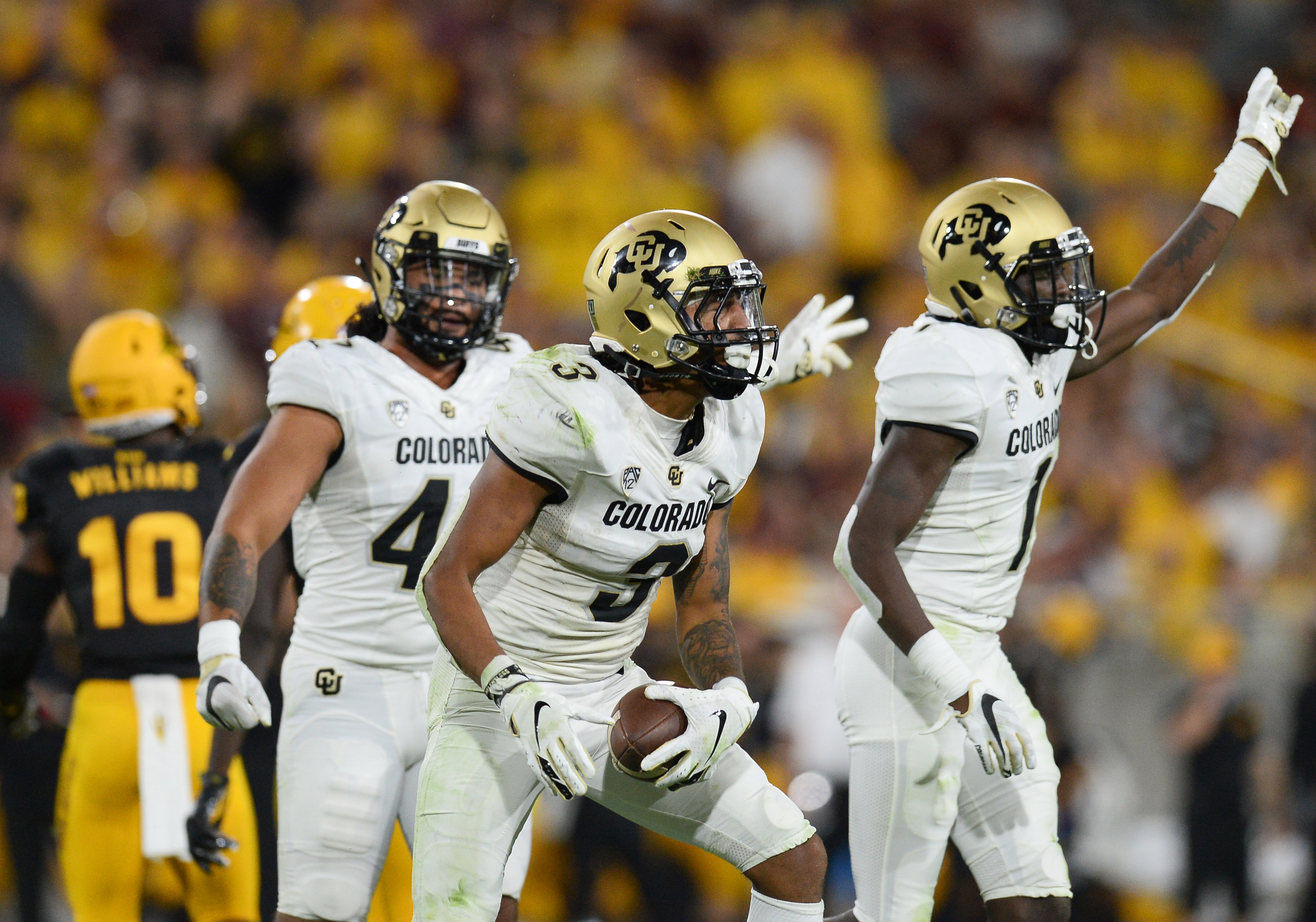 Entering Saturday, Colorado was 0-5 all time in Tempe, Arizona. However, they defeated No. 24 Arizona State 34-31 after two major players for the Buffs were knocked out of the contest early.
The storyline of the night was injuries. Laviska Shenault Jr. left the game on the first Colorado possession of the evening. He had a great physical run to bring the Buffaloes inside the Arizona State 10. The 23-yard catch and run would be Shenault's only contribution of the night.
Junior defensive end Mustafa Johnson was clipped on Arizona State's first possession, injuring his leg and ending his night early. Delrick Abrams Jr. and Mikial Onu also took series off temporarily. Colorado's hampered secondary, still missing safety Aaron Maddox after he slid into a fan on the sideline last week, had trouble with the Jayden Daniels led passing attack. Daniels finished with 345 yards, 2 touchdowns, and one interception for the Sun Devils. The front seven, even in Johnson's absence, stepped up to limit Arizona State to 108 yards rushing.
The first standout performer has to be senior receiver Tony Brown. In Shenault's absence, the Colorado receiver corps has no shortage of talent. K.D. Nixon, Dimitri Stanley and Brown all contributed. Brown caught 9 passes from Steven Montez for 150 yards and 3 touchdowns.
WHAT 👏 A 👏 CATCH 👏

📺 @Pac12Network pic.twitter.com/A5gRdaqO0T

— Colorado Buffaloes Football (@CUBuffsFootball) September 22, 2019
Have a night @tonybrownxviii 👌

📺 @Pac12Network pic.twitter.com/ilmdUssRwt

— Colorado Buffaloes Football (@CUBuffsFootball) September 22, 2019
The next standout performance came from the defense, in a game that was all about offense. Junior safety Derrion Rakestraw was filling in for the injured Maddox opposite Mikial Onu. Rakestraw had a tackle on 3rd and short inside the 10 to force a Sun Devil field goal. Then he intercepted Jayden Daniels in the fourth quarter, creating the only Colorado takeaway of the game.
Steven Montez played his best game of the season to this point and finished the day with 337 yards, 3 touchdowns, and no interceptions. He threw one risky screen pass straight to an Arizona State defender but fortunately it was dropped. Montez also had only one throw that was significantly off-target. The offensive line deserves credit for keeping the pocket clean for Montez throughout the night.
Mel Tucker and the Buffaloes responded well after an emotional loss to Air Force. Back-to-back overtime games had no doubt taken their tolls on the players' bodies, and this contest threatened to need extra time for a result as well. Herm Edwards coming off an intense win over Michigan State was unable to coach his defense to repeat their Week 3 performance. Last week, Arizona State scored only 10 points and only surrendered 7 to the Spartans. This week, both Colorado and Arizona State showed their strength and speed on offense scoring more than 30 points each.
Colorado (3-1) now has a bye week before facing Arizona (2-1) in Boulder on October 5.