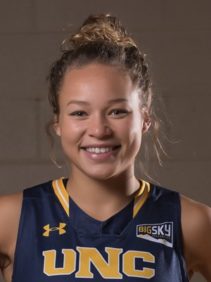 Savannah Smith is now the all-time leading scorer for the University of Northern Colorado women's basketball program (1,898 points). The senior guard made history with a 36-point performance in Saturday's victory over Weber State.
A native of Fort Collins, CO., Smith is a two-time All-Big Sky selection and last season's Big Sky MVP. As a redshirt junior, Smith averaged 18.42 points per game and finished the season with the third most points in program history with 571. The local hoopster was also awarded the 2018 Big Sky Tournament MVP after setting a record with 78 points over three games.
As a senior in 2018-19, Smith has been equally dominant, averaging 22.8 points on 37 percent shooting in 36.0 minutes per game. Over the last four games, all UNC victories, Smith has finished with scoring totals of: 35, 40, 33 and 36 points, respectively.
"Breaking the scoring record could not have happened without the help of all my amazing teammates and coaches," Smith said.
"They are always pushing me to be better and are a huge reason why I was able to achieve this record. I have always been a huge fan and friend of D'shara, and that makes this honor even more special. D'shara has so many records here at UNC she will forever be one of the greatest players to play here."