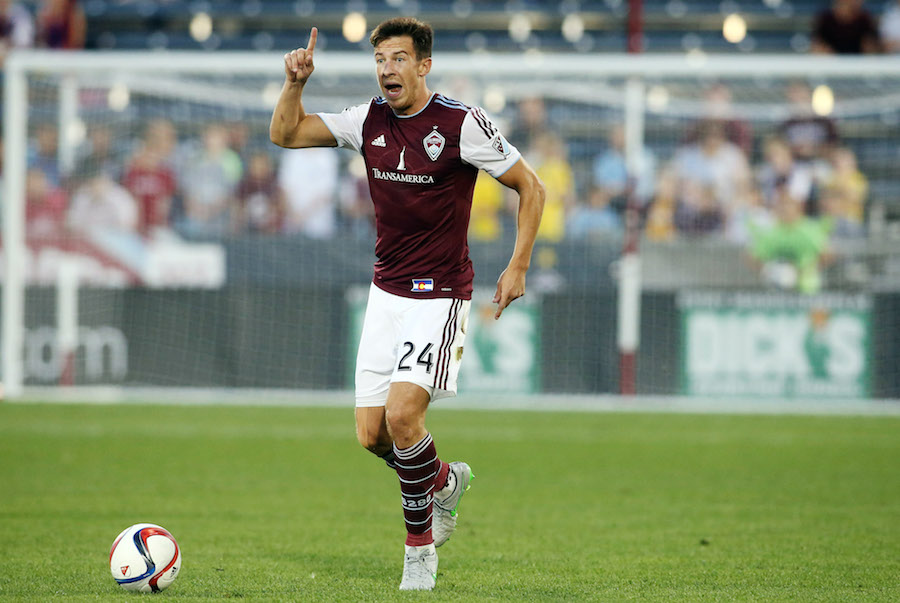 Following a tumultuous 2015 season, Sean St. Ledger can hopefully look forward to a stable 2016 with the Colorado Rapids.
After being released by Orlando City and having his 2016 option declined by Colorado last week, the Rapids announced Wednesday that the 30-year-old defender has signed a new contract with the club. It's a positive end to a challenging first year stateside.
St. Ledger, who turns 31 this month, had an up and down first season in Major League Soccer. The Irish international started all 12 matches in which he saw action for the Rapids, tallying two assists in 1,048 minutes. St. Ledger also played in 15 matches (14 starts) for Orlando City before his release on August 1.
His release, according to mlssoccer.com, was "due to a 'serious breach of club policy.'"
The Orlando Sentinel later reported that St. Ledger was dropped, along with former teammate Martin Paterson, for missing a team flight and several days of training in late July, while not returning calls from the team.
Since joining Colorado, however, St. Ledger has had no reported issues and became a mainstay in Pablo Mastroeni's backfield.
"Sean has become very important very quickly during his time at Colorado Rapids," said Paul Bravo, VP of soccer operations and technical director in a press release. "He brings experience and quality to the back line and we are very pleased to have secured his future at Dick's Sporting Goods Park."
St. Ledger joined a struggling Rapids club in August, helping Colorado string together three wins in his first four starts. Colorado stumbled in the final two months of the season, tallying a 1-6-1 mark in September and October, but St. Ledger is undeterred by the difficult finish.
"I am delighted to sign a new contract with the Colorado Rapids," added St. Ledger. "I moved mid-season and felt at home immediately. It will be great to have a proper pre-season training camp with the group and kick-on in 2016. I am really excited with the plans the club are making for next year."
The center back came to MLS after 12 years in English football.