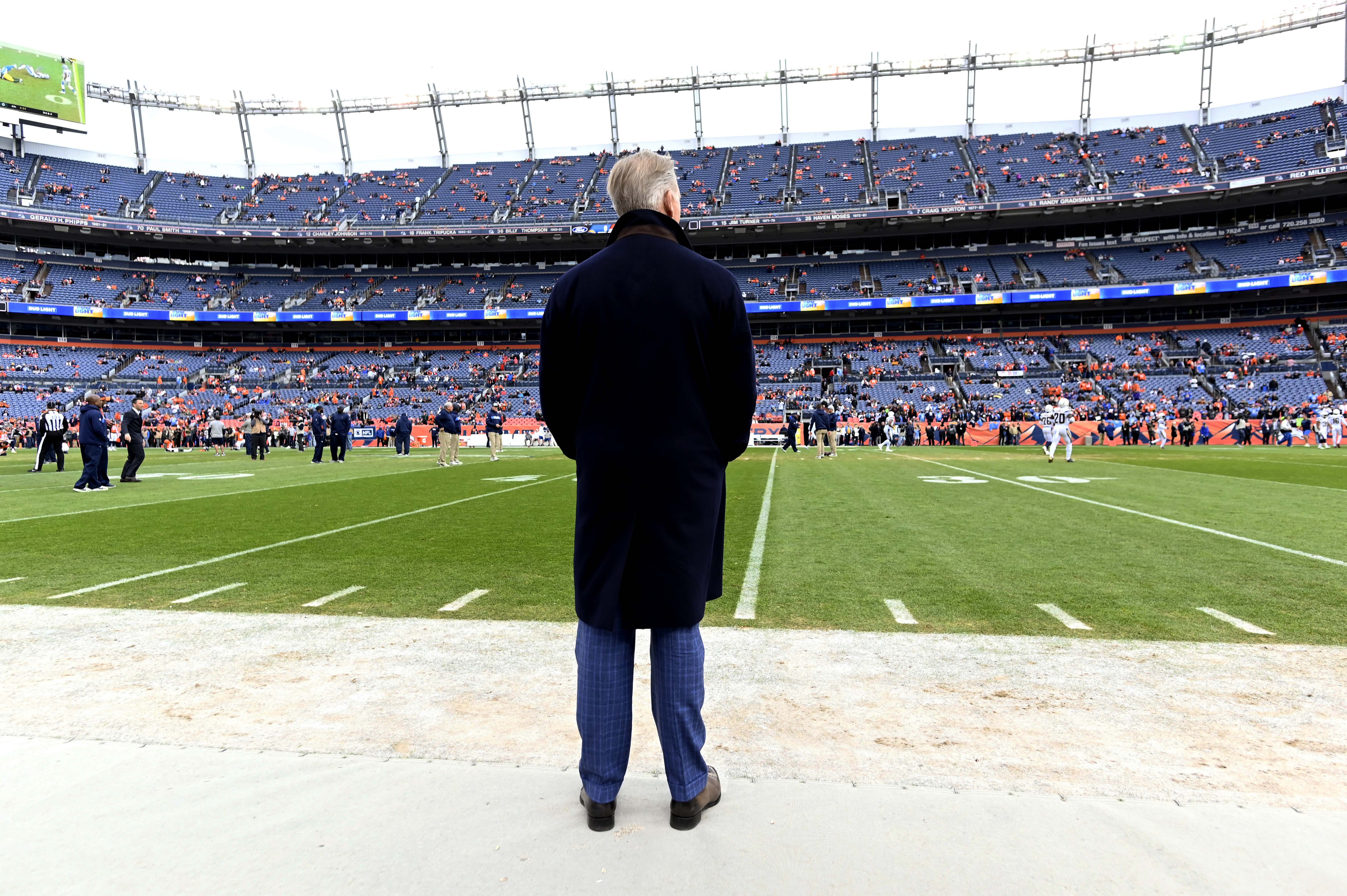 Now that the Vance Joseph era is over in Denver, the Broncos will hit reset in hopes of landing a head coach that brings Denver not only back to respectability, but to contention, while returning to the winning culture that has brought three Super Bowls to Denver over the last twenty years.
The new head man for Denver will acquire a talented defense with appealing offensive weapons, but also working a bottom line of the team coming off back-to-back losing seasons since the early 1970's.
Denver will have their shot at several potential coaches; offensive, defensive and special teams-minded. From young offensive gurus to steady veterans, here is a list of names that'll be looking at a head coaching position that Denver may — or may not — consider as the next head coach of the Broncos.
The Veterans:
Mike Shanahan | Former Denver Broncos head coach
There's no doubt he has the pedigree, but could Shanahan return to his former team and rebuild the Broncos back to relevancy post-2018? Shanahan has been out of the 'trenches' of the NFL for years, but he stays connected to the league via son Kyle Shanahan – now San Francisco's head coach — and could very well step into the role if the situation matches his desires.
Shanahan's 24-24 record in the final three years with Denver certainly stick out like a sore thumb, but he also never had back-to-back losing seasons. His .616 win percentage is the best in Broncos history and he certainly brings credibility and the added bonus of being able to stomp out any bad culture that might linger from the previous regime.
Shanahan would be an excellent option, but how far away is Denver and certain individuals getting over past issues from hiring him back? And may be a better question, would Shanahan even consider coming back to the state of this franchise? Several reports state that the ship has sailed on Shanahan potentially returning to the Broncos this year.
Vic Fangio | Chicago Bears defensive coordinator
The shot caller on the Chicago Bears surge on defense, Fangio is highly regarded in the NFL as a defensive mind, acting as a coordinator for six different teams between 1995 and today, including the head man for the 2011 San Francisco 49ers defense, who led the league in turnovers (35) and the 2012 49ers defense, who reached the Super Bowl.
Fangio's defense in Chicago is in the top-five of every major category and winners of the NFC North for the first time since 2010.
Mike McCarthy | Former head coach Green Bay Packers
With Mike McCarthy's firing in Green Bay, another veteran coach enters the market for Denver to potentially look at. McCarthy is a Super Bowl champion in Green Bay, but recently under heat because of the consistent under-performing teams, even while having quarterback Aaron Rodgers in his back pocket.
McCarthy has an offensive mindset leading the Packers to eight straight postseasons 2009-2016 with six division titles under his belt and reportedly is high on the New York Jets wishlist for a head coach if they are to move on from Todd Bowles. However there also appears to be mutual interest between Arizona — who has moved on from Steve Wilks — and McCarthy.
Gregg Williams | Cleveland Browns interim head coach
Williams' has spent the last several years rebuilding his credibility from the 'bounty gate' scandal in New Orleans that earned him a massive suspension. The interim head coach in Cleveland, players are responding well to him and Cleveland all of a sudden — yes, I said Cleveland — is looking ready for playoff contention in the future faster than Denver.
If Williams isn't selected as head coach for Cleveland. He will be a name discussed among NFL circles and potentially may have interim coached himself into a job.
Bruce Arians | retired, former head coach Arizona Cardinals
After retiring due to health issues, if Arians is interested at a crack at the NFL once again, could Denver be a match?
Arians has a very successful .619 win percentage in the NFL on his resume with two coach of the year awards. His work in Arizona made him one of the more widely respected names in the league and eventually led to him getting a post-coaching career opportunity at CBS as an analyst.
But if coaching is in the future for Arians, it's likely in Cleveland. A report from NFL Network back in November stats that Arians is only interested in the Browns job. So cross Arians off your wish list.
Jim Schwartz | Philadelphia Eagles defensive coordinator
The Philadelphia Eagles are once again making a late-run in the NFL and their defensive coordinator helping that cause is Jim Schwartz. Schwartz has NFL head coaching experience (29-51) in Detroit.
Schwartz been to the postseason once and while his record is not good, he does have experience which may appeal to Denver. However of the veteran coaches, he appears the least 'sexy' of the candidates.
John Harbaugh | Baltimore Ravens head coach
A trade would be needed to bring John Harbaugh to Denver, would the Broncos be interested? Potentially a swap of first-round pick positions and an extra selection thrown in get the deal done? A lot of moving parts would be needed to assemble, but Harbaugh arguably is at the top of any list desiring a successful, proven head coach with a track record.
The question now also remains, would Harbaugh sign a deal with Baltimore again and are the Ravens still seriously committed to him? Just one month ago, it appeared like a split was imminent, how quickly things change in the NFL.
Chuck Pagano | Former Indianapolis Colts head coach
Pagano (58) is a proven head coach with a .549 win percentage and playoff experience. Pagano is from Boulder, went to school in Wyoming and is credited with the massive turnaround from 2-14 to 11-5 in Indy post-Manning in 2012 — a year where Pagano underwent treatment for leukemia. After finishing at-or-above .500 in five of this six years, his time in Indianapolis came to an end in 2017 after missing the playoffs for three straight years. It should be noted, quarterback Andrew Luck missed 26 games in that three-year span due to injuries that ultimately left Pagano out of football.
Because of his connection to Colorado and veteran 'been there before' status. Pagano's name could be in mind for Denver if he wants to come back to football.
New kids on the block:
Matt LaFleur | Tennessee Titans offensive coordinator
Now 39 years old, LaFleur attended Western Michigan University, where he played wide receiver, before transferring to Saginaw Valley State to play quarterback from 2000-02. After a stint playing in the National Indoor Football League, LaFleur's career as a coach began, returning to Saginaw Valley State to be an offensive assistant in 2003 at the young age of 23.
LaFleur remained in college until 2008, when he became the offensive quality control coach in Houston. He quickly parlayed that into a quarterbacks coach opportunity in Washington, at Notre Dame for a single year in 2014, and with Atlanta in 2015-16, when the Falcons reached Super Bowl LI.
LaFleur joined the Los Angeles Rams as the offensive coordinator working under Sean McVay in 2017, and after helping Jared Goff explode onto the NFL scene as a far improved product, LaFleur left his position with the Rams to take a promotion with the Titans as offensive coordinator, calling the plays on offense for new head coach Mike Vrabel.
Marcus Mariota and the Tennessee offense hit a couple speed bumps mid-season and LaFleur's stock took a hit with it, however the Titans rebounded to finish the season with a 'win-and-in' loss to the Colts, a game that remained competitive even with Blaine Gabbert at quarterback for the injured Mariota.
It may not keep LaFleur from getting an opportunity at some point, but it may be a blemish on his resume that propels another candidate ahead of him, regardless, LaFleur is an intriguing name around the league.
Josh McDaniels | New England Patriots offensive coordinator
Just kidding.
Dave Toub |  Kansas City Chiefs special teams coordinator/Assistant head coach
The Denver Broncos interviewed three candidates to become the 16th head coach in franchise history in the winter of 2017: Kyle Shanahan, Vance Joseph and Dave Toub.
While Toub has never been an NFL head coach in his career, Toub has grown up with football in his life. His playing career started in Springfield College as an offensive lineman in 1980-81 before playing at UTEP and earning All-WAC selections twice. Toub was drafted in the ninth round by the Philadelphia Eagles, but his career as a player never took off.
Shortly after his career as a player fizzled out, Toub started on the sidelines as UTEP as a graduate assistant in 1986. His coaching over the 90's was mainly at the University of Missouri as their strength and conditioning coach and with the defensive line before moving into the NFL in 2001.
His special teams coordinating skills were utilized in Philadelphia (2001-03) and Chicago (2004-12), before finally landing in Kansas City, where he currently acts as assistant head coach and special teams coordinator.
Toub's interviewed for head coaching jobs in the past, including for Miami in 2012 and Chicago in 2013. The problem with Toub… isn't Toub. He's just not a 'sexy' hire.
In an NFL world of teams trying to find the next 30-year old wonder boy genius who can remember play calls from four years ago like Sean McVay, hiring Toub doesn't fit that criteria. But there's a reason why Toub's name continues to come up in job opportunities. After all, the NFL's seen plenty of incredible qualified special teams coordinators become Super Bowl winning coaches; Bill Cowher, Bill Belichick, Mike Ditka, Dick Vermeil and John Harbaugh most recently – just to name a few.
Toub has an eye for talent, guiding some of the most explosive special team units in NFL history. Toub also comes from the very successful Andy Reid coaching tree, a rooted and behemoth list where you'll find names like John Harbaugh, Ron Rivera, Todd Bowles, Steve Spagnuolo, Doug Pederson, Leslie Frazier, Pat Shurmur, Brad Childress and Matt Nagy.
Reid has never won it all himself, but there's no denying his coaching is growing an abundance of blossoming coaches who are effective in the NFL, most recently notable Super Bowl champion head coach Doug Pederson in Philadelphia. This history of success absolutely helps Toub's chance at landing his first opportunity as head coach.
Campbell is building a reputation in the NFL working with Sean Payton in New Orleans. Campbell was the tight ends coach in Miami before being named the interim head coach in 2015 after the firing of Joe Philbin, finishing the season 5-7. While it wasn't good enough to land him the permanent job, it certainly caught the eye of many NFL front-office executives.
Campbell's NFL roots come from Bill Parcells in New York in 1999, when Campbell was the first signing made by Parcells after taking the job with the Giants. Campbell grew into a hard-nosed, strong leader, and his pedigree over the years caught the eyes of the Indianapolis Colts when they went looking to fill their open position after Josh McDaniels bailed at the last second last year.
Campbell eventually lost the opportunity to Frank Reich — who already had strong connections to Indianapolis — but certainly will get his shot in the future.
College coaches headed for the NFL?
Lincoln Riley | University of Oklahoma head coach

There's no indication that Riley wants to leave Oklahoma, but we've heard this before from plenty of coaches, right before they bolted for the NFL.
Riley's success with redshirt junior Kyler Murray after the Baker Mayfield era is validating his mind as a brilliant offensive mind, regardless of the talent under center. Murray was the Heisman Trophy winner and completed 70% of his passes, with 40 touchdown passes to only seven interceptions under Riley.
In the event Riley does have a sudden change of mind, potentially Cleveland to pair with his former quarterback Baker Mayfield is the sexiest option, but again. Expect Riley to stay in the collegiate level at least for now.
David Shaw | Stanford head coach
Shaw is a strong candidate for a head coaching position somewhere in the NFL if he elects to take it. Shaw has NFL coaching experience from his quarterback-coaching tenure in Philadelphia, Oakland and Baltimore spanning from 1997-2004 before taking positions at his alma mater Stanford as offensive coordinator and making his way to head coach in 2011.
Since then, Shaw has won three Pac-12 championships, was named Pac-12 Coach of the Year four times and is 81-26 in his time at Stanford.
Shaw is a strong coaching mind who cut his teeth in college as a wide receiver under head coaches Dennis Green and Bill Walsh. Shaw also played basketball, ran track and earned a B.A. in sociology.
The obvious Stanford connection between Elway and Shaw is also something to note when talking about the Denver position.
Harbaugh was a savvy, tenacious and successful coach in his one NFL stint and if he desires another run at the NFL, he'll easily land an opportunity.
Harbaugh's stint in Michigan has been far from incredible, according to Wolverine standards. Harbaugh's yet to win a Big Ten title and his recruiting classes have been up and down – 2018's class was ranked No. 24th in the nation, according to Rivals.com.
Harbaugh is a big name and veteran NFL coach with Super Bowl experience. It's common for NFL teams to replace a first-time head coach that goes wrong with a more-experienced head coach, but Harbaugh does come with one caveat: his Type-A personality tends to clash with others. Could Harbaugh and John Elway live under the same roof, while tugging the same way on the rope and working together? That question would have to be answered before he's even considered.
Kliff Kingsbury | Offensive Coordinator USC
Many consider Kliff Kingsbury one of the hottest up-and-upcoming names in college football. The 39-year old was a multi-sport star in high school and played college and NFL at the quarterback position, including a brief 15-day stint with Denver on the practice squad in 2005. He eventually retired to coaching, where he became the Texas Tech head coach in 2013. He originally spotted the talents of Baker Mayfield and dubbed him the starter as a true walk-on freshmen. Kingsbury is also credited with coaching Patrick Mahomes as the Red Raiders head coach.
Kingsbury was not retained by Texas Tech at the end of the 2018 season and on December 5th, 2018, Kingsbury signed a contract to be the offensive coordinator at USC. Kingsbury graduated from Texas Tech University in 2001 with a Bachelor of Business Administration degree in Management from the Rawls College of Business.
It may be premature to put Kingsbury in a head coaching position again, but considering the likely opening at offensive coordinator, Kingsbury would be an excellent addition if he can be lured away.
Nobody on the Broncos' staff appears able or ready to even think about as a potential head coach. The next Broncos head coach won't come from within.