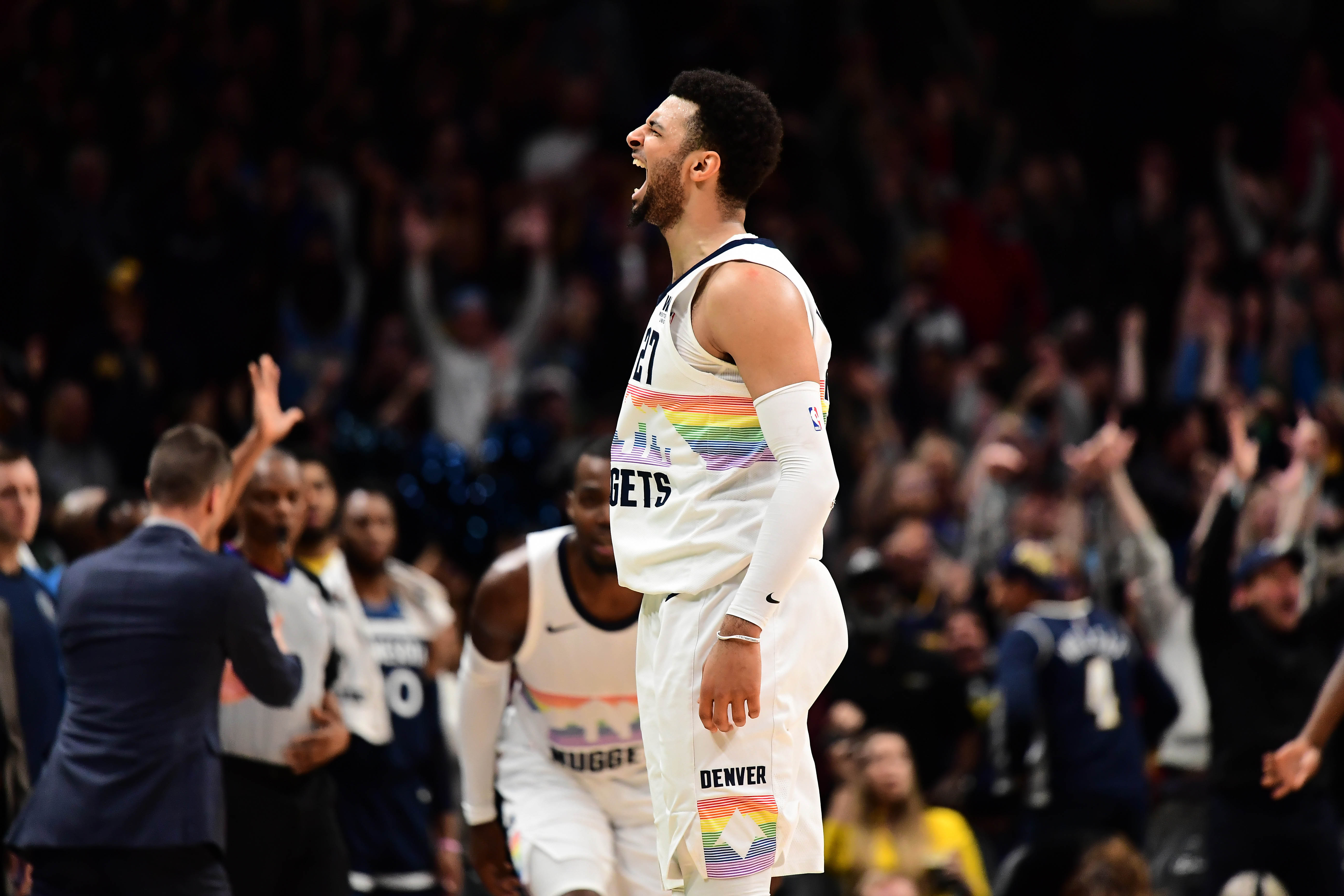 In 2018-19, Jamal Murray arrived.
During the regular season, Murray played 32.6 minutes per contest in 75 total games. In that time, he averaged 18.2 points, 4.2 rebounds, and 4.8 assists against 2.1 turnovers. He shot 43.7% from the field, 36.7% from three-point range and 84.8% from the free throw line.
Here is some context for how impressive Murray's season was. He is the ninth player to average at least 18.2 points, 4.2 rebounds and 4.8 assists and start the season 21-years-old or younger. Those eight players are LeBron James, Michael Jordan, Magic Johnson, Kobe Bryant, Gilbert Arenas, Tyreke Evans, Luka Doncic, and Alvan Adams. If you're not keeping count at home, half of that list are in the Hall of Fame.
Murray than turned up the intensity and production once the playoffs arrived. In 14 postseason games, Murray upped his scoring and averaged 21.3 points, 4.4 rebounds, and 4.7 assists against just 1.6 turnovers. He shot 42.5% from the field, 33.7% from three-point distance, and 90.7% from the charity stripe.
Of players who started the season at 21-years-old or younger, Murray is only the fourth player to ever reach averages of 21.3 points, 4.4 rebounds, and 4.7 assists per game in NBA playoff history. The other three players are LeBron James, Michael Jordan, and Tracy McGrady.
Oh, and Murray did all of this while being 21-years-old for the majority of the season. He had career-high marks in points, rebounds, assists, and minutes played while standing out as one of the most lethal young scorers in the entirety of the NBA. He unquestionably had the best season of his career.
It is safe to say that what Murray has accomplished at such a young age is historic. Murray's production at his age puts him in rarified air with Hall of Famers and other NBA legends. If he continues on this trajectory, there is no way to quantify how high he could ascend.
But Murray's rise did not just happen by accident. It took quite a bit of work and growth from the young lead guard. There are three particular ways that Murray was able to transform into Denver's future at point guard.
The most important development is that Murray has officially emerged as the second star to supplement Nikola Jokic's brilliance. The likes of Gary Harris, Will Barton and Paul Millsap had moments playing Robin to Jokic's Batman, but no one took the role and ran with it like Murray did. Not only were the two of them lethal all throughout the regular season, but during the playoffs, their chemistry reached unstoppable levels.
Then, Murray took a leap as a playmaker and continued to grow in that regard. Eventually his facilitating skills reached a level that many did not expect; particularly in the playoffs.
In the playoffs is where Murray shined brightest. Not only was Murray unfazed by the much larger stage that the NBA playoffs provide, but he actually thrived in the spotlight. Murray went out and showed that he is the big-game player that Denver has been looking for.
Even with all of that being said, Murray sill has a multitude of ways to improve. He is far from a complete basketball player, but that does not mean that even more growth is out of the question considering how much he improved in just this last season.
Let's first dive into how Murray progressed in 2018-19 before diving into where he still needs to improve.
Jamal Murray's 2018-19 season was full of ups-and-downs, but there is no denying that Murray took a gigantic step forward in his individual progression as a player as well as a team player in the Nuggets altruistic and selfless style of play.
First, and most importantly, Murray found a consistent role within in the Nuggets offense and it allowed the rest of his game to grow. Because of his ability to play in the two-man game with Jokic, Murray's playmaking also began to shine brighter than it ever has before. As the year progressed, he continued to learn how to use Jokic's gravity to his advantage. Then, as a cherry on top, Murray's emergence as a big-game player also stood out. He carried Denver to multiple victories that seemed out of reach in both the regular season and the playoffs.
Here are three different ways that Murray's game grew last season.
Point guard skills
Jamal Murray still is not where he needs to be as a playmaker, but to say that he hasn't improved would be factually incorrect. Murray has taken leaps each year as a facilitator with the biggest leap occurring this past season.
Take a look at the graph below which shows Murray's passing statistics over the first three years of his career. The green bar represents Murray's individual assist percentage; the percentage of total team made baskets Murray assisted on when on the floor. The blue bar represents his assists per game. The red bar represents his assist-to-turnover ratio.
Each of those passing metrics has improved quite a bit over the past three years and the biggest jump in production as a playmaker came during the 2018-19 season.

If Murray can continue growing as a facilitator, it will take his game to an entirely different level. As of now, Murray does not have enough court awareness to take full advantage of his physical and mental gifts. Still, it is clear that he has made an effort to improve in that capacity.
Murray is already well-respected as a scorer because he is such an effortless shooter from anywhere on the floor. He can catch fire as quickly as almost anyone in the league. If he can also add the threat of high-level playmaking into his skill-set, he will become almost impossible to guard; especially when playing with Jokic who already puts enormous amounts of pressure on opposing defenses.
Two-man game with Nikola Jokic
There are very few two-man combinations that are able to create great looks at will in the National Basketball Association, but the Nuggets have one of those tandems with Jamal Murray and Jokic, but it was not always as lethal as it now is.
For the past couple of seasons, Murray has not consistently worked in the two-man game with Jokic. In 2016-17, it was Gary Harris who became Jokic's running mate. In 2017-18, it was Will Barton, Gary Harris, and Murray all rotating as Jokic's partner. But in 2018-19, Murray established himself as Jokic's right-hand man and that pairing reached its pinnacle in the playoffs.
During the playoffs, the combination of Jokic and Murray accounted for 53.8% of Denver's total points and 54.8% of their assists. Additionally, the Nuggets outscored their opponents by 8.9 points per 100 possessions when they shared the court.
Whenever the Nuggets desperately needed a bucket, they went back to the Jokic/Murray two-man game. That venomous tandem nearly carried Denver to the Western Conference Finals. Their two-man game already grew into one of the more lethal parings in the league in the regular season, but they are far from done. Both Jokic and Murray have barely scraped the ceiling of their potential as a group and individually. Both Murray (February 23rd) and Jokic (February 19th) just celebrated their 22nd and 24th birthdays respectively.
If the playoffs are any indication, the Nuggets have a two-man pairing to build around for the foreseeable future. Murray is extension eligible this offseason and Jokic already locked in for an another four years. They will have plenty of time to continue to grow together.
Big-game performances
All season long, Jamal Murray proved that he loves playing in the biggest games of the year. It did not matter if it was the regular season or the postseason or where the game was being played. When his team needed him, Murray almost always showed up in a big way.
Back on November 5th, 2018, the Nuggets hosted the Boston Celtics, but Murray was not so welcoming.
From the second the game tipped off, Murray went to work by scoring 48 points on Kyrie Irving. Murray shot 19-of-30 from the field, 5-of-11 from three-point range and a perfect 5-of-5 from the charity stripe. He scored from everywhere on the floor and carried Denver to a statement 115-107 win.
Murray also had other massive games. The Canadian sharpshooter had seven games with 30-or-more points during the regular season. Then, Murray followed that with two more games in the playoffs with at last 30 points. He had 34 points back-to-back road games — Games 3 and 4 — against the Portland Trail Blazers in the second round.
"(Murray) is a gamer," Gary Harris said after Murray destroyed the Celtics by putting up 48 points. "He plays his best in big games."
Ways Jamal Murray still needs to improve
Despite all of Jamal Murray's accomplishments during the 2018-19 season, he still has many ways he can improve. There are two ways in particular that could quickly take his game to an entirely different level.
The first, and most important, area that Murray needs to improve is on defense. All season long, Murray was blown by on the perimeter by other guards, out-muscled down low when switched onto a big, or just lost concentration while defending off-ball. For Denver to take the next step forward as a consistently strong defensive team, Murray needs to be come a more consistent defender.
Additionally, Murray needs to figure out how he can score more consistently. There were multiple games were Murray had 10-points or less in the first half only to explode for 20-or-more in the final two quarters of the game. While it is great that Murray is able to get hot quickly, he needs to be able to sustain his production; not have it come and go randomly.
Let's dive into both potential areas for improvement for Murray heading into the 2019-20 season.
Defense
The most glaring weakness in Murray's game is his production on the defensive end of the floor both individually and in a team construct.
As an individual defender, there were multiple ways that Murray struggled this year. When opposing ball handlers would isolate Murray, he struggles to contain their dribble penetration. When opposing bigs set screens on him in a pick and roll or dribble handoff action, Murray failed to fight over the screen more often than not which left room for three-point shooters to get their shots off. If the Nuggets elected to switch screens that involve Murray, he ended up on bigs was punished down low in the post.
As an off-ball defender in the Nuggets team construct, Murray lost his focus far too often. The Nuggets had their bigs playing far up the floor for most of the year which meant that there were multiple help-side rotations that needed to be executed on time and with lots of loud and constant communication. Unfortunately, Murray watching the ball far too often which has led to him missing his rotation or losing the man he is guarding after they cut back door or relocate for a 3-pointer.
All of those struggles defensively led to the Portland Trail Blazers targeting Murray on defense in the second round of the playoffs. It became an issue that the Nuggets could not alleviate. CJ McCollum, Damian Lillard, Moe Harkless, and Rodney Hood all had multiple stretches in which they directly attacked Murray repeatedly with success.
If Murray is to take the next step forward into the realm of All-Star guards, he will need to do so by upping his defensive awareness and production.
Consistency
Jamal Murray was prone to ice cold stretches nearly as often as he would go nuclear as a scorer in 2018-19.
There was no better example of this than Game 2 of the first round of the playoffs. The Nuggets were taking on the San Antonio Spurs and, through three quarters, Murray only had three points after missing all eight of his shots. To make matters worse, Murray also allowed Derrick White to put up 17 points on 7-of-10 shooting against him in those three quarters.
Then the fourth quarter arrived and everything changed.
Suddenly, White started to struggle. He did not score in his seven minutes in the fourth quarter. On the other hand, Murray went ballistic. He scored 21 points in the fourth quarter alone and did so while making eight his nine shots including two 3-pointers. Thanks to Murray, Denver managed to come away with a 114-105 win over the Spurs after outscoring them 39-23 in the final frame.
Nuggets head coach Michael Malone gave Murray tons and tons of praise for his postseason performance over the past few weeks. Still, he is also aware that there is an issue with Murray being so inconsistent.
"What I saw was inconsistency at times, which is what happens with most young players not named Nikola Jokic," Malone said during his exit interview when asked about Murray's playoff performance.
"For Jamal it's continuing to develop how he approaches the game and the offseason," Malone said. "It's about, 'how do I become a better player, a more consistent player?' And these are conversations I've had with him. That is what Jamal has to mature to and I have no doubt that he will."
If Murray can come back as a less streaky scorer, the Nuggets will be that much more dangerous and much better because of it.
Final Grade
A-
Jamal Murray had a season that can only be described as a massive success. That is why he drew a nearly perfect grade. Still, his inconsistencies as a scorer and issues defensively were impossible to overlook.
Despite his shortcomings this season, Murray emerged as one of the most dominant and potent young guards in the league. Additionally, he stepped up as a perfect offensive complement to Jokic. If Murray continues on this trajectory, he could soon become one of the elite guards in basketball.