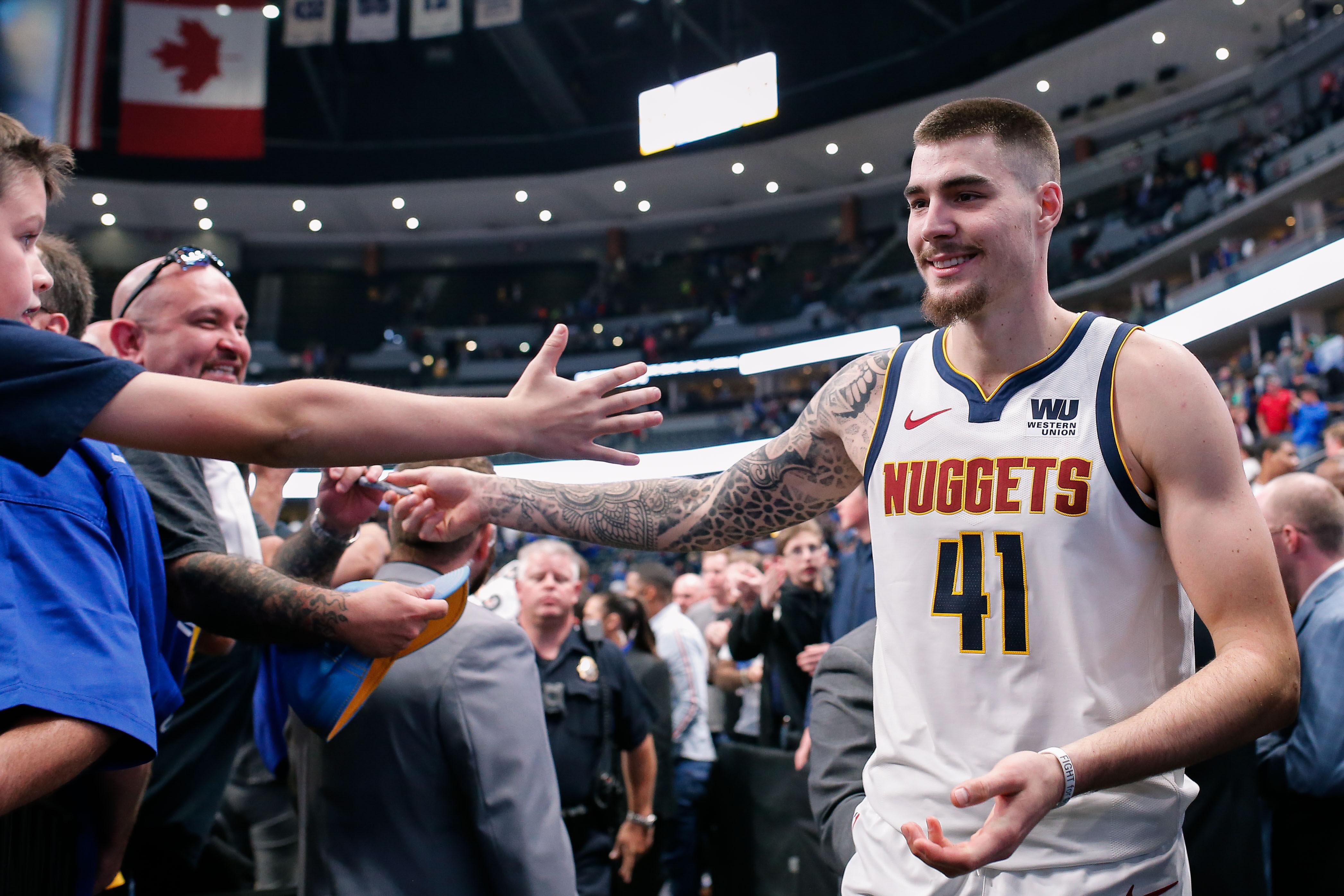 When the Denver Nuggets' 2018-19 season arrived, there were two questions that needed to be answered. Who would the Nuggets backup point guard be? Also who would fill out the small forward position? The latter meant a whole lot for Denver's third-year forward Juancho Hernangomez.
Denver filled the backup point guard position quickly. They made a big splash in the offseason by adding two-time NBA All-Star Isaiah Thomas. In addition, Denver also signed Monte Morris to a 3-year contract to fill the final spot on Denver's 15-man roster.
With the moves at point guard, Denver answered that question. Still, there was still a solution that needed to be found for the small forward position after the Nuggets traded Wilson Chandler to the Philadelphia 76ers prior to the season.
Chandler had been a fixture in the Nuggets organization at the forward position for seven seasons and with him in the fold, Denver had a combo forward with size and physicality. With Chandler gone, Will Barton got his wish to enter the starting lineup despite being undersized. Still, Barton gave the Nuggets an additional ballhandler and more capable scorer.
Barton had an up and down year which was mostly due to a hip injury sustained in the second game of the season. He missed nearly half of the season and, once he returned, he was not his usual self.
During that injury is when Juancho Hernangomez shined the brightest and made the best of his opportunity. That led to the Nuggets realizing once again that they had a young forward on the team that is just waiting for his opportunity.
Hernangomez had himself a spurt of great games this season. He started 25 games for Denver due to injuries and the Nuggets did not skip a beat by inserting him into the lineup. He averaged 11.2 points and 6.3 points a game as a starter and shot a scorching 42.5% from beyond the arc in those contests.
Hernangomez had a rocky season after returning back to the bench, but proved that he can be a quality starting forward when given the chance. Here is his 2018-19 season in review.
Ways Juancho Hernangomez grew as a player
Chemistry
Denver appeared to be one of the most fun teams in the entire league if you went off of team celebrations alone. There were high fives, bench celebrations and plenty of dances as the Nuggets had one of the best years in franchise history. At the center of it all was Hernangomez.
Hernangomez started plenty of games this season before falling out of the rotation; not because of a lack of production, but players returning back from injury. Instead of moping and being down about losing playing time, he became one of Denver's most visible teammates and was constantly bringing energy to the team. That camaraderie was on full display in Game 5 of the Western Conference semifinals against the Portland Trail Blazers when Malone looked to his deep-reserves with the game already out of reach.
Hernangomez was one of the final substitutes to go into the game, but what happened next was a candidate for play of the year when Mason Plumlee and Hernangomez connected on a behind-the-back bounce pass that Hernangomez knocked down to the delight of the crowd. The Pepsi Center and Nuggets bench erupted as the shot fell breaking Hernangomez out into this celebration akin to a game-winning shot.
The Juancho Hernangomez Celebration Dance! #MileHighBasketball

— Ballislife.com (@Ballislife) May 8, 2019
After the game, teammates were excited about the shot saying how happy they were for Hernangomez to get his moment. That speaks volumes to how great of a teammate Hernangomez is.
Production
The 2018-19 season was Hernangomez's best in multiple ways. He was able to put up his best overall numbers in multiple categories in his most meaningful year to the team.
Hernangomez battled throughout the season for minutes off of the bench alongside Malik Beasley, Torrey Craig and Trey Lyles to fit in Malone's rotation. Once he was finally called upon, he delivered. It was his healthiest season as well. He posted career-high marks in total games played and total starts. He also posted career-highs with averages of 5.8 points and 3.8 rebounds per game in his supporting role.
What Hernangomez delivered in 2018-19 was a reminder that he is yet another player Denver could play and rely on. After a rough 2017-18 season, Hernangomez put himself back on the map
Health
Taking a look back at Hernangomez's three-year career, the 2018-19 campaign was his most successful season and it was mostly due to him being able to stay somewhat healthy.
As a rookie Hernangomez played in 62 games and hit 40.7 percent from beyond the arc. That season showcased that he had upside and the organization did not whiff when they took a chance on him as the 15th overall pick in the 2016 NBA draft.
Hernangomez was well on his way of having a stellar second season but fell out of the rotation in the 2017-18 season due to a battle with mononucleosis as well as the flu.
In 2018-19, Hernangomez was more ready than ever to fight to get back into rhythm. He was able to put together a strong season in which he played in 70 games and started in 25 of them, both new career highs.
Simply stated, Hernangomez being able to stay on the floor led to him having his best season yet.
Ways Juancho Hernangomez can continue to grow
Consistency despite lack of play
The old saying goes 'if you stay ready, you don't have to get ready'.
Well that was not the case for Hernangomez. While he played incredible as a starter, once those players came back from injury his confidence faded; especially after the All-Star break.
Hernangomez averaged 7.3 points and 4.5 rebounds prior to the All-Star break while shooting 45.9 percent from the field but those numbers fell off drastically after the All-Star break.
After the All-Star break Hernangomez averaged 0.9 points and 1.3 rebounds and shot an awful 20.8 percent from the field. He did not have the same confidence in shots leading to him racking up games in which he never actually logged a single minute.
Consistency is key in the NBA.
Getting out of shooting slumps
It was many moons ago when Hernangomez decided to go nuclear and, in the process, had one of the best shooting performances from any player when he lit up the Golden State Warriors for 27 points despite Denver only having nine available players in February of 2017. But Denver has been yearning to see that player again since.
Hernangomez got out to a great start this season when Denver needed him to step up due to injuries and he delivered, but somewhere along the way he lost his touch.
While his scoring in general told a tale of two different players this season what was even more bizarre was his 3-point shooting.
Hernangomez is referred to as a good 3-point shooter as he has one of the purest forms in the league and is knockdown scoring threat especially on catch and shoot situations. As a starter, he was shooting 42.5% from beyond the arc that seen him shoot 48% from beyond the arc in November. But as his role decreased, so did his 3-point shooting – drastically.
Hernangomez shot below 25% from beyond the arc January through March, including a cold spell of 9.1% from beyond the arc in March. His shots were not falling, his confidence was down and his spot in the rotation diminished as a result. It was difficult to keep him on the floor if his shots were not falling. He did however shoot 33.3% from beyond the arc in April, but by then it was too late.
Final Grade 
C+
When in reference to seasons past, this was an incredible year for Hernangomez. He got to prove he could be reliable when called upon, can still knock down shots and fit in seamlessly with the starters. There is only one problem; with the way that the Nuggets are set up, Hernangomez will not be a starter for the foreseeable future unless things change drastically.
Hernangomez has to fit into his role and still be productive no matter the minutes that he is given. If he is able to show the ability to consistently knock down jump shots from beyond the arc and defend at a high level, he will be able to steal rotational minutes and be a valuable asset for Denver off of the bench.
Hernangomez is finally healthy and that has to be a relief to come into the upcoming season, but now it is time to prove himself and build on his most successful year
This is a critical year for Hernangomez. It will be interesting to see if he can build on his best season in 2019-20.
If you want to read the rest of the Season in Review pieces for other players, click on their name below:
Jamal Murray | Monte Morris | Isaiah Thomas | Gary Harris | Torrey Craig