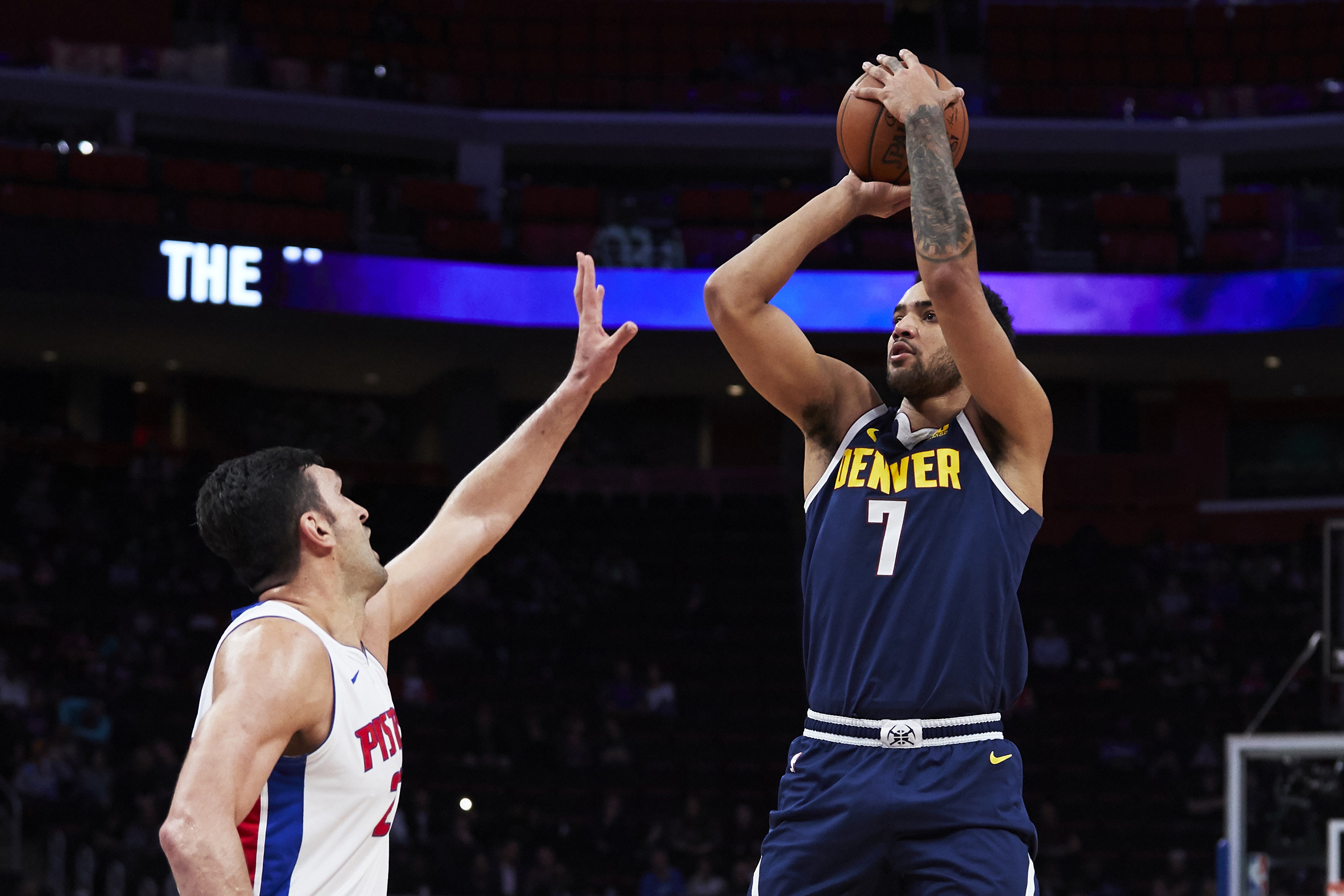 For the Denver Nuggets, the 2017 NBA draft, and the trade for Trey Lyles, will forever be scrutinized.
During the 2017 NBA Draft, rumored trade deals fell apart at the last second and, in the process, the Nuggets flipped the rights to the 13th overall pick to the Utah Jazz.
With flipping those rights, Denver selected guard Donovan Mitchell for the Jazz in exchange for the 24th pick and forward Lyles.
Donovan Mitchell went on to have an incredible rookie season barely losing to Ben Simmons in the Rookie of the Year voting which left Nuggets fans wondering what could have been if Denver stayed put and selected Mitchell to build on an already strong young core in the Mile High City.
While the flip initially appeared one-sided with Mitchell turning into a young star immediately, Lyles also had glimpses and flashes along the way. He ended up having the best season of his young NBA career following the trade. Lyles averaged 9.9 points and 4.8 rebounds per game off of the bench during the 2017-18 campaign and was looking to build on his bounce-back season.
Unfortunately, he quickly regressed in essentially every category during the 2018-19 season. Lyles averaged 8.8 points, 3.8 rebounds and 1.4 assists per game while shooting just 41.8% from the field and 25.5% from three-point range; a clear dropoff from his first season in Denver.
A big part of the reason for Lyles' regression was due to the fact that his role on the team decreased significantly. Paul Millsap, who was acquired in 2017-18, is the biggest offseason acquisition in franchise history, but he missed 44 games in the 2017-18 season. Millsap being out opened up an opportunity for Lyles to prove his worth with extended minutes. With Millsap healthy once again in 2018-19, Lyles' minutes seemed to disappear almost immediately.
Denver has a decision to make on Lyles this offseason. He is set to become a restricted free agent this summer.
While there have been plenty of highs in Lyles' tenure with the Nuggets, there have certainly been some lows; especially in the 2018-19 season. Let's take a look at three ways that Lyles can improve in the 2019-20 season.
Consistency
When Millsap went down with a left wrist injury that sat him down for more than half of the 2017-18 season, Lyles was quickly catapulted into a scenario where he would have to play meaningful minutes.
Despite only starting in two games, Lyles finished third amongst bench players in minutes played behind only Will Barton and Mason Plumlee. Lyles made the most of his minutes.
With Millsap fully healthy this past season those minutes were not readily available and Lyles' consistency disappeared.
Prior to the All-Star break, Lyles was having another productive season in a limited role. In 55 games, he was averaging 18.6 minutes per game which led to averages of 9.2 points, 4.1 rebounds and 1.4 assists per game. Still, while his raw per-game averages were strong, his issues with consistently knocking down shots remained as he shot 42.3% from the field.
After the All-Star break; however, is when things got shaky for the fourth-year forward. After playing in 55 games before the break Lyles was effectively removed from the rotation entirely and proceeded to only play in nine more games.
In those nine contests, Lyles only played 10.7 minutes and saw his numbers drop drastically. He put up a meager 4.3 points, 2.6 rebounds and 1.1 assists per game while shooting a brutal 35.9% from the field. A part of the drop off was the fact that Lyles was fighting through injuries, including a hamstring injury in February which ultimately led to his removal from the rotation.
Lyles still has not proven that he can be a floor spacer with size and a volume rebounder at the NBA level. He has the skill set to still become the multifaceted forward so many envisioned, but if Lyles is to reach that level, he will need to have a big bounce-back season in 2019-20
Efficiency
With Lyles' drop in production came a decrease in his efficiency overall.
Lyles had his best season yet in the 2017-18 campaign when he shot 49% from the field. In that season, Lyles was able to efficiently shoot from beyond the arc, got to his mid-range pull-up, and he was a driving downhill force that got to the rim which projected him as the Nuggets leading scorer off of the bench heading into this season.
But, with his decrease in efficiency and production, Lyles was quickly passed by Plumlee, Monte Morris, Torrey Craig, Malik Beasley and even Juancho Hernamgomez in total minutes played furthering the question about Lyles' fit with the Nuggets moving forward.
Three-point shooting
One of the biggest areas of growth moving forward for Lyles will have to be his shooting from beyond the arc.
Lyles is referred to as a scoring threat whose outside shot allows him to space the floor, but also his size and versatility allows him to put pressure on the defense by being able to get to the rim or post up.
While this was true in the past, his numbers say otherwise this season.
Lyles' points, rebounds, assists and overall shooting percentages from his third year were all career-bests, but all of his shooting statistics dropped last year. Lyles went from shooting 49.1% from the field and 38.1% from three in the 2017-18 season to 41.8% from the field and 25.5% from beyond the arc.
His best avenue for getting on the court is by playing solid defense so his coach cannot take him off of the court, but that is going to be easier said than done for the offensivley-minded-minded Lyles. The other way to get on the floor would be consistently knocking down shots when the opportunity calls for it.
Final Grade 
D+
With questions regarding his fit with the team and Denver looking to continue their path towards contention, Lyles is quickly looking like the odd man out. Simply stated, it is beginning to seem like there is not a role for an inefficient and offensively-minded big who struggles defensively on Denver's roster.
Lyles still appears to have plenty left in the tank and has proven to be effective when given a larger role. If he can get back to draining his open jump shots, becomes more efficient from the field, and figures out how to carry some level of consistency into each game, Lyles will likely catch on at his next location. If not, his NBA future will become much less stable.
To read the rest of the Season in Review pieces for other players, click on their name below:
Jamal Murray | Monte Morris | Isaiah Thomas | Gary Harris | Torrey Craig | Juancho Hernangomez