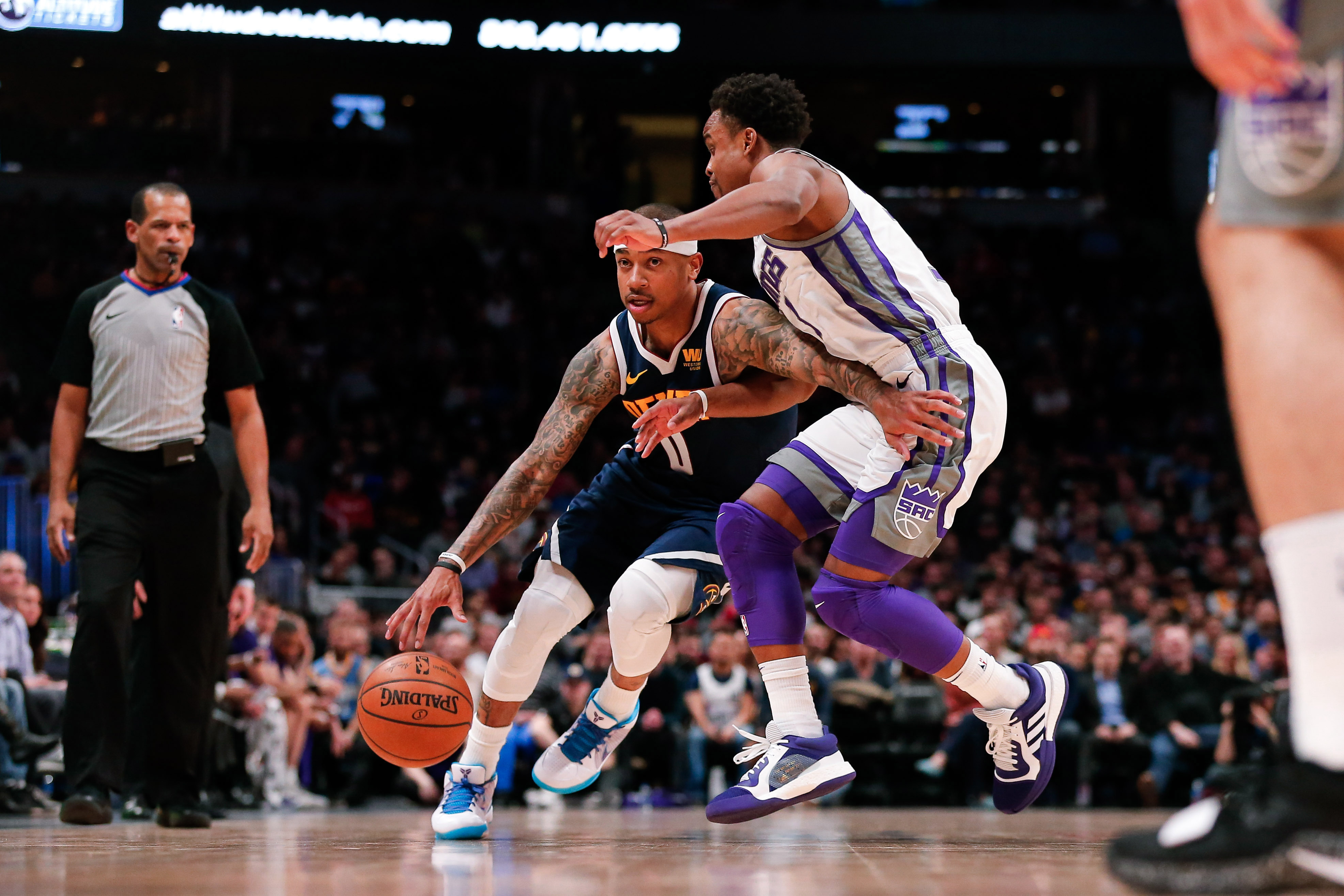 The Denver Nuggets went into the 2017-18 offseason after missing the postseason by one game with a big hole to fill at the backup point guard position. Denver took a chance and made a big splash in July in order to make rapid improvements to their roster for the upcoming campaign by taking a chance on former Boston Celtics All-Star, Isaiah Thomas.
Thomas came to the Nuggets in a disheartening way. His signing ended up being low-risk, high-reward circumstance for both parties. Denver took a chance on a guard that has had a rocky past few seasons dealing with an injured hip that required surgery in 2017.
In the 2016-17 season, Thomas was at the peak of his career as an NBA All-Star and All-NBA 2nd Team standout who finished in fifth place in MVP votes after leading the Celtics all the way to the Eastern Conference Finals before undergoing career-threatening surgery.
The 5-foot-9 guard averaged 28.9 points, 5.9 assists and 2.7 rebounds per game and was fully in the discussion as one of the top guards in the entire league before the injury.
After the injury, Thomas has been traded multiple times while attempting to find a home and opportunity, all while recovering from the hip injury that has had him limited with the Celtics, Cleveland Cavaliers, Los Angeles Lakers and now, the Nuggets.
With Denver, he was only able to play in 12 games and did not check in during the Nuggets' two playoff series but was able to average 8.1 points, 1.9 assists and 1.1 rebounds per game in limited minutes.
Isaiah Thomas' season debut began with a standing ovation and ended with 8 PTS, 2 AST in 13 MIN and a Denver win. 👏#MileHighBasketball pic.twitter.com/2pzAjzBCPd

— NBA on TNT (@NBAonTNT) February 14, 2019
Thomas is a two-time All-Star and his most notable trait since coming into the league has been his scoring and playmaking. He has career averages of 18.6 points and 5.1 assists per game and Denver wanted him to bear a resemblance to the player that he was prior to the injury.
That plan was derailed as he rehabbed until Feb. 13th, only days before the All-Star break and played in nine consecutive games until Head Coach Michael Malone decided to remove him from the rotation and play him in spotty moments for three games after including a return to Boston.
Thomas' time with the Nuggets was short-lived but he did make a positive impact as a leader that helped change Denver's culture and identity in their first playoff appearance since 2013. He was one of four players on the team with playoff experience and was a veteran presence in the locker room.
The former star was not in his same ball-dominant role as one of the best players on the team but was still a fan favorite and a positive fixture on the sideline rooting on his team who fell in Game 7 against the Portland Trailblazers and were a solid half away from advancing to the Western Conference Finals. He rehabbed his hip for the entire season and his lack of production will make it difficult to accumulate attention during the upcoming free agency period.
2019-20 outlook: Thomas is taking the patient approach and not rushing back from his injury as he had before, which will most likely be beneficial. He has stated on multiple occasions that he is finally ready to play.
Whichever team takes a chance on him will not have to risk much while awaiting his hopeful resurgence with bettering health. Thomas will likely never reach the apex that he was one at, but he does have the potential to break out at any given moment as a backup that is a natural-born scorer.
Acquiring him can prove to be a low-risk, high-reward opportunity that can be beneficial for not only Thomas but a contending team as he still has plenty left in the tank once he gets healthy and proves once again the bright future that lay ahead.