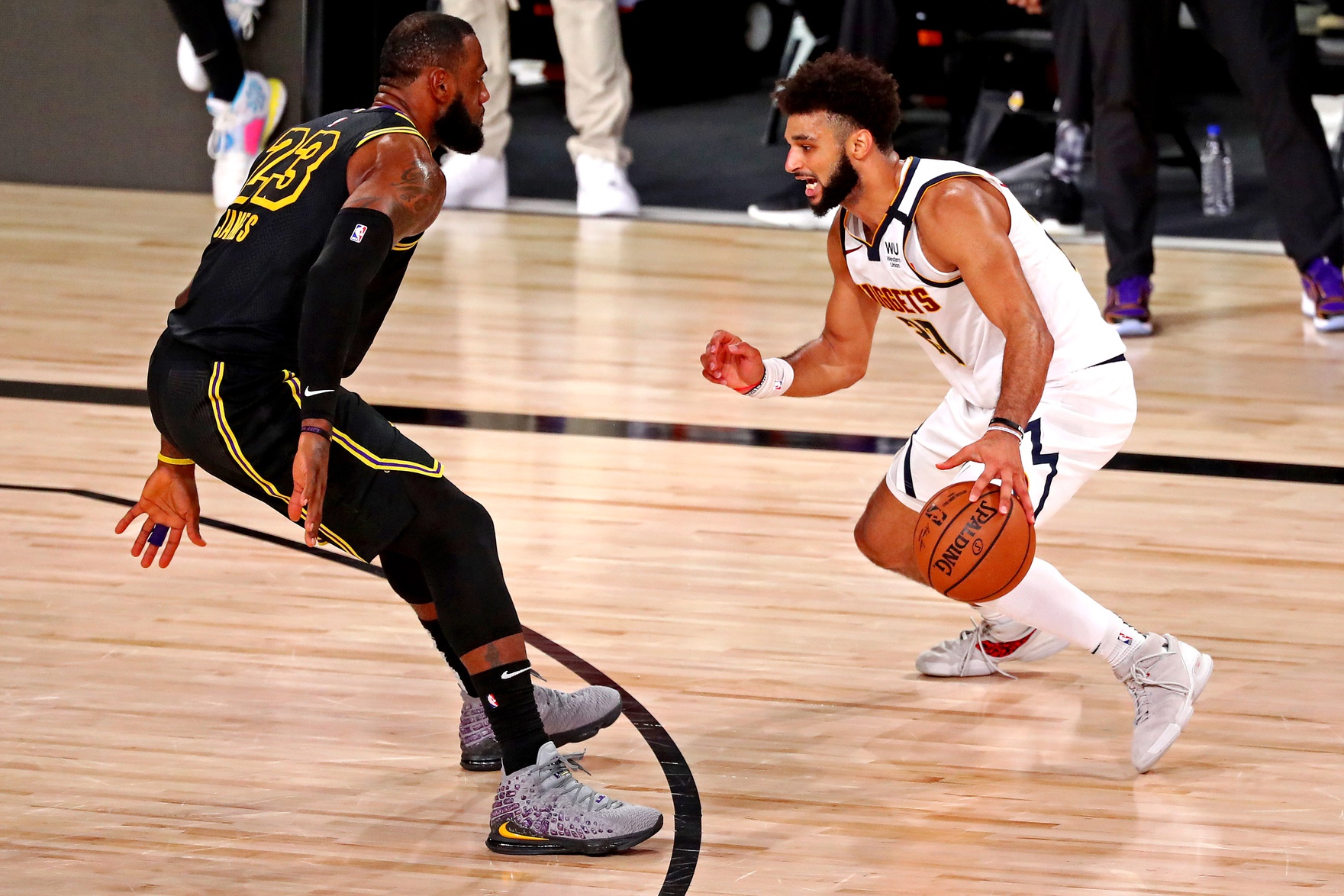 On the last day of September, oddly the first day of the NBA finals, we here in Denver should be reminded that the Nuggets could have been up 2-1 on the Los Angeles Lakers in the Western Conference Finals.
The Nuggets should have played better defense on Anthony Davis in Game 2. Davis could have just as easily missed the most improbable three-pointer that gave the Lakers a two-point win and a 2-0 lead in the series. Had Jamal Murray already been an established NBA superstar, the whistle likely would have been less lopsided.
Whether the Nuggets should be playing in Game 1 of the Finals tonight is debatable at best. That the series should have been, or could have been ,delayed by a night or two is reasonable.
But alas, none of it matters. Tonight, the Heat and Lakers will square off in the finals where one team will stake claim to a title, one of the most bizarre championships in NBA history. The Nuggets, on the other hand, will be watching from outside the bubble. And there's no shame in that; Denver seemingly grew from a series of question marks to an NBA title contender right before our eyes.
Aside from giving Nuggets fans hope, Michael Malone's team shoved itself into the national spotlight. Rest assured, the Nuggets will be placed on the short list of title contenders come next season (whenever it might be).
There are reasons the Nuggets can win. Murray is a true superstar (no team without one can win anything). Nikola Jokic is the best big-man in the game (with all due respect to Anthony Davis, the Joker is better). Jerami Grant, who's an unrestricted free agent who should command more than his current player option ($9 million) would have, is an excellent "third" option.  And even young, uber-talented Michael Porter Jr. will have a year of playoff experience under his belt. Who knows? There's a chance he could still be the best of the bunch eventually.
It's safe to say – for the first time in years – that the Nuggets roster is built to contend.
But.
But, the Nuggets can't sit around patting themselves on the back.
Whether it was luck or brilliance, the Nuggets banked on such concepts as "continuity" and "experience" last offseason. And to a large degree, that strategy worked.
Yes, they added Grant – who was absolutely instrumental in the Nuggets run this season – but they really didn't make any headlining moves. By and large, the young Nuggets relied on simply "getting better" because they'd be a year smarter, a year tougher, a year older but still young.
That won't work this offseason. Fortunately for the Nuggets, they can't go much further than they did this season. Losing in the Western Conference Finals to a team that Vegas believes will win it all in a landslide is as close to "winning it all" as a team can get. A buzzer beater here, a better whistle there, and the Nuggets would have been playing the Heat in the Finals. "Experience" is an asset that can only be relied upon so long For the Nuggets, playoff experience is great. Then again, there's a fine line between experience and better.
If the Nuggets stand pat, relying on their own theories of yesteryear, they'll be better, just not good enough.
The good news, however, is that being good enough to win a title isn't impossible. In fact, the Nuggets are close – very close. It might even be boiled down to a few simple things – all or some of which inch Denver into a stratosphere the Nuggets have never been.
Jerami Grant? Pay the man.
MPJ? Play the man.
Paul Millsap and Gary Harris? Just upgrade, man.
When it comes to Grant, Tim Connelly has a very easy decision to make. He either decides to pay Grant or he doesn't. Since Grant is already here, his decision to forgo the player option in his contract comes down to is money. That's it. Grant is already a great fit. Grant has already shown that he likes Denver. Even if the money is equal, there are really only two or three teams that could – like Denver – offer him a shot at a title. Pay him what he's worth and be done with it.
When it comes to Michael Porter Jr, it's not complicated. Play him more and the more benefit Denver will receive in the playoffs next season. No more making him earn his way through the ranks. No more complaining about his inexperience on defense. No more playing favorites to veterans who have been there and done that. Play him and benefit. It's that easy.
Here's where it gets tricky – aka, "where Denver always seems to fall short."
It's nice that the Nuggets are built from within. That's really the only way to win a title outside of Los Angeles (where they can be purchased and/or won through recruitment). But just because a team has been built from within, doesn't guarantee a championship. Even the most well-constructed teams have to add a piece or two – and that's exactly where the Nuggets are at the moment.
And the biggest two key roles that could be improved in Denver are the ones held by Millsap and Harris.
The aging Millsap brings toughness and defense. Why not bring in a younger, perhaps tougher and better, player in the same role. For now, let's say someone just like Montrezl Harrell (who's an unrestricted free agent).
For Harris, there are a ton of free agents who would upgrade the spot. Harris is known as a solid defender (at least in Denver; outside of Denver, he's never received a single vote for the NBA All-Defense team) and one that "used to" be able to shoot. As a defensive player, he's definitely good, but he's not so good his D can't be replaced. On the offensive side of the ball, it seems like Harris' production could be improved without having to land a marquee free agent. For now, think about names like Fred VanFleet, Bogdan Bogdanovic, or possibly even Brandon Ingram (a restricted free agent).
The thing about this year's playoff run is that the Nuggets did an outstanding job of showing the rest of the basketball world how close they truly are. Stars or potential stars take note of that, making Denver more than a flyover city at the moment.
The Nuggets could also make a trade to upgrade in various eras. The only true untouchables (IMO) on the Nuggets roster are Murray and Jokic. Depending on the value in return, everyone else is available for trade.
In a "best-case" hypothetical, why wouldn't the Bucks be looking to trade Giannis? He's an unrestricted following this season, and anyone who follows the NBA would have a hard time believing a star of his stature wants to spend the rest of his career in Milwaukee. It would take a lot to get him, but as small as the title windows in the NBA are, he's probably worth it.
In a realistic scenario, the Nuggets could target a player like Bradley Beal or Jrue Holiday. Both players would cost a decent amount in trade capital, but so long as the Nuggets didn't have to compromise their primary core, and addition like one of these could be their ticket to the finals – and good for both the player and the team.
Regardless of what the Nuggets do, however, there's only one mistake they can make.
Standing pat.
There's a fine line between sticking to a disciplined approach – which is exactly and admirably what the Nuggets have done to get here – and understanding when it's time to seize the moment.
This moment must be seized. And time and experience won't do the trick.