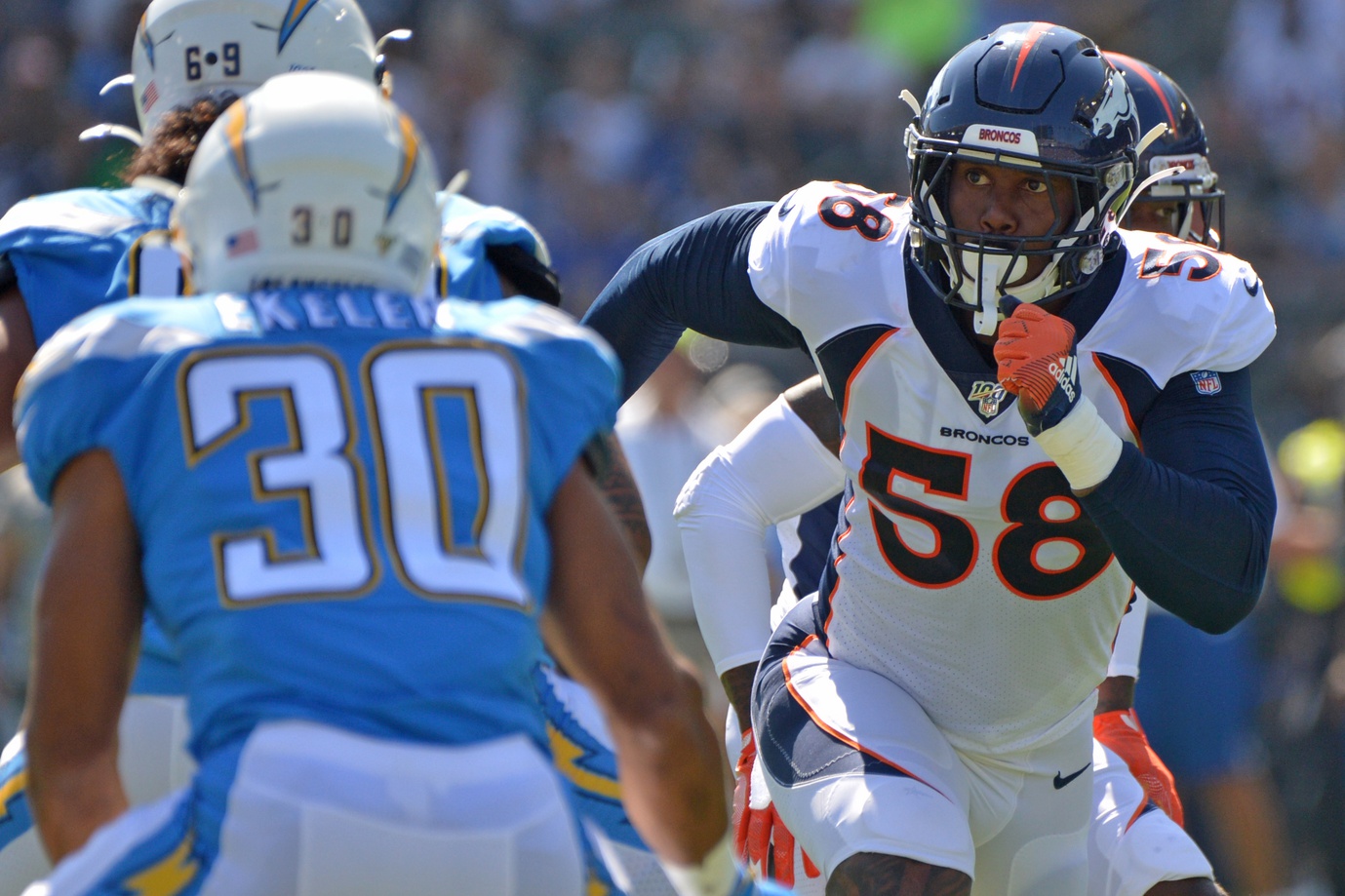 Phillip Lindsay was great.
Courtland Sutton was great.
Dalton Risner was great.
Alexander Johnson was great.
Joe was super.
On Sunday, the Broncos got off the schneid, picking up their first win of the season. Vic Fangio's defense finally performed as it was billed back in August. Rich Scangarello called the best game of his young career as an NFL offensive coordinator. Special teams were, well, not necessarily special, but also made just enough plays to make a difference. In sum, it was a solid win, a team effort, and the Broncos got a handful of standout performances that added up to a 20-13 final over Philip (one "l", now three "Ls") Rivers and the Chargers.
But the reason the Broncos won the game was Von Miller.
For the first time this season, Von was Von.
The stat sheet will not tell the story. Miller's official line reads two solo tackles, zero sacks, zero quarterback hits and zero tackles for loss.
Statistically speaking, Miller's week four performance against the Jaguars looks better on paper: Four solo tackles, two assists and two sacks.
The eye test, however, showed that Miller wreaked havoc in the Charger backfield all day long. And despite the fact the Broncos didn't record a single sack – credit the wily Rivers for having an uncanny feel for Miller breathing down his neck – they broke the seal on the turnover mystery. On the day, the Broncos defense had two interceptions and one fumble recovery – three more takeaways than they've had all season. To say the defense was "flying around" would be an understatement.
And it always seems to come back to Miller, who was not only forcing Rivers to get rid of the ball sooner than he'd have liked all day, but he was also in on what felt like a handful of critical plays. Without Bradley Chubb lining up opposite of Miller, he was double-teamed all day, too. Oddly, without Chubb, the defense played its best game of the season.
When it comes to the Broncos, is it safe – or even fair – to say Denver goes as Von Miller goes?
In a game that involves depends on all three phases and 53 players, that might be extreme. Still, in a major way, Miller is the straw that stirs the drink in Denver.
Ironically – or maybe not – Miller was the subject of trade rumors before Sunday's game against the Chargers. While Mike Klis of 9News reported "Von Miller Not Going Anywhere," he also noted that if the Broncos "are 2-6 at the trade deadline (Oct. 29), they may be sellers. If they are 4-4, they are expected to stand pat."
Stands to reason. After all, if the Broncos hit the trade deadline at 4-4, they'll likely be one of the hottest teams in the NFL, and Miller, as previously suggested, will be a major reason why. On the flip side, if the Broncos only win one of their next three, the playoffs are practically a pipedream, and one might guess that Miller isn't playing his best. Sure, that's speculative, but Miller makes that big of a difference.
How you bettin'?
More importantly, how is John Elway betting?
After watching Miller play on Sunday, any GM in the NFL could see that Miller is far from done. Whatever happened during the Broncos 0-4 start wasn't reflective of what Miller can do (just in case anyone wondered). There's not a GM in the league who wouldn't enjoy his services, either. One might argue that Miller's value – today – is as high as it's been all season.
Nobody in Denver is going to say that Miller is on the trading block. But when does that ever happen anywhere? Remember Demaryius Thomas, who was told he wouldn't be traded by his head coach just days before being shipped to Houston? Loose lips sink ships, and many times, where there's smoke there's fire. Are you buying that Elway won't pick up the phone and listen to offers for Denver's best player? After all, it's best to sell high, and Miller's value may never be higher than it is right now.
Is John Elway of the belief that the Broncos are significantly better than their record? Or would he consider the idea the 1-4 Broncos might be in need of a rebuild?
Nobody wants to see Von Miller go (except maybe Philip Rivers). And rumors are just rumors – until they're not.
But one thing's for certain: Von Miller is the Broncos greatest asset, whether he stays or goes.