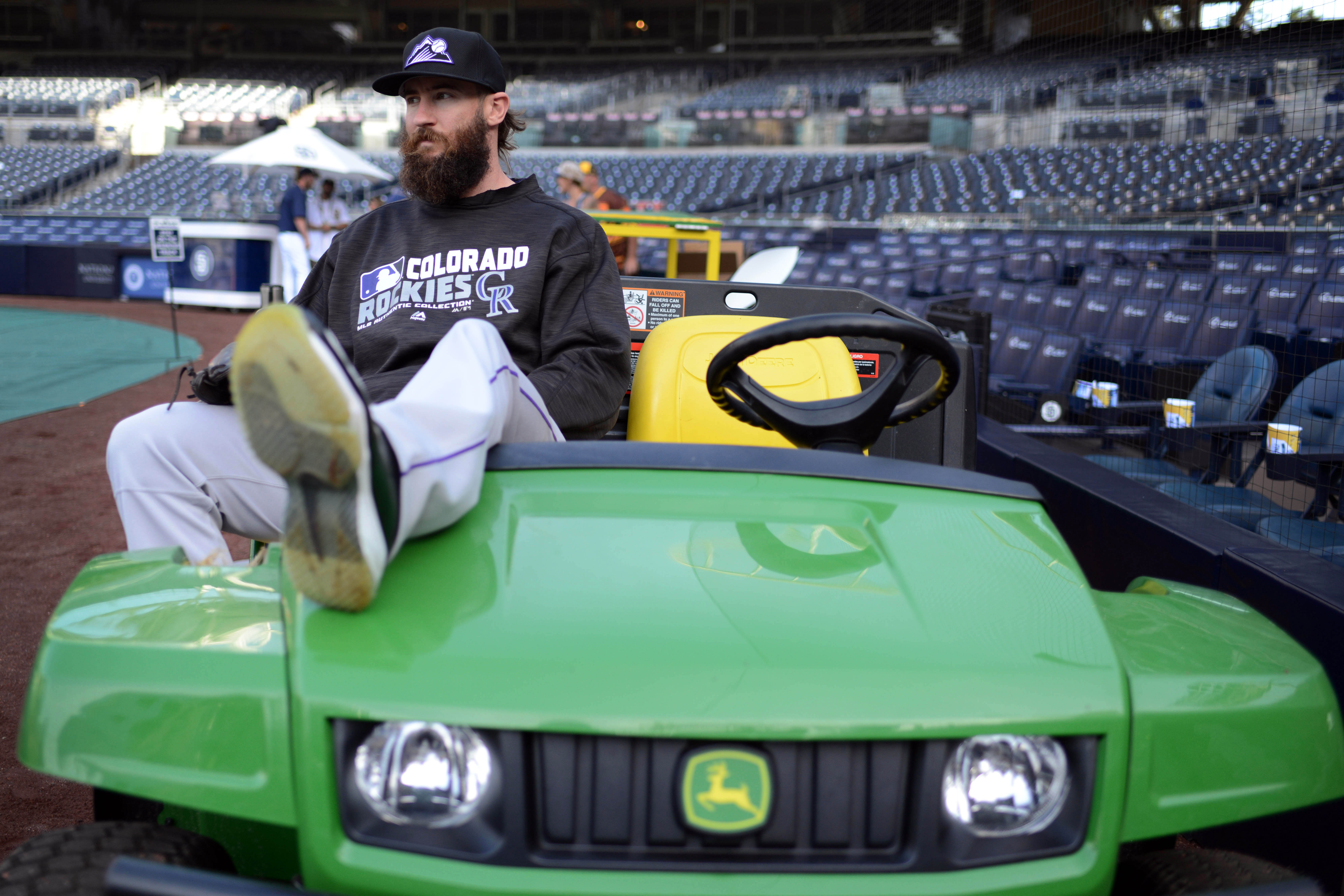 To put it mildly, Charlie Blackmon does not care for the San Francisco Giants.
"I'm not a big fan of the Giants," Blackmon told Root Sports before the series. "There are a lot of people I don't like, so it's not just like this one team. But I feel like personally, I really want to get them."
With a grimace and a shrug of the shoulder, Blackmon echoed every sentiment Rockies fans have felt for years, all the way down to their gut: watching the Giants win titles for this last decade has been tough.
The Giants have dominated the Rockies. They've dominated the entire sport, for that matter. But this weekend, the Rockies seemed to do everything in their power to exorcise those demons, and in the process, they completed a wonderfully executed road trip.
Winning six out of ten in your division on the road is what great teams do — like the Giants. You don't have to like them, Charlie, but emulating them on the field is always welcome.
Here's how the series went down:
Hopefully kids trying to learn how to pitch didn't watch this game, because it was ugly. Rusin never got on the same page with Tony Wolters, who was filling in for Nick Hundley, and Matt Cain was even worse.
Fortunately, the Rockies offense put up a Broncos-esque score, as they scored two touchdowns, with a missed extra point, in the fifth inning. Seventeen Rockies came to bat, and their 13 runs were a franchise record for a single frame.
After going 2-19 with runners in scoring position in the Padres series, the Rockies went 10-14 with RISP in this game.
Miraculously, this came in a pitcher's Mecca, otherwise known as AT&T Park. East Coast affiliates need to pay attention to this team. Not all success, or lack there of, has to do with Coors Field.
At one point the Rockies were up 17-3, but the Giants immediately responded with four runs of their own. A 10-point lead somehow didn't seem safe, and Rusin regressed immensely from his great start in Arizona.
Still, even with the odd 17-7 score, the Rockies came out victorious.
Scoring four runs on the road against maybe the best postseason starter in MLB history is like scoring 10 runs against a normal pitcher.
Those runs were generated by an error, which extended the inning much like the previous night, and some uncharacteristically sloppy Giants defense.
Then Bumgarner just took over. He struck out 10 and proved that his cutter should go in the Palace of Fine Arts.
Even though the Giants deserved this win, Bettis pitched pretty well, too. He gave the team a chance to win, and at the end of the day, that is all you can ask from your pitcher, especially against a lefty who dominated the Rockies' left-handed leaning lineup.
Another pitcher who dominates the Rockies is Johnny Cueto, but Jon Gray was better.
Can someone buy this guy a win?
Gray held the Giants to one hit, but has only received one run of support in his last 17 2/3 innings. What is more frustrating, though, is that the team had a lead in extra innings. Closer Jake McGee, who has been a good pickup this year, has blown saves against the Dodgers and Giants. Blown leads happen, but, McGee, do you mind giving them up to random teams and not division rivals?
The Giants chokehold on this team seemed all too suffocating at this point.
Winning this game was incredibly important for the club. It proves that they can hang with anybody in tight, well-pitched contests on the road. It also put the team above .500 for the road trip.
Thinking Eddie Butler and company would pitch better than Samardzija, who dominated Tyler Chatwood at home earlier in the season, would be like betting that your mother wouldn't be upset that you didn't call her on Mother's Day. But Butler was able to stay consistent throughout his start, something he wasn't able to do in San Diego, and struck out a career-high six batters.
McGee rebounded, and the Rockies became something more than a team that only a mother could be proud of. It's time to start thinking of this team as an enduring road contender.