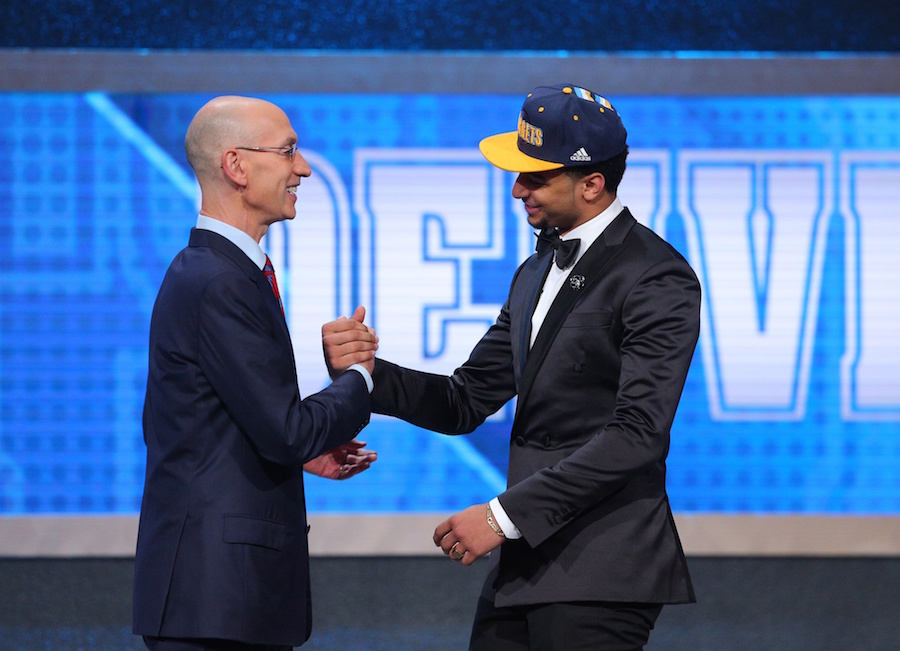 The Nuggets should shoot for the moon next year, even if there's not currently a star on their roster.
On Wednesday the team will hold an introductory press conference for first round picks Jamal Murray (No. 7), Juancho Hernangomez (No. 15) and Malik Beasley (No. 19).
The three young men whose ages add up to a combined 58 years (!) will be asked to help take the franchise to new heights. Specifically, to make the playoffs in the coming years, eventually win a series or two and finally compete for NBA Championships.
There's no reason to think the trio, along with the likes of Emmanuel Mudiay, Gary Harris and Nikola Jokic, can't eventually throw a rockin' parade in downtown Denver and deliver the franchise's first-ever title.
Critics will say, though, that can't happen unless one (or two) of the six guys mentioned above develops into a star. We're not talking a fringe All-Star type player, we're talking a full-fledged, walking, talking, endorsement-deal-signing mega-star. The kind of star that if it exploded wouldn't just be a nova, but rather a supernova – LeBron James or Steph Curry big.
It could happen, but who knows?
Murray or Mudiay would be the most likely to turn into that, but heaping those kind of expectations on two kids who can't even legally drink yet seems a little unfair.
So while we won't have the answer to whether or not one of those guys morphs into a star for at least the next five years, let's turn our attention back to the present, while making one thing abundantly clear.
The Nuggets don't have a star on their roster.
Danilo Gallinari would be the closest thing, but injury problems have plagued him the last few years and, while Gallo's best seasons still may be ahead of him, counting on him to develop into an MVP contender is unrealistic.
Kenneth Faried can jump through the roof and Wilson Chandler can shoot the lights out, but both project much better as complementary players than anything resembling a star. In fact, each is better focusing on what they're really good at, rebounding and shooting respectively, than trying to do it all.
After that, when it comes to guys not mentioned yet, the Nuggets roster has some nice pieces in Will Barton, Jusuf Nurkic and Joffrey Lauvergne, but they figure to be more fringe rotation players than showing up on All-Pro ballots anytime soon.
So why should the Nuggets shoot for the stars this year?
Because my goodness look at the talent we just covered while naming their top 12 players likely on the opening night roster – giving Hernangomez and Beasley the benefit of the doubt.
It's more trendy than becoming a vegan these days to say the Minnesota Timberwolves are going to be a Western Conference Finals team in the next few years, yet no one mentions the Nuggets in that conversation.
Hold the tofu.
The Timberwolves went 29-53 last year and added a nice piece in last week's NBA Draft by selecting Kris Dunn. The Nuggets went 33-49 a season ago and brought on a player they liked even better than Dunn in Murray, not to mention Hernangomez and Beasley.
Karl-Anthony Towns and Andrew Wiggins are incredible talents, yes, but there's no reason a Murray-Mudiay-Jokic core can't go blow for blow with Dunn-Wiggins-Towns all day long.
Wiggins and Towns won back-to-back Rookie of the Year honors the last two seasons, but Jokic finished third last year and Mudiay seventh. Throw in the fact Dunn's 8-to-1 to win the honors next year and Murray's 12-to-1 and the battle is on.
Here's the point: Minnesota's young core projects a tiny bit better on paper, but if they're supposed to be a WCF team sooner rather than later, the Nuggets aren't far behind.
And those aspirations should start in the 2016-17 season. Is it a complete failure if the Nuggets miss the playoffs? Of course not. But making them is a realistic goal.
The Nuggets may lack a star in the traditional sense, but they have one of the best young groups in the NBA. And sometimes 12 "strong to quite strong" pieces *Greg Focker voice* is better than one star and not much else. See Anthony, Carmelo and the New York Knicks.
There's no reason to put tremendous pressure on the Nuggets next season, but there's no reason to baby them along either.
Sometimes you shoot for the moon; even if you miss you land among the stars.