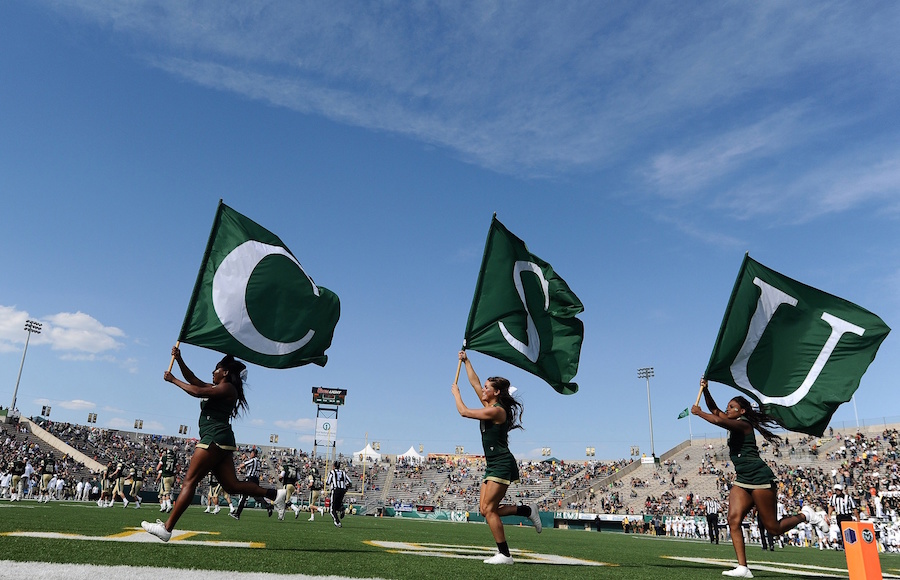 Read this story at CSURams.com
Details are beginning to take shape for Colorado State's highly anticipated 2017 season. In March, the Rams' Mountain West schedule was announced, their season opener was moved up a week and the promotional dates were set. On Wednesday, the Mountain West announced the next piece: the broadcast schedule.
In the first wave of television announcements, seven CSU games were picked up for national broadcasts. So far, the Rams will play on the ESPN Networks twice – including a Friday-night broadcast at New Mexico on ESPN2 – and CBS Sports Network five times.
CSU's season opener, the first at the Rams' new on-campus stadium, will take place Saturday, Aug. 26 at 1 p.m. MT on CBS Sports Network. CSU will also play on CBS Sports Network on Oct. 28 vs. Air Force (kickoff time TBA), Nov. 4 at Wyoming (5 p.m. MT), Nov. 11 vs. Boise State (8:30 p.m. MT) and Nov. 18 vs. San José State (kickoff time TBA).
The Rams will be on the ESPN Networks on Oct. 14 vs. Nevada (time and specific channel will be determined closer to kickoff) and Oct. 20 at New Mexico (8:15 p.m. MT on ESPN2). The contest in Albuquerque was originally slated for Saturday, before moving to Friday night by ESPN.
Additional broadcasts by ROOT SPORTS, the Mountain West Network on Campus Insiders and OC Sports (Hawai`i) will be announced in the coming months. CSU's non-conference date at Alabama – which is set by the SEC – and vs. Colorado – which is set by the Pac-12 – will also be announced at a later date.
New season ticket commitments are now being accepted by contacting the Rams Sales Team at 800-491-RAMS (7267) or visiting www.CSURams.com/tickets. Current season-ticketholders have had the first priority to select their seats during appointed times, which began March 22. In preparation for the inaugural season of the on-campus stadium, the Colorado State athletics department has launched a special football gameday website, which provides in-depth information on everything from tickets to parking, tailgating, gameday logistics and much more. The website can be found at www.CSURams.com/footballgameday.
ANNOUNCED 2016 CSU FOOTBALL TV GAMES:
Saturday, Aug. 26 – vs. Oregon State, 1 p.m. MT, on CBS Sports Network
Saturday, Oct. 14 – at Nevada, TBA, on ESPN Networks
Friday, Oct. 20 – at New Mexico, 8:15 p.m. MT, on ESPN2
Saturday, Oct. 28 – vs. Air Force, TBA, on CBS Sports Network
Saturday, Nov. 4 – at Wyoming, 5 p.m. MT., on CBS Sports Network
Saturday, Nov. 11 – vs. Boise State, 8:30 p.m. MT, on CBS Sports Network
Saturday, Nov. 18 – vs. San José State, TBA, on CBS Sports Network