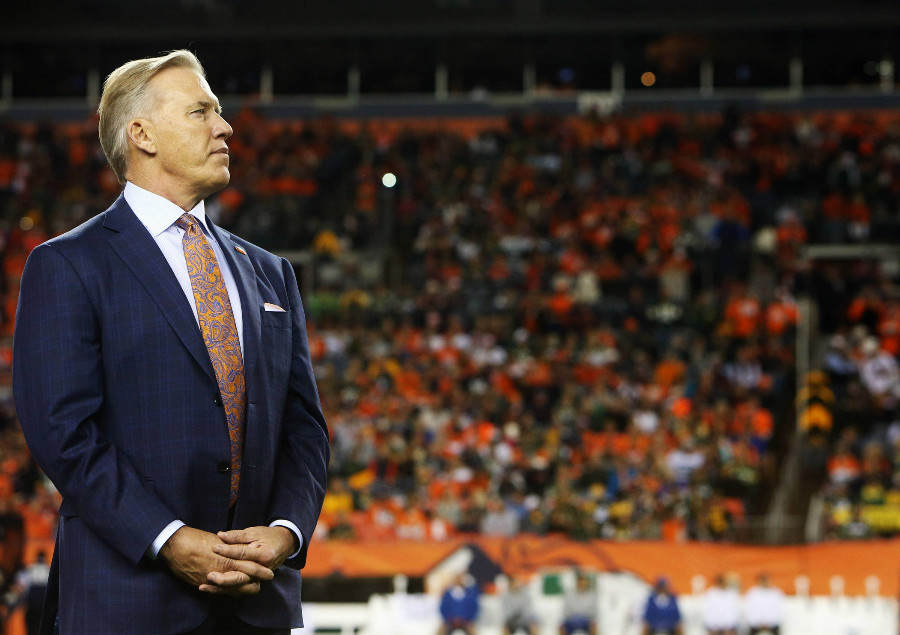 [adrotate banner="75″]
If the Broncos can pull off a Super Bowl upset, John Elway has a hard choice to make.
Now, Broncos fans know better than to count their chickens before they hatch. A 2-5 record in the Super Bowl will have that effect on a fan base. And after the 43-8 beatdown Denver suffered in Super Bowl XLVIII after being favored, many fans in Broncos Country don't want to think too much about a win against Carolina until it happens. The problem is, certain people have to, John Elway included.
That confetti that came raining down after the AFC Championship? It didn't get loaded into the cannons after the two-point conversion stop with 12 seconds left on the clock. That happened days before. Those awesome "WE RUN THE AFC" Championship t-shirts? They didn't get printed after Peyton Manning kneeled down for the win. Those were made weeks before.
A certain amount of advance planning has to go into how the celebration will play out, even before the ball is snapped. The same is true for the Super Bowl. John Elway, whether he likes it or not, has to do at least a little bit of thinking about what he might say to a national TV audience should the Broncos emerge victorious.
After Super Bowl XXXII, Broncos owner Pat Bowlen famously raised the Lombardi Trophy and said, "This one's for John!"
Many fans think Elway will return the favor to Mr. Bowlen if Denver pulls a Super Bowl upset, but there's certainly a case to be made for many others inside the Broncos organization. Here's our list of the top candidates that Elway might say, "This one's for…"