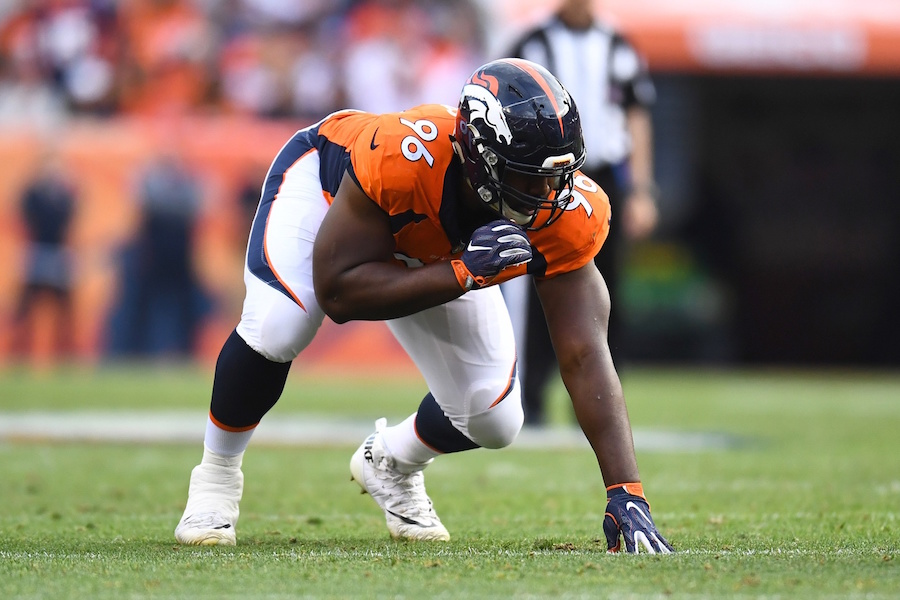 At this time last year, Shelby Harris was an afterthought; the former Raiders' seventh-round draft pick in 2014 had managed to play only seven games in his first two seasons. In Denver, however, Harris blossomed; his high motor and relentless rush saw him play in every one of the Broncos' 16 games last season — and logged at least one tackle in each and every one.
Harris ended up starting six games for the Broncos and collected 5.5 sacks during the season; 3.5 of those in the last six games. Now 26 and seemingly entrenched as a valuable part of the Broncos' defensive line rotation, Harris is ready to prove to everyone that last season wasn't a fluke — it was a long-awaited debut.
"On the D-Line, our room is loaded. It pushes everyone to be the best that they can be at every practice. You can't take any days off. You've got to prepare and do everything like you job depends on it. Which it does for a lot of guys," Harris said after OTA practice on Wednesday. "I love the atmosphere. I love the competitiveness… We're working and getting better every day."
"I just want to help us win. I'm not here for the personal accolades. I'm not here for anything like that. Anything I can do to help the team win, I'm game for it."
If that attitude sounds familiar, it should. When DeMarcus Ware left the Cowboys for the Broncos at age 32, he espoused a similar attitude. Doubted by the team that let him work, Ware brought a whatever-it-takes mentality to the Broncos. Now, as a "guest coach", Ware will find a kindred spirit — and a willing student — in Harris.
"I wasn't here [in Denver] when DeMarcus was here. But he showed us some stuff. He came in and worked with some of the inside guys a little bit, and the outside guys a little bit. He showed us a couple of little moves that I'm going to try out tomorrow and when the pads come on," Harris said. "Hopefully, we get to see more of him. Hopefully, he gets to come in and help us with our pass rushing a little bit more. But I loved it — I thought he had some great insight on some things."
Of course, a player with Ware's impeccable pedigree has not only insight to share, but a gravitas that resonates with players young and old; something that Harris alluded to on Wednesday.
"When DeMarcus says something, you listen. Because you know he's one of the all-time greats when it comes to getting to the quarterback. He has a lot of good insight and you want to pick his brain. You want to sit there and see what he thinks, and the way he thinks when it comes to rushing the passer. So, yeah — when he comes in and he says something, you want to listen," Harris said. "You should've seen today. He was talking to us and all the D-linemen were circled around him and listened to what had to say. Because how often do you get a first-ballot Hall-of-Famer to come in and talk to you and try to teach you about pass rushing?"
"So, you've got to take it, and you've got to enjoy it. That's the reason we're all out here. We all want to be great. We all want to win. We all want to win championships. We all want to make the Hall of Fame. So why not take tips from someone going there?"
#BroncosCountry LIVE: Shelby Harris meets the media after Day 5 of #BroncosOTAs

Posted by Denver Broncos on Wednesday, May 30, 2018
CREDIT: Denver Broncos/Facebook