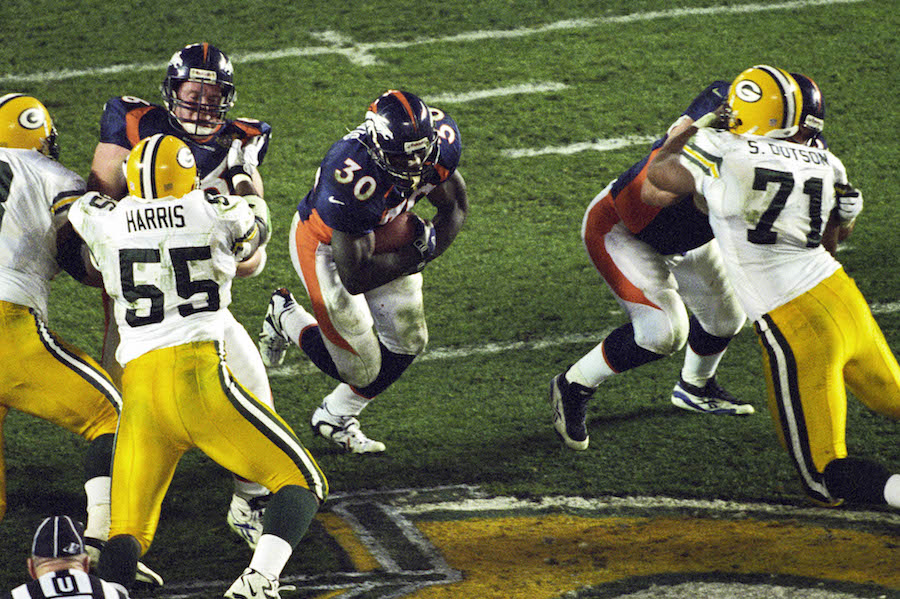 The Denver Broncos have only retired two numbers in the history of the franchise, but there is a third player that clearly deserves to have his number never worn again. The organization has retired John Elway's No. 7 and 18 was technically retired in honor of Frank Tripucka, before Peyton Manning signed here.
With 7,607 rushing yards, multiple AP Offensive Player of the Year Awards and a Super Bowl MVP to his name, Terrell Davis' No. 30 should very clearly be the the third number that is untouchable though.
Rookie running back Phillip Lindsay will wear No. 30 this season after making the 53-man roster as an undrafted free agent. Lindsay, a product of Denver South High School and the University of Colorado, was given permission to wear the iconic number from Davis.
If anyone is going to wear No. 30, Lindsay is definitely a respectable choice. Much like Davis, Lindsay worked his way onto the roster by standing out on special teams and in the backfield. Plus as a Denver native and local running back, Lindsay grew up idolizing Davis.
"It's an honor to be able to wear his number," Lindsay said. "I just want to wear it with pride and do some work with it."
Phillip Lindsay on wearing No. 30:

"It's an honor to be able to wear [Terrell Davis'] number. I just want to wear it with pride and do some work with it."

— Ryan Koenigsberg (@RyanKoenigsberg) September 3, 2018
Lindsay is not the only player to wear No. 30 since Davis hung up his cleats in 2002 though. Safety David Bruton wore the number the number from 2009-15 and represented the iconic number well. Running backs Mike Bell (2007) and Cory Boyd (2008) each had forgettable stints in the No. 30 jersey as well.
Since the organization has not chosen to retire Davis' No. 30 at this point, fans should have zero issues with Lindsay wearing the iconic number. It is odd that the team has not chosen to hang the iconic number 'in the rafters' forever, but Lindsay is probably the most deserving player to wear it since Davis.
Lindsay's work ethic and early rise to stardom resembles how Davis won over the hearts of Broncos Country in the 1990's. His ability to cut and make defenders miss in the open field may remind Broncos fans of Davis' famed runs as well.
With Lindsay wearing the number in the backfield in 2018, the Broncos will hope to recapture some of the magic from Davis and the Super Bowl run in 1998.