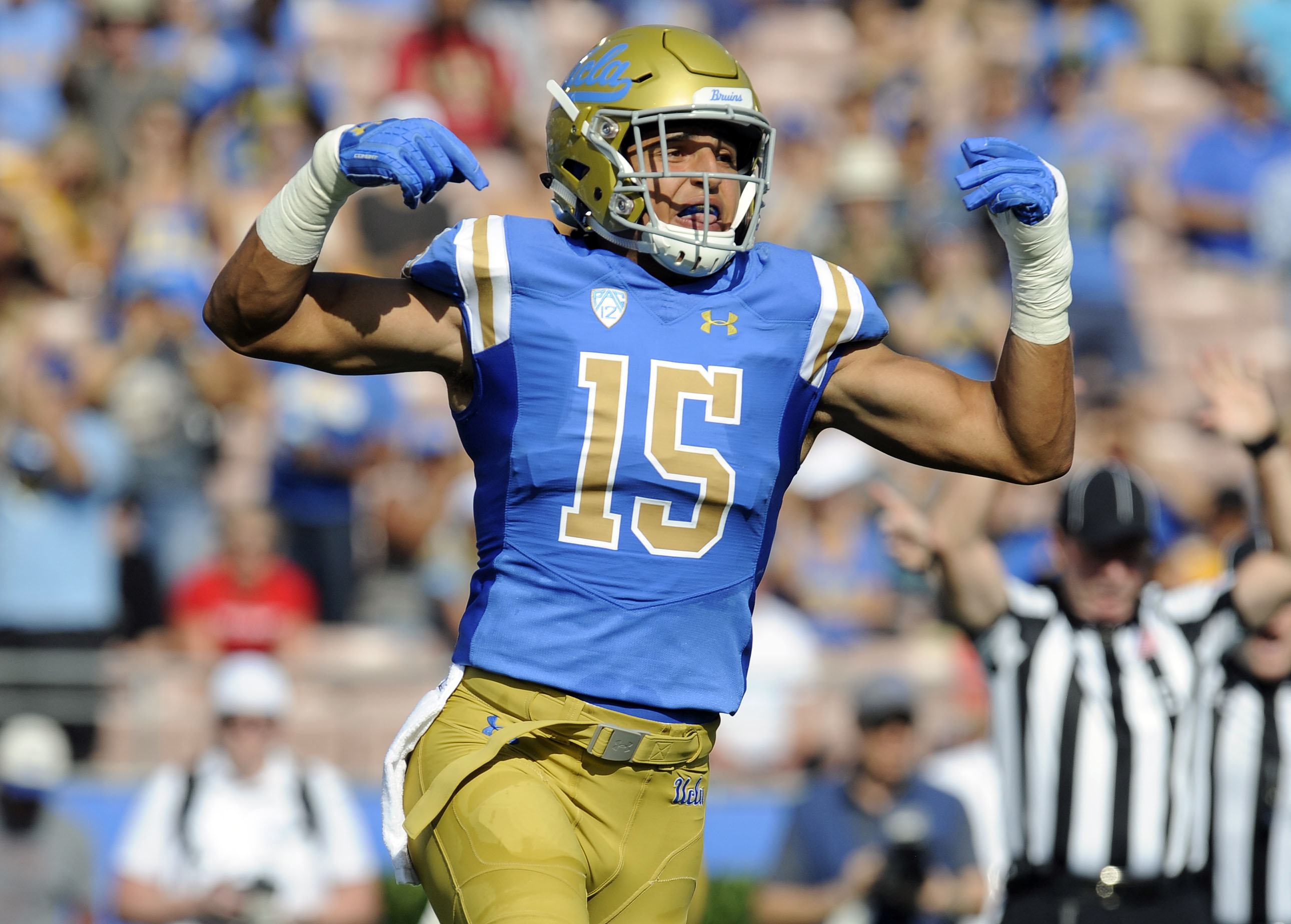 Jaelan Phillips played high school football at Redlands East Valley High School in Redlands, CA. His dominant play landed him the top-rated player in the 2017 recruiting class, according to 247Sports' composite score, above players like Najee Harris, Chase Young, Tua Tagovailoa, Tee Higgins, Cam Akers, and Jeff Okudah.
Phillips chose to commit to UCLA where he immediately made an impact showing off his physical prowess and ability to cause chaos for the opposing team's quarterbacks. Unfortunately, early he would suffer a high ankle sprain early on and, upon returning from that injury, suffered a concussion. All and all, he was only able to play a total of 6 games his freshman year but managed to tally an impressive 3.5 sacks and 7 tackles for loss.
The following season was marred by injury before it could even begin. Phillips was involved in a moped accident where he broke his wrist and he suffered another concussion in that stretch, the third of his collegiate career.
UCLA has a policy that forces their football players to medically retire after suffering three concussions, and as a result, Phillips was forced to retire and pursue his other passion, music.
After some time studying music at Los Angeles Community College, Phillips began to be courted by teams that didn't share UCLA's policy, entered the transfer portal, and landed with the University of Miami Hurricanes. Due to college transfer rules, Phillips sat out the 2019 season and used that time to get his body back into football shape. He added 20lbs to his frame and got back into peak football condition practicing with the team.
His hard work paid off in the Canes' 2020 season. Phillips found his footing on the football field once again, and over the course of 10 games he racked up 45 total tackles, 15.5 tackles for loss and 8 sacks. Jaelan earned All-ACC second-team honors and All-American second-team honors as well.
Phillips then chose to capitalize on his very impressive season by entering the 2021 NFL Draft.
With a current weight of 266 pounds and standing at 6-foot-5, Phillips checks all of the boxes the Broncos would like to see in a potential edge rusher. Denver's front seven looks pretty solid as we move towards the 2021 regular season, but many questions still remain beyond that.
Von Miller will be back this year but beyond that, who knows what the future holds? The same could be said for Bradley Chubb.
On top of that, Miller and Mike Purcell are coming back from major injuries. Meanwhile, Dre'Mont Jones and McTelvin Agim seem to have some really nice potential but they haven't reached it yet.
All of these factors could lead General Manager George Paton to heavily study a player like Phillips and fall in love with his potential in Vic Fangio's defensive scheme.
Positives
Phillips already has the build and frame of an NFL player and one could argue he has the frame to bulk up even more.
He is a natural and fluid athlete who possesses excellent length for wrapping up quarterbacks and ball carriers. His burst off of the line is explosive, and it allows him to get a nice advantage right off the bat. He also shows a nice ability to convert that speed to power.
His strength allows him to set the edge well and he has shown the ability to use that strength to shed blocks and be disruptive as well.
His motor is fantastic. He'll follow the ball wherever he has to, whether that means making tackles downfield when the play is directed away from him or blowing up a reverse in the backfield after being initially blocked. Phillips has above-average bend off the edge allowing him to speed past blockers as well.
He is extremely patient which allows him to read a play as it unfolds and if a blocker is too aggressive, he can use that to his advantage. But he also has the necessary athleticism to afford that aforementioned patience.
Negatives
As you may have figured out, Phillips' injury history is a glaring concern.
We have seen many players retire early due to concussion concerns like A.J. Tarpley, Luke Kuechly, and Chris Borland. If Denver were to take Phillips, they would need to first get a strong confirmation from their team physicians.
Phillips has a nice set of moves on his utility belt, which he can implement but could use a few more to maximize his potential at the NFL level. Though, the same could be said for most edges in this year's class. Also, at times Phillips's pad level gets a little high and that keeps him from playing with optimum leverage.
He did not have the full complement of collegiate snaps that some others in this edge-rushing class so there could be an argument made that he is lacking some overall experience.
Otherwise, it is tough to poke holes in his game.
Verdict
Jaelen Phillips can really fit all defensive schemes in today's NFL. He has the ability to play with his hand in the dirt, as a more traditional defensive end in a 4-3 scheme, as well as at the outside linebacker position in the Broncos' 3-4 scheme.
He has the potential to blossom into a special pass rusher and can still hold his own in run-support and in coverage.
Phillips could be a fantastic addition for the Broncos but to take him with the 9th overall pick in the 2021 NFL Draft seems very risky. For as much upside as there is with him, there is an inherent risk with his substantial injury history, and that risk will take him off of some team's draft boards completely.
More likely, he will be a target if the Broncos elect to trade back and select later in the first round or even early in the second round. Phillips arguably has the most boom or bust potential in this year's draft