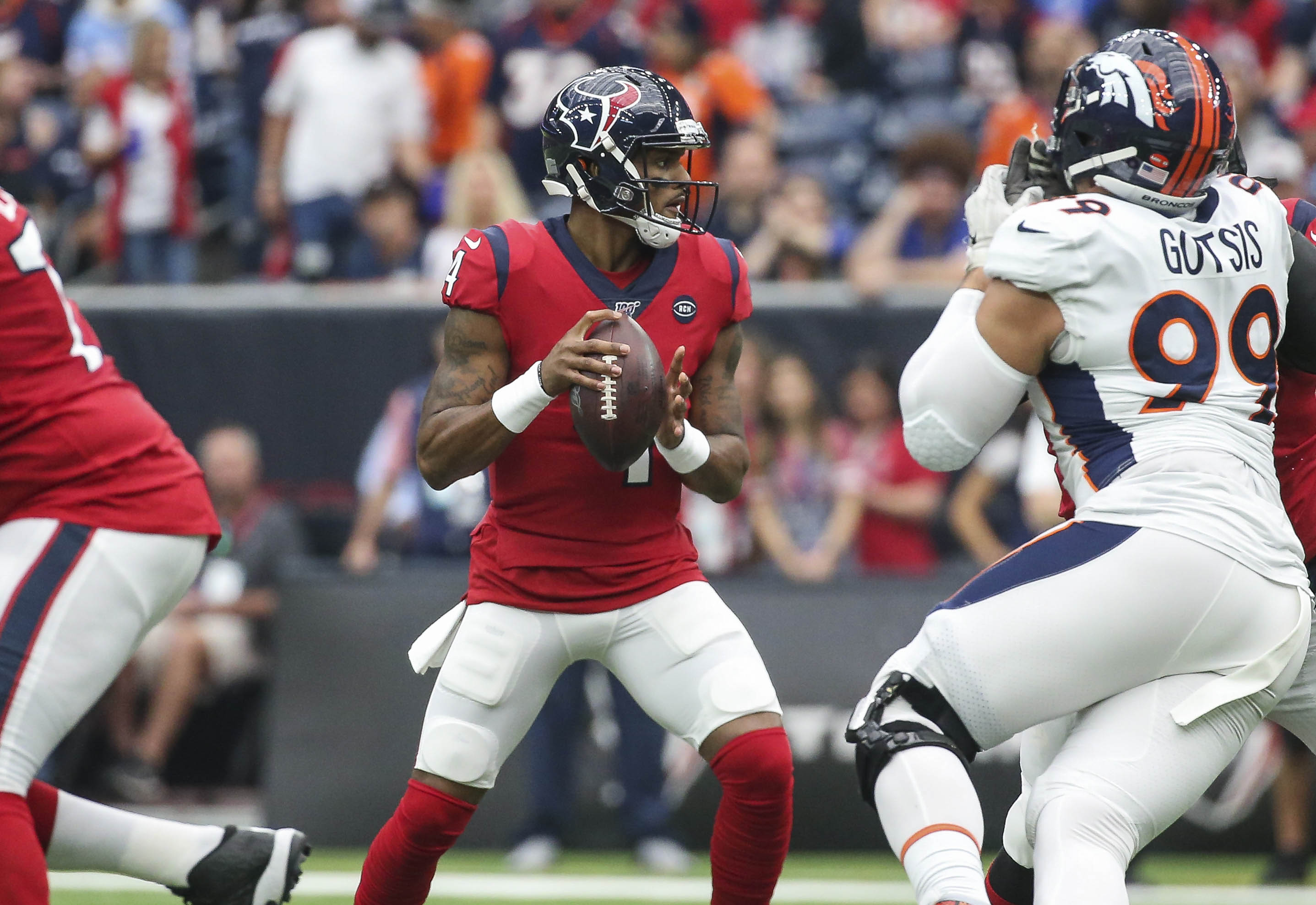 Broncos Country is ablaze with debate surrounding whether or not the Broncos should sell the farm to land Deshaun Watson, and with good reason.
Watson was a top five quarterback at least last season despite having the worst supporting cast in the league. Also he'll be 26 at the start of next season, so you're likely getting nearly a decade of elite quarterback play.
Nothing in the NFL could ever be more valuable than that, so if the Broncos have an opportunity to acquire such a talent, they should definitely pursue it. With that said, because of Watson's extraordinary value, it would cost a lot of draft capital to pull off.
An early report from Benjamin Allbright of Broncos Country Tonight and Pro Football Network said it would take three first-round picks, three second-round picks, and a player to get the conversation started with Houston.
However it should be noted that was reported almost two weeks ago, before the Watson rumors started to boil over.
The debate then becomes, is that too much to give up for Deshaun Watson?
Is that too much to give up for Watson?
On one hand, Watson is the most valuable commodity in the NFL outside of Patrick Mahomes. He would make the Broncos a playoff team overnight and they would likely be among the AFC's top contenders as well. The odds of the next three — or even four — first round picks equalling the value Watson provides is incredibly far-fetched.
Also, Watson on Denver's roster isn't a combination that ends with a top-10 selection. More often than not, the picks you would be forfeiting would end up falling in the 20s. That doesn't make a tremendous difference, but it's worth mentioning as Broncos fans have gotten used to having a top-15 draft pick every year.
The most recent example of a team trading several first-round picks in consecutive years is the Rams. They have traded all of their first round picks since 2016, including the one in this year's upcoming draft. In return for four first-round picks and a second-round pick, the Rams have received Jared Goff, Jalen Ramsey, Marcus Peters (currently a member of the Baltimore Ravens) and Brandin Cooks (currently a member of the Houston Texans).
That's a very low amount of value to receive for the four first round picks. In his five years with the Rams, Jared Goff has provided two top-10 quarterback seasons (2017, 2018), a middling season (2019), and two pretty ugly seasons (2016, 2020). Meanwhile you could argue Deshaun Watson has been a top-10 quarterback every year of his career, and has been a top-five (bordering on top-three) quarterback in each of the past two. He's also a much better value contractually than Goff is.
Of course the Rams also got Cooks and Ramsey in those deals, but that's not enough to make up for the Grand Canyon-sized divide between the two quarterbacks.
However, despite the Rams getting way less value from their trades than Denver would hypothetically get from landing Watson, they've only missed the playoffs twice during this stretch. Once in 2016 with Jeff Fisher, and again in 2019.
However, had the NFL switched to the 14-team playoff format one year earlier, 2016 would have been the only season they had missed the playoffs during that stretch. Also, 2016 was the first year of the Rams sacrificing first-round draft picks, so them missing the playoffs that year wasn't caused by those trades. Simply because those trades were in the future and hadn't been made yet, and it would be beyond-weird for a future event to impact the past.
Unless you're in the film Tenet that is.
It's also worth mentioning that while four first-round picks and a second-round pick isn't identical to three firsts and three seconds, they're comparable in value according to Jimmy Johnson's famous draft pick value chart.
What would be too much to trade for Watson?
As far as what would truly be too much, it's hard to say because we've never seen anyone trade a superstar quarterback just entering their prime before. We've definitely never seen anything like it since the passing boom of 2011. They're just too valuable
You probably start to reach the point of "too much" if you were to do something like the Saints did to land Ricky Williams and trade away all of your draft picks. However instead of trading one year of picks it'd be something like two-to-three years, since Watson plays a much more valuable position (Also he's not an off-field issue, but that's a-whole-nother conversation).
At that point you would be seriously jeopardizing your long-term future and risk landing in the position Houston is currently in. However it's not likely to take a haul like that. Allbright's initial projection wasn't that lofty, and if anything Watson has brought his price of acquisition down by making it clear he wants out.
Not only has Watson lessened Houston's leverage in any trade negotiation they do get in, but it seems unlikely the Texans would have gotten adequate value for him anyways.
In recent years the Texans have traded away Deandre Hopkins and Jadeveon Clowney and were heavily criticized for the value they received in return both times. On the other hand, when they traded for Laremy Tunsil, they were heavily criticized for giving up too much.
You could argue that could change now that Bill O'Brien is out of the building, but Jack Easterby has more power than ever in the Texans' organization and pushed hard for the Hopkins trade, among other questionable news.
"The same sources who recounted Easterby's perceived coldness to Hopkins say it went further," Jenny Vrentas and Greg Bishop wrote in an article for Sports Illustrated. "They describe Easterby as the first, and most persistent, advocate for the team's trading the receiver out of Houston. One of these people recalls hearing Easterby saying about Hopkins in front of small groups of people on multiple occasions in 2019, 'We need to move on from that person,' without using his name. Another recalls learning that the Texans discussed trading Hopkins as early as the summer of 2019."
It's also worth noting that the hiring of Nick Caserio, which is what sparked this Deshaun Watson inferno, appears to be an Easterby-led move. Caserio and Easterby spent time together in New England and are reportedly friends.
The point being, the Houston Texans might not be done making wacky, ill-advised decisions.
Are the Broncos good enough to win a Super Bowl with Deshaun Watson?
This is the last piece of the puzzle.
Any time you sacrifice four first-round picks (or whatever the trade would end up being) it's a championship-or-bust move. You won't have to win one in 2021, but if you don't have a four-year stretch of Super Bowl contention like the Broncos did with Peyton Manning, the move would be disappointing.
Fortunately for them, they're plenty good enough to compete with Watson as the missing puzzle piece.
Just last year we saw a much-less talented (outside of Watson) Houston Texans team win a playoff game and then go up 24-0 on the well-rested Chiefs in Arrowhead.
That's not to say the Broncos roster is without flaws. The cornerback room needs an upgrade, they're merely average at inside linebacker, Von Miller and Kareem Jackson will need to be replaced in the next three years and right tackle is a huge looming question mark, but don't the Super-Bowl-favorite Chiefs have similar problems outside of their young superstar quarterback?
Kansas City's best cornerback is a fourth-round rookie, while Bryce Callahan ranked top-three in the league in nearly every metric you could use to measure cornerback play. Rookie Willie Gay Jr. has shown promise at inside linebacker, but Kansas City is still below league-average there. The only reason they're not worried about replacing an aging defensive superstar is because there isn't one on the roster for them to worry about. As for tackle, the Chiefs have been forced to play Mike Remmers (who Miller made infamous in Super Bowl 50) for a large chunk of this season.
That's the great thing about superstar quarterbacks. To steal an analogy from highly-respected NFL Network scouts Daniel Jeremiah and Bucky Brooks, a superstar quarterback is like Febreze. It can mask a lot of the things that stink.
Watson will be a superstar quarterback for the next decade probably.