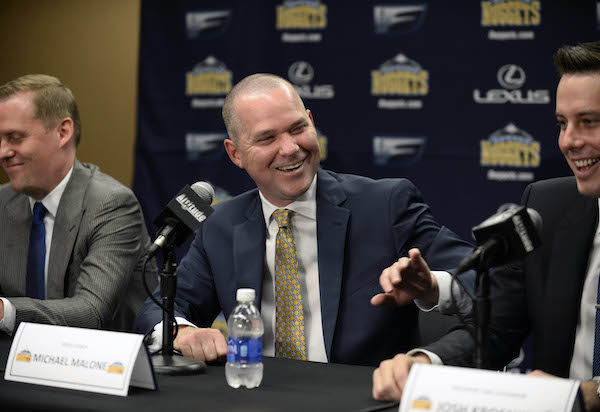 The Denver Nuggets have provided the city with a nice refreshing feeling of optimism this summer. Granted, we've only seen the draft and five Summer League games, but it just seems like Tim Connelly is showing fans, once again, that he knows what he is doing.
Jamal Murray has shown that he has the poise to be the scorer that Denver needs. Murray seems to have the confidence in himself to take big shots down the stretch and even put the team on his back when the Nuggets struggle for points during stretches.
Juancho Hernangomez showed the ability to hit jump shots and clean-up rebounds from the power forward position. Juancho plays with grit and toughness. Perhaps Denver was not ready to give Hernangomez a roster spot for this upcoming season at the time of the draft, but that thinking has changed after Summer League play.
Malik Beasley did not see any playing time because he is rehabbing an injury. However, expectations are Beasley will show just as much promise as the other two Nuggets 2016 first-round draft selections.
Connelly has managed to bring this talent to a roster that already includes promising young stars like Emmanuel Mudiay, Nikola Jokic, Jusuf Nurkic and Gary Harris, which were also Connelly's draft picks.
Connelly has also shown the ability to trade well. He has acquired numerous first-round draft selections by making smart deals. Connelly has even acquired really good talent in trades, notably Will Barton.
The question moving forward during the offseason is: What should Denver should do with all of this young talent? The roster has filled up and the Nuggets simply cannot keep everyone.
If Denver was ever going to make a deal for DeMarcus Cousins, now is the time. Cousins is extremely unhappy in Sacremento. He has had issues with losing, coaching and now is questioning the Kings' future due to a questionable draft last month.
If Cousins would fit in anywhere, it would be in Denver. He would get to play with a fellow Kentucky alumnus in Murray and also be reunited with the one head coach he enjoyed playing for in the NBA, Michael Malone. The Nuggets could add an All-Star and Cousins could get a chance to start anew.
I am not saying I am for or against a move of this magnitude. I am just saying that it makes sense for both parties. Cousins does not want to be in Sacremento and Denver has too many talented players on their roster.
Connelly went after Dwayne Wade a few weeks ago and fell short. This could be an opportunity for the Nuggets to aquire a different type of All-Star. What do you think Nuggets fans, would you roll the dice to try and land Boogie?
To hear more conversation on Cousins and the Nuggets' future plans, listen to the podcast below …
Catch the Weekend Drive with Sean Walsh Saturday and Sunday from 2p-4p on Mile High Sports AM 1340 | FM 104.7 or stream live any time for the best local coverage of Colorado sports from Denver's biggest sports talk lineup.