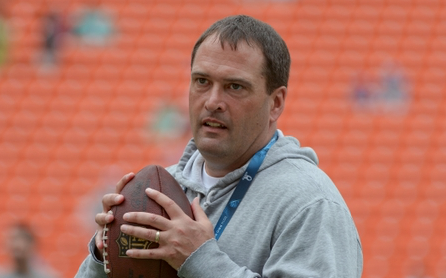 The Denver Broncos just hired a new coach in Vic Fangio, and now the real work begins for the 60-year old in his first head coaching role.
Fangio will have to figure out his personnel and how they fit into his schemes, but first, he'll have to decide which coaches to keep and which to let go.
Per Mike Klis on Monday, Denver is expected to retain special teams coordinator Tom McMahon, among many other assistants. Of course, we won't know for sure which assistant coaches will be kept on board the Broncos team for the next few days as those decisions will be announced soon.
But, should McMahon be retained as the Broncos special teams coordinator?
The Good
Denver started the season hot on special teams. There was the extra point block by Shaquil Barrett in Week 2 which gave the Broncos the one-point edge and win.
In Week 3, Justin Simmons jumped over the long-snapper and blocked a field goal against the Ravens, and then returned it 19 yards for a touchdown. But, that TD was wiped off the board when a block in the back was called. Earlier in that crucial loss to the Ravens, linebacker Joe Jones blocked a punt, too.
And finally, the fourth blocked kick of the year came in Week 12 as Simmons swatted another field goal during Denver's win over the Pittsburgh Steelers.
All told, the Broncos' four blocked kicks were best in the entire NFL in 2018.
One other place where Denver's special teams prospered was in disallowing large returns. Their 20.8 yards allowed per return was fourth-best in the NFL. Of course, that was helped by Brandon McManus' big leg, booting 42 of 73 kickoffs into the end zone where they were downed for touchbacks.
The Bad
Unfortunately for the Broncos, that's where their positive qualities on special teams run out.
In nearly every other statistical category — punting, punt return average, kick return average and field goal percentage — they were in the bottom-third in the NFL.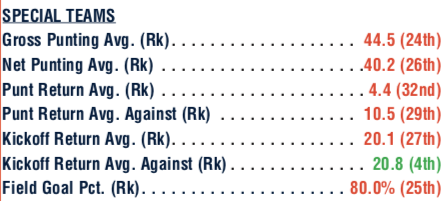 Punting was a major black-eye on the special teams unit this year. First, it was Marquette King as the punter who was signed to a massive contract and couldn't get it going. King played in only four games, with an average of 44.1 per punt, and was eventually placed on the Injured Reserve before being cut. Enter: Colby Wadman, who had zero experience in the NFL. Wadman was an improvement, at 44.7 yards per punt, which was 24th.
But net punting is likely a more important statistic because it includes not only how far the punt traveled, but then subtracts yards which were allowed on returns. Denver's 40.2 yards per punt in net punting is telling of a group which allowed too many big returns.
The most memorable was that 99-yard punt return touchdown which was allowed against the Raiders and should have been downed easily, another blow to McMahon's coaching.
While we praised McManus earlier for his big leg on kickoffs, what was lacking from him this year was his accuracy on field goals, finishing at 80 percent. His career average is 80.6 percent, and this season was actually an improvement from 2017 (75 percent), but the Broncos need him to be at his best, which was 85-plus percent (2015 and 2016).
Of note: All of McManus' misses in 2018 came from 50-plus yards out, as he went 2-7 on kicks over 50 yards.
One other place the special teams struggled mightily was on kickoff returns, where they averaged a mere 20.8 yards per return, which was sixth-worst in the NFL. Devontae Booker's 35-yard return against the Browns was the team's best of the season and Booker was the best return man on the team with 10 kickoffs brought back for a total of 234 yards.
So, what does it all mean?
The Broncos special teams were anything but special in 2018 and it makes little sense for them to bring back McMahon as the special teams coordinator.
Denver has lacked an explosive return game both on punts (last in the league in 2018) and kickoffs for many years; they need a serious shot in the arm on returning the football. And when it comes to covering punts, the Broncos were terrible this season, as evidenced by their net punting marks.
Simply, the Broncos should take this opportunity and let McMahon go, starting fresh from a special teams perspective. We know Fangio will run the defense and Gary Kubiak is expected to run the offense; getting new blood in the third phase of the game would likely benefit Denver going forward.