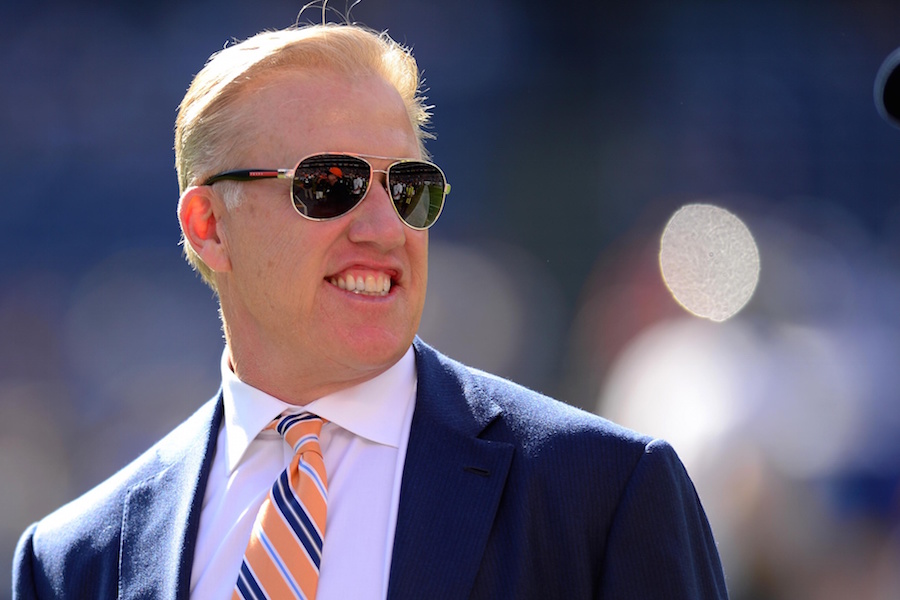 Anyone and everyone can (and will continue to) debate whether or not John Elway should have given cornerback Chris Harris Jr. a raise this season. Harris' bump in pay was not required, as the All-Pro cornerback was already under contract. It's also understood that there's specific language in the contract that all but guarantees this will be Harris' final year in Broncos orange.
Call it a nice gesture by Elway. Say that Harris' wish is a sign of the of the times. Believe that Harris is one of the best Broncos of all time and should be treated as such.
Call it strange. Say it's weird. Believe the Broncos either won or lost.
It's all just opinion.
But here are the facts:
First, Elway believes the Broncos are fully capable of winning… now.
Second, Elway and new head coach Vic Fangio will get the best Chris Harris Jr. they possibly can.
Elway's desire to get a happy Chris Harris Jr. in OTAs and camp is as self-serving as it is generous. Remember, Elway's job is two-fold every season – to put together the best possible roster he can, and to win. Period.
And quite frankly, Elway "the GM" has not done either the past few seasons. The Broncos record of late reflects that. His missteps cannot only be found in the draft, but the Broncos have been mediocre in free agency and "staffing," too. The Broncos coaching staff over the past two seasons was dreadful. And in free agency, the most glaring example of a big decision gone wrong is Case Keenum.
If ever a season will be marked by the moves of a team's GM, it's this one for the Broncos and Elway.
The Vance Joseph debacle was addressed by Elway. Enter Fangio.
The Keenum mistake was admitted and correct (or so hopes Elway). Enter Joe Flacco.
The draft was used to give his new, old quarterback a new toy in tight end Noah Fant, and protection in tackle Dalton Risner.
Aside from Flacco, most of free agency was largely spent giving his new, old, defensive-minded coach plenty of toys on the defense – including (with Harris) three of the top-10 cornerbacks in all of football.
If Elway's offseason is as effective as it was busy, the Broncos – in theory – should be pretty damn good.
And you'd better believe that Elway thinks they will be. So, not only are the quality of Elway's transactions going to scrutinized, but so too is his assessment of his team.
If his acquisitions – his coaching hire, his choice of quarterback, his draft, his free-agent signings – were solid, then restructuring Harris' contract was a wise move by Elway. Not only will the Broncos retain the services of one of the league's best cornerbacks, but they'll be getting a player who's auditioning for his next contract. And if we now know anything Harris, it's that he wants to be paid and paid handsomely. The only way to make that happen in 2020 is to play above and beyond in 2019.
If Elway bats 1.000, he might have a defense worthy of winning a Super Bowl and a quarterback capable of not screwing it up (see the 2012 Baltimore Ravens).
If Elway bats, oh, let's say .500, the Broncos should be much improved from a season ago.
If Elway strikes out, then $3 million was wasted on Chris Harris Jr.
And the Broncos might need to evaluate the evaluator. In Denver, that's practically an unthinkable suggestion, but this season will show plenty.