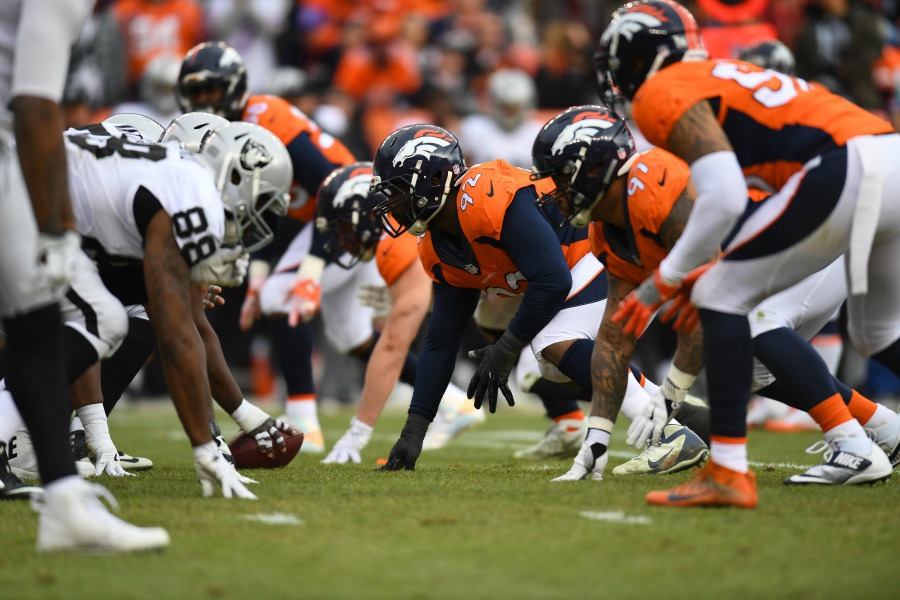 The Broncos look to recover from an upset loss against the Buffalo Bills, hosting a Raiders team that was exposed by a middling Washington Redskins defense on Sunday Night Football.
The Broncos need to make the Raiders one-dimensional, much like the Redskins did, by shutting down Oakland's running offense. In the two Raiders wins, the rushing attack averaged 144.5 yards per game. In the loss to Washington, the Redskins held them to 32 total yards.
The biggest key to shutting down the rushing attack is limiting Marshawn Lynch.
"He can do it all. He can run, he has the balance and again, he has the power. He's a violent runner. You see him and he's physical at the point," said defensive coordinator Joe Woods. Lynch has averaged 3.9 yards per carry this season as the lead back for the Raiders, averaging 12 carries per game. "We have to have gap control. Our linebackers are going to have to hit their gaps, and we have to do a good job of getting multiple guys to the point of attack."
Lynch also has a short, but painful, history against the Broncos. In three matches against the Denver, he is averaging 3.79 yards per attempt with three touchdowns. He also has a postseason touchdown against the Broncos, in Super Bowl XLVIII.
"You just have to get him on the ground," said linebacker Von Miller. "Usually when you get a running back like that, he'll just fall. Marshawn [Lynch], he's definitely 'Beast Mode.' They call him that for a reason."
The Redskins, however, seem to have found an effective way to slow down Lynch. Through the first two games, Lynch averaged 60.5 yards per game, four yards per carry and a touchdown. Washington, who is the fourth-best rush defense in the league this season, held Lynch to 18 yards on six attempts and no touchdowns.
The Broncos enter the game as the third-best rushing defense in the league in yards against (179 total), and top in the league in yards per attempt (2.6). They are also one of two teams who have yet to give up a rushing touchdown. They've already been tested by prominent running backs, including the Chargers' Melvin Gordon, the Cowboys' Ezekiel Elliott, and the Bills' LeSean McCoy.
Shutting down the Oakland rushing attack could also shut down Raiders quarterback Derek Carr as well. Despite 31 attempts in the game against Washington, Carr only threw for 118 yards, giving up two interceptions and four sacks for -22 yards. He had a rating of 52.9 and a QBR of 3.5.
Despite this, Carr and the Raiders' offense is still dangerous, averaging 27 points per game.
"They have a really good offensive line. They have a quarterback and they have good receivers," said defensive end Derek Wolfe. "They've got a really good team. This is going to be a good challenge for us, it's going to be fun."
The Broncos face the Raiders Sunday at 2:25 p.m. at Sports Authority Field at Mile High.