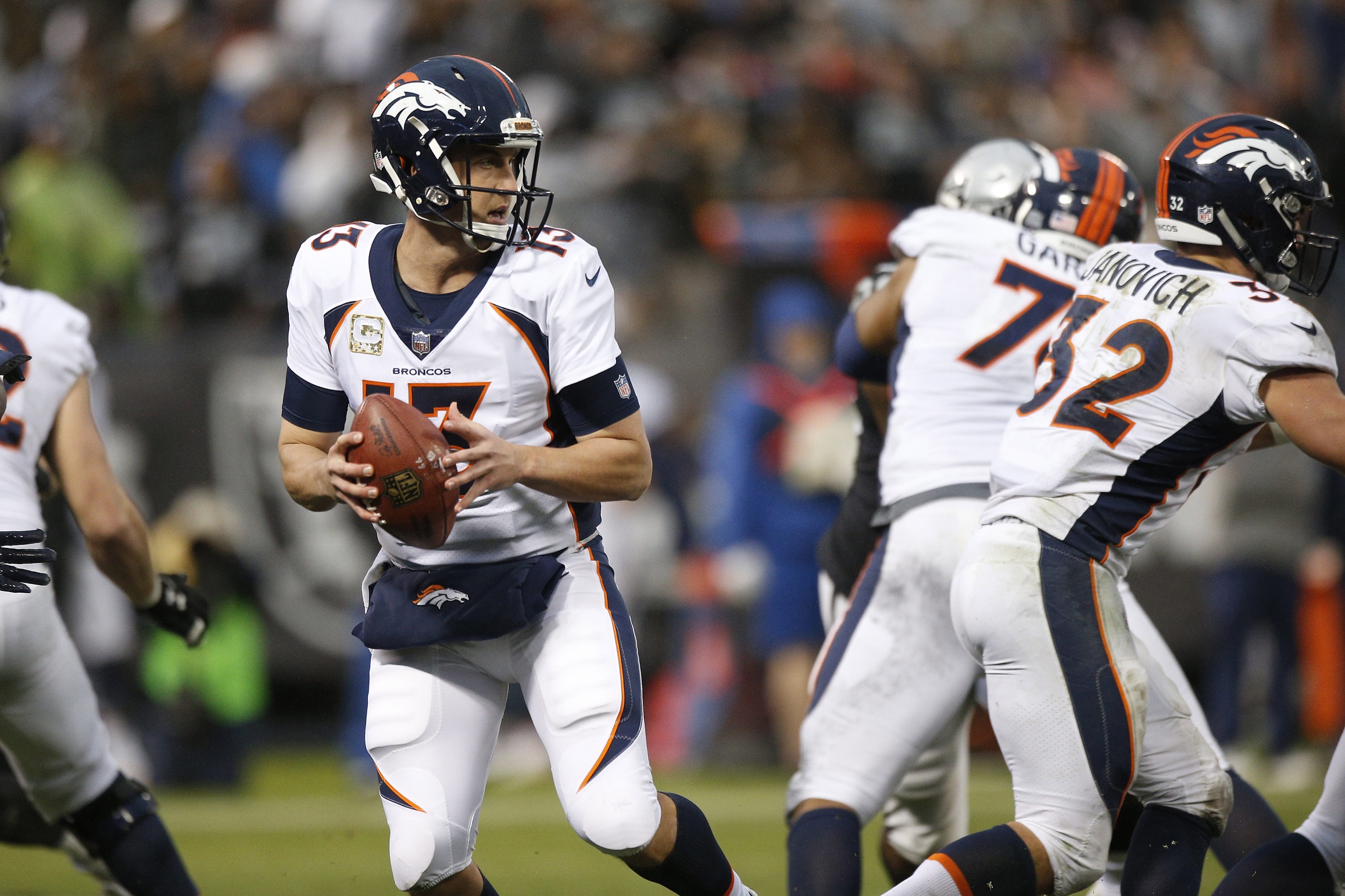 Say what you will about his ability, but Trevor Siemian's leadership and work ethic should never again come into question.
After a six-week span that saw the Denver Broncos begin their current losing streak, Siemian's ability and leadership were called into question as he was benched — and then deactivated for a game — while the Broncos' offense floundered between Brock Osweiler and Paxton Lynch, with no actual positive changes coming from the moves. He finally re-entered the picture against the Raiders with 2:07 left in the third quarter, down 21-0, after Lynch left the game with an ankle injury.
The opportunity was perfect for Siemian — if he was so inclined — to play conservatively, kill the clock, and leave Oakland without taking too much physical damage. Down 21-0 and with seemingly no effort being displayed by his offensive teammates all game, he could have simply hit his check-downs until fourth down and walk away unscathed. Instead, he showed off why he's earned his captain's 'C' and the respect of his teammates as he came to within one failed defensive stop of tying the game.
"Trevor was totally locked in and engaged this week, and it's been a hard time on Trevor," coach Vance Joseph said after the game. "He's had a couple weeks where he had to watch. He was not dressed last week, so I was very proud of Trevor; how he handled the week and how he played tonight. That speaks to Trevor as a person."
After a familiar-looking three-and-out to start his effort, Siemian turned up the heat, leading the Broncos on back-to-back touchdown drives that essentially quadrupled the offense's yardage after a horrendous effort during Lynch's time at the reins. The play of the captain even caught the attention of the defense.
"That's the Trev that we've believed in from the get-go," said linebacker Von Miller. "There's a lot of serious stuff that's happened over the season that's put Trev on the bench, but when he got out there, he definitely was a star."
His effort got the team to within one score, but the defense couldn't stop the Raiders from running out the clock. However, the nature of his effort during the comeback attempt would not be discounted by his teammates, despite missing out on the opportunity to finish the job.
"He came out and played great," said receiver Demaryius Thomas. "I am happy for him. He got his job taken and he sat out for a week. And then he is the back-up, and then the starting quarterback got hurt. He came out and played a fairly good game. You know, put fourteen points up, that's all we ask for. Before that, we didn't have no points, so he came out and did a great job."
Regardless of the end result, Siemian's efforts have earned him fresh respect from fans, coaches and players alike. When things were looking grim, the captain's efforts revitalized a dead-looking team.The effort was enough to earn his starting job back — after it was announced that Lynch will miss 2-to-4 weeks with a high ankle sprain — and it now gives the Broncos a chance to evaluate his future with the team, besides the one thing they should already know: Siemian's a consummate professional that puts his team first.