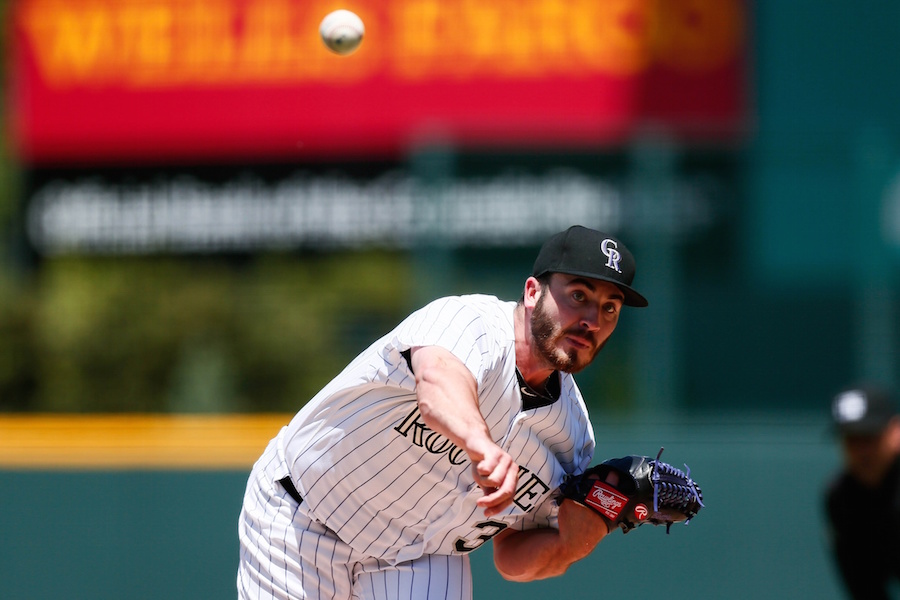 Colorado Rockies starting pitcher Chad Bettis was thrown a curveball before the 2017 season. Midway through Spring Training Bettis received the unfortunate news that he would have to undergo rounds of chemotherapy to combat his testicular cancer.
After months of battling cancer, Bettis is now closing in on a return to the mound for the Rockies.
Bettis threw his first simulated game last week and did the same again today which has paved a way towards his next step on the road to a return: A rehab assignment.
Chad Bettis is throwing in a simulated game today. He's nearing a rehab assignment and will be a huge addition to the #Rockies staff pic.twitter.com/zVNDE38m1r

— Aniello Piro (@APiroMHS) July 7, 2017
Bettis is expected to make a rehab start with Double-A Hartford next Thursday, Rockies manager Bud Black announced Friday. The Rockies want him to throw roughly two innings or 30 pitches in the outing.
Friday's simulated game was a huge step forward for Bettis who said everything felt normal on the hill.
"I felt good. I felt strong through it all," Bettis said
Bettis looked comfortable on the mound during the session. His velocity was solid, and he seemed to have decent control of his pitches.
The big step for Bettis moving forward is his endurance, something he said was sharp Friday afternoon.
"Really good," Bettis said of his stamina. "I feel normal. I feel like I'm able to catch my breath, recover, fine in between pitches. It's nice to have my lungs back in me."
Bettis is likely at least four to six weeks out from a return to the big league roster, but the minor league start is a huge step on that road.
"I think what shows he's ready is that he's throwing 90 MPH," Black said following the simulated game. "He's done this work for the last month to prepare for this. He's checked off boxes physically to be ready. … I think he feels good mentally and physically."
Bettis is working towards a return to a pitching staff that very much needs him. Colorado's pitching staff is currently suffering through a rough patch. In June, Colorado posted a team ERA of 5.05, which ranked 24th in baseball.
Bettis will certainly help bolster the Rockies pitching staff, but will also give them some maturity. At 28, he will be the oldest member of Colorado's young rotation. Entering the season, Bettis was regarded as the most stable and consistent pitcher in the Rockies starting rotation.