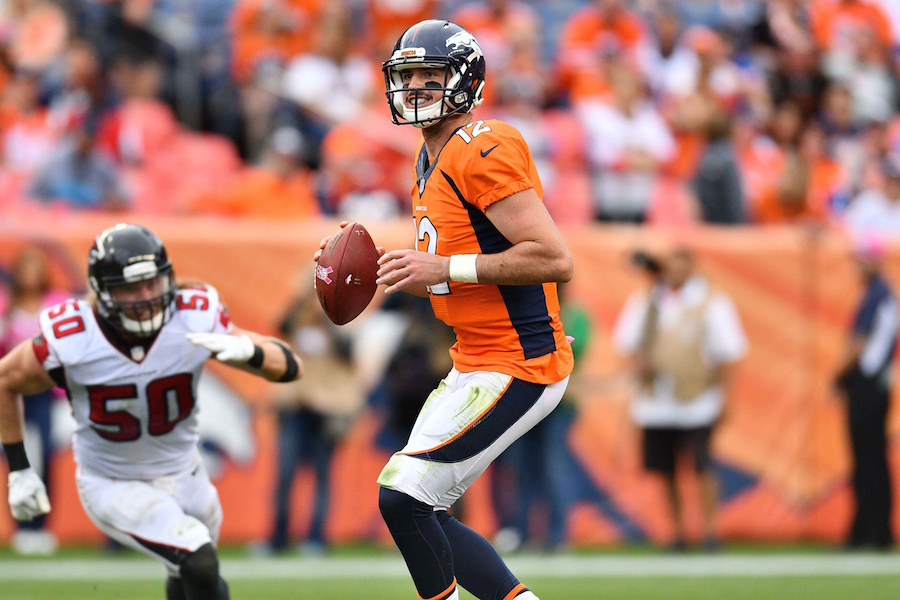 "Broncos-Raiders. Week 17. In Denver. Hell yes! That game could end up deciding the AFC West," said most of Broncos Country when the 2016 NFL schedule was first announced. That optimism died somewhere around Week 6 when it became apparent that Denver's offense stunk.
Today, Broncos fans are grappling with the unfamiliar feeling of watching a meaningless professional football game in January. While that is unpleasant, it doesn't mean there's nothing to gain from Sunday's game.
Gary Kubiak and John Elway have a huge task this offseason. They're looking to completely rebuild the offense on the fly, hoping that their Super Bowl window hasn't slammed shut. No easy task. This process has to start now, not in March or April. Denver's collective brain trust needs to gauge which players in backup roles are useable and which are expendable. With so many holes to fill, Kubiak and Elway need to provide young players on the roster a chance to prove they're ready to step up.
With the Raiders still looking to lock up a division title you can bet they'll show up guns blazing, that provides Denver's decision makers with the perfect opportunity to evaluate talent.
Here are the six players that need to see significant playing time against the Raiders:
QB Paxton Lynch
This would seem like an obvious name to most, but it doesn't appear to be that way for the Broncos. Kubiak has already said both Trevor Siemian and Lynch will see time at quarterback Sunday afternoon, which seems moronic to me. The opinions surrounding Siemian's play are irrelevant because in today's NFL teams simply can't afford to whiff on first-round draft picks (especially first-round quarterbacks they traded up to acquire). This makes the development of Lynch one of the most important offseason projects and Siemian is only standing in the way of that. The only way to get Lynch game day ready is by getting him game day experience, plain and simple.
OL Connor McGovern
Donald Stephenson isn't coming back next year. And it'd take a minor miracle (and a giant pay cut) to see Russell Okung in orange and blue next season. Ty Sambrailo hasn't shown anything close to being NFL ready. The Broncos offensive line is a mess and there are going to be serious holes to fill next season. It's odd that McGovern, a fifth round pick, has yet to be active on a game day, let alone see the field, when the offensive line has been so glaringly bad. It's time to find out what the former Missouri standout can do in the NFL.
TE Jeff Heuerman
One of Kubiak's major failures this season was his inability to get the tight ends involved in the offense. Whether or not that was an issue of talent needs to be determined. If Heuerman can't contribute as a threat in the passing game Denver needs to cut bait and find someone who can.
WR Cody Latimer
The curious case of Cody Latimer feels like a never-ending saga. There was once a time that everyone thought Latimer, not Bradley Roby, would be the standout of the 2014 draft class. Oh how the mighty have fallen. Latimer's lack of production forced the Broncos into a corner when it came to the expiring contract of Emmanuel Sanders. Had the former Hoosier shown any promise of the field, Denver wouldn't have needed to spend $33 million on Sanders. Now Denver has $103 million tied up in two wide receivers (Demaryius Thomas and Sanders) on an offense that has too many holes to count. It's time to figure out if Latimer can make DT or Sanders expendable so their dollars can be better utilized.
C James Ferentz
If we're being completely honest, Ferentz needs to fill the role of punching bag this weekend. Matt Paradis has the serious potential of being a Pro Bowl center, but he needs to get healthy. There's no reason to make No. 61 play through pain for another week. Throw Ferentz to the wolves and let Paradis move his attention to getting healthy. Also, as stated above, Elway and Kubiak need to determine what kind of depth they have at offensive line.
NT Kyle Peko
It'd surprise everyone in Broncos Country if Sylvester Williams were re-signed. This is going to leave a giant hole in the middle of the defensive line. Good interior defensive linemen don't come cheap, and the Broncos have too many are holes to invest money at that position. Peko will, in all likelihood, be filling Sly's role next year. It's time for Wade to get a feel for what he can do as a starter.
Meaningless is a word that's been thrown around a lot this week. It's true that Denver isn't playing for anything other then draft position (which means it'd benefit them to lose), but it's shortsighted to call Sunday's matchup against the Raiders meaningless. Elway and Kubiak need to start preparing for 2017 right now and there is knowledge to be gained on which young players deserve roster spots in 2017.