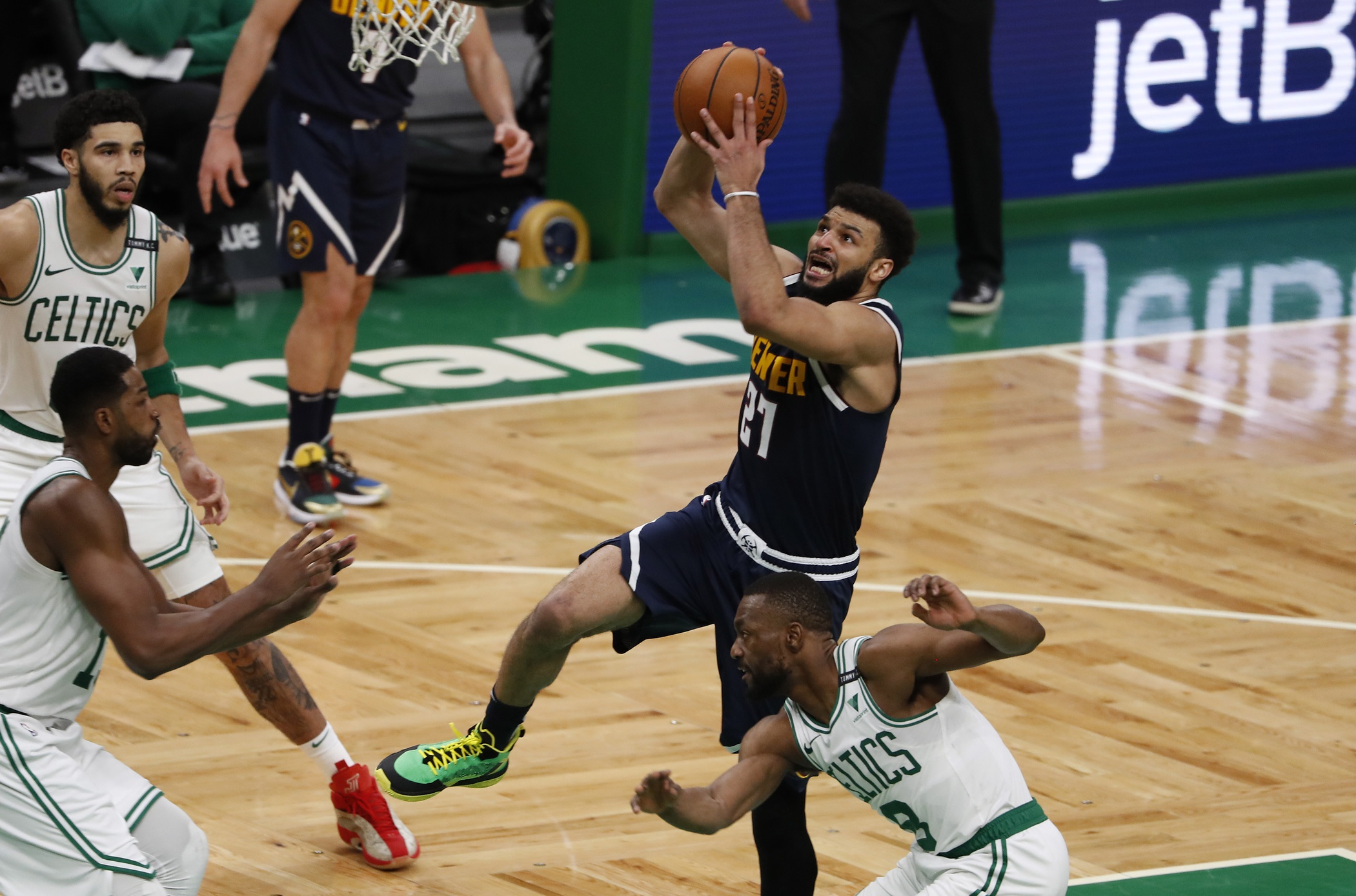 Jamal Murray's injury will forever be an excuse for the 2020-21 Denver Nuggets. And to some extent, it's a valid one.
Look around the NBA's remaining teams: All of them have a dynamic backcourt.
Without Murray, there's little debate that the Nuggets revolving door of guards was anything by dynamic. The important question – the one the Nuggets must answer during the offseason – is whether or not it should be considered dynamic once Murray returns healthy.
But first, let's define dynamic.
It's not a singular definition (necessarily) when it comes to NBA guard combinations. A dynamic backcourt could consist of an unstoppable scorer, a shutdown defender, an elite floor general or a knockdown defender. Better yet, the more of these components any guard combination can offer, the more dynamic a team's backcourt is going to be. That's not rocket science, but one look around the remaining playoff teams (and perhaps the teams that just got bounced) and the definition holds up pretty well.
In Atlanta, the country has just discovered exactly what a gifted scorer Trae Young is. Throughout the playoffs, the 22-year-old Young has averaged 30.5 points and 10.5 assists. He's been a human highlight reel, the likes we've never really witnessed. He's smaller – perhaps posing a bit of a defensive liability – buy also quick and very smart. He's not a "stopper" per say, but he's held up adequately thus far in the postseason.
Young is paired with a bevy of capable guards – none are superstars, but all offering complimentary skillsets. Bogdan Bogdanović is big and strong and shot 44 percent from beyond the arch this season. Kevin Huerter offers a similar build but is more apt to create his own shot. Lou Williams plays a smaller role but is a capable and savvy scorer who brings a veteran presence to an otherwise young team.
In Milwaukee, the addition of Jrue Holiday could very well be the difference between winning a title and not this season. Despite their loss to Atlanta in game 1, Holiday was outstanding. He's also one of the best in the game on both ends of the floor, offering no weaknesses to exploit in any aspect of his game. It's debatable whether Chris Middleton is a big shooting guard or a small forward, but does it really matter in today's positionless basketball? Middleton is also a solid on both ends and can score from anywhere on the court. Milwaukee's "other" guards provide solid depth, but those two players fulfill the requirement for a dynamic backcourt. Oddly enough, P.J. Tucker allows flexibility defensively; he's a strong, 6-foot-5 forward who can guard forwards or bigger guards.
The Clippers are an underachieving bunch (already down 2-0), but they've still got the makeup of a dynamic backcourt. Technically, Patrick Beverly is a point guard, but forget about his offense, which is "adequate enough." Beverly's real value is on the defensive end, where he serves as the NBA's most relentless (see annoying) parameter defender. And considering the players around him, there's not a great need to have Beverly score. Reggie Jackson has been thrust into a bigger role, but one he's more than capable of filling as evidenced by his jump in scoring. In the regular season, Jackson contributed a moderate 10.7 points per game. But in a postseason lineup that's been hit by injury, Jackson has scored and average of 15.4, 18 and 21.5 in each of the first three rounds respectively. Obviously with the likes of Kawhai Leonard (though now injured) and Paul George – both of whom might be listed as forwards but play like guards – the Clippers backcourt is the strength of the team.
And here in Denver, we're more than familiar with the Suns' backcourt. Devin Booker was recently called the "next Kobe Bryant" and Chris Paul is one of the best point guards in the history of the game. Booker is young – just 24 – and will be a problem for the rest of the West for years to come; meanwhile, despite his age (36) Paul can exploit any mismatch or defensive liability (see Michael Porter Jr.) and hold on to a lead better than any guard in the game. Throw in a host of other guards capable of knocking down an open 3-pointer and playing solid defense, and there's no doubt as to why the Nuggets were no match for the Suns.
Look at the teams that just got bounced. In Philly, Ben Simmons isn't cutting it. In Brooklyn, both Kyrie Irving and James Harden were hurt. In Utah, Mike Conley was hurt. And in Denver, Jamal Murray was out and the slew of backups trotted out gave admirable effort, but were far from dynamic.
So, when looking at the Nuggets going forward – and despite having the NBA MVP – there's one glaring weakness – guard.
Assuming Jamal Murray returns healthy, the Nuggets are already halfway there. But that assumption is a dangerous one; it's hard telling when (or if) exactly Murry will be at full strength. Either way, it's imperative that the Nuggets add another piece to their backcourt. Perhaps, as the Denver Post's Mark Kiszla suggested last week, Michael Porter Jr. could be utilized in a trade to land some help in the backcourt. If Tim Connelly wants to see what happens with Porter Jr instead, the free agent pool is loaded with guards who could fill that same purpose. Perhaps the Nuggets look target someone like Kelly Oubre Jr, who plays in the 2-3 role but can guards just about anyone.
Championship windows in the NBA tend to be small. Who better to jump through a small space than a guard? It appears that the likes of Devin Booker and Trae Young have opened a window that nobody thought existed a few months ago. Then again, they're guards.
As great as the Joker might be – he's big – and he'll need the help of a dynamic backcourt to take advantage of an open window. The Nuggets offseason should be devoted to that pursuit.