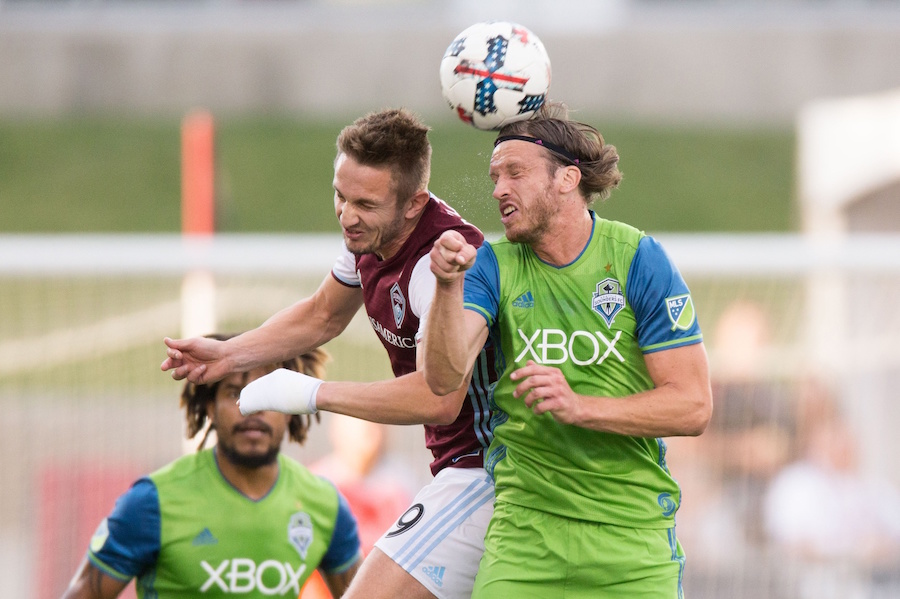 Rapids striker Dominique Badji scored his fifth goal of the season on Tuesday night, but it wasn't enough as the Colorado Rapids fell to the Seattle Sounders FC, 3-1, in front of a packed house at Dick's Sporting Goods Park.
Fielding the same starting eleven that defeated the Houston Dynamo on Saturday night, the Rapids were unable to muster the same well-rounded performance, conceding an early sixth-minute goal to Sounders striker Clint Dempsey.
"When you get into a game of this magnitude and you're behind it, you start to feel your legs go a lot quicker than you would as opposed to going ahead. A lot of the decisions against Houston were different and I think at the end of the day, the [team] did everything they could, given the situation they were in," head coach Pablo Mastroeni said postgame.
The visitors would double their lead 24 minutes later when Will Bruin collected from Dempsey and instinctively slotted his effort past Rapids captain Tim Howard.
Looking to inject some energy in to his side, Mastroeni made three changes in the opening 25 minutes of the second half, bringing on the attack-minded Caleb Calvert at the restart, as well as midfielder Micheal Azira and striker Alan Gordon in the 59th and 64th-minute, respectively.
"I thought Caleb [Calvert] was a guy that we could put up front and who could cause some havoc," Mastroeni said of the early substitutions. "He did a really good job coming into the game and spark some stuff on that left side. It was more about freshness."
The moves paid off and the Rapids nearly cut in to the Sounders lead in the 76th-minute as Gordon bounced a thumping header off the bar. The ball then found its way to Badji whose header was spectacularly denied by Sounders goalkeeper Stefan Frei.
Badji would not be denied just minutes later, however, as he tapped home a cross from winger Marlon Hairston to cut the lead in half, giving the Rapids life with just 12 minutes to play.
Despite the shift in momentum, the Sounders would soon put the game to rest following a sensational volley from Dempsey in the 85th-minute.
"It was our errors that cost us the goals but he was clinical enough to take the chances and he punished us," midfielder Mohammed Saeid said of the goal.
Having played eight matches in five weeks across all competitions, Colorado will now see a much deserved 18-day break from competitive action following Tuesday's loss.
"We knew this stretch of games was going to be difficult. I think there were seven or eight games in 22 days, 25 guys on the roster and five injuries. We knew that balance was going to be tricky in the latter part of this set of games," Mastroeni said.
Currently sitting in tenth-place in the Western Conference standings, the Rapids (6-11-1; 19 points) will take some time to rest and recover, before heading to Toronto FC on July 22. Kickoff at BMO Field is set for 5:00 p.m. MT (Altitude).