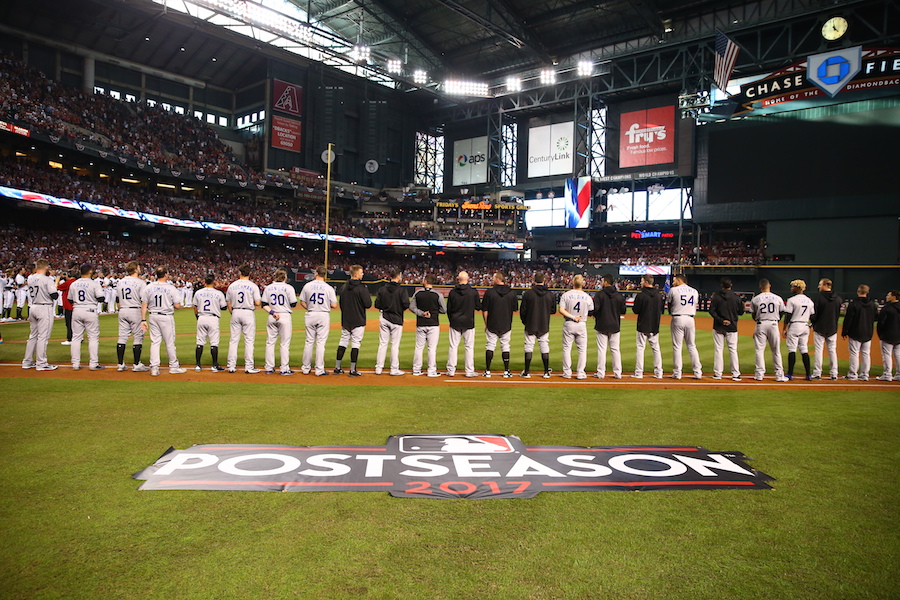 Only one person in Denver has the authority to spend Dick Monfort's money — at least his money tied to the Colorado Rockies roster — and spend it he has. Rockies general manager Jeff Bridich opened up the checkbook to the tune of $114.5 million spent on free agents so far this offseason, the most in baseball according to the salary tracking website Spotrac.
The Rockies, fresh off a Wild Card berth, dropped big money on the bullpen (Jake McGee, Bryan Shaw and Wade Davis), not to mention spending willingly on four key players to avoid arbitration (Charlie Blackmon, DJ LeMahieu, Chad Bettis and Chris Rusin) and bringing back a former player (Chris Iannetta) to stabilize the catcher position. Yet, with pitchers and catchers due to report in just one week, there are still positions in limbo for manager Bud Black. First base is a major question mark, and how that spot plays out could impact the outfield. The Rockies are chock full of talented young starting pitchers, but a proven arm could bolster a rotation that is long on upside but short on experience.
It's unlikely Bridich will be doling out any more big contracts this offseason, but the hot stove market for free agents has been unusually cold this year (outside of Rockies relievers) and there are still dozens of players presently without a home for the 2018 season.
Big-name free agents like outfielders Jose Bautista and J.D. Martinez, corner infielders Eric Hosmer and Mike Moustakas, and starting pitchers Yu Darvish and Jake Arrieta are all yet to sign. With Spring Training just two weeks away, someone is going to flinch and the markets will open back up.
Thomas Harding of MLB.com wrote recently that the Rockies are sticking to a plan: "…develop a starting rotation and lineup core, then target key veterans for important bullpen roles and augment the lineup … they have eschewed calls to add an experienced starter or a multiyear contract for a corner bat."
However, if it proves out that teams are dictating (see, winning) these new contract negotiations, the Rockies could find themselves in a unique position to "augment the lineup" and/or add that starter or corner bat at a team-friendly price. Knowing they have the chance to be a legitimate championship contender, it has to be tempting for the brass at 20th and Blake to go out and snag one or two more players that could put them over the top.
Only Jeff Bridich can spend Dick Monfort's money, but here are some ways he could do so that would improve the Rockies' championship odds in 2018 and 2019.
Scenario 1: Bye Bye Blackmon, Play Him Off DJ
The Rockies know they have, for certain, one year remaining with batting champions Charlie Blackmon (2017) and DJ LeMahieu (2016) on the roster. After that, they'll have to make a choice. Both become unrestricted free agents in 2019. The Rockies can't keep both Blackmon and LeMahieu and have any hope of also keeping Nolan Arenado beyond 2019. (Arenado is a UFA in 2020).
In this scenario, we'll presume that the moves they make on the eve of (or during) Spring Training 2018 are with the notion that Blackmon and LeMahieu will both be gone in 2019 and the Rockies will be stockpiling money to pay Nolan Arenado come 2020.
Move 1: Add a No. 2/3 Starter
The Rockies will have their big three bats in 2018, and they can't afford to let a young (see, unproven) starting rotation spell doom in what would be the last hurrah for Blackmon, LeMahieu and Arenado.
They won't spend $20-plus million on the likes of Jake Arrieta or Yu Darvish, but second-tier starters like Jason Vargas and Chris Tillman could be had for a couple of years at around $10 million per year. Both Vargas and Tillman have baggage from the 2017 season (Vargas fell off the map after an All-Star appearance and Tillman battled injury), but both have intriguing upside (Vargas won 18 games last year and Tillman started three consecutive Opening Days for Baltimore). Playing in a division stacked with quality starters, Colorado would be wise to add a proven arm that has pitched in high-leverage situations (both have postseason experience).
Coughing up another $10 million on a starter (especially one with question marks) might be painful, but it would be more painful to see the last year of Colorado's "big three" go to waste if the young starters don't take a leap forward in 2018. The financial burden will be high in 2018 but they'll save money in 2019 with Blackmon and LeMahieu gone, going with younger in-house to replace them. It's an all-in play on 2018, with the hopes that young talent like David Dahl and Pat Valaika can fill the void in 2019.
Move 2: Find Mark Reynolds 2.0
If Charlie Blackmon is going to be gone in 2019, the Rockies will need Dahl to fill his shoes both as the captain of the outfield and as a big bat in the lineup. That also means that Ian Desmond will need to lock down one of the corner outfield spots — likely left field. The Rockies signed Desmond last year with the hope that he could play first base. Desmond's hand injury in Spring Training forced them to bring back Mark Reynolds, who went on to have a near All-Star caliber season. Ryan McMahon may not be ready to make the full-time leap to the big leagues in 2018, so in this scenario it makes sense to find a stopgap at first base and firmly plant Desmond in the outfield.
Reynolds remains a free agent and has probably earned himself a multi-year deal, but with each passing day (and better first basemen still available) that likelihood diminishes. He would be the logical choice to bring back, given his familiarity with the club and his relative success in Denver. However, similar options like Adam Lind, Mike Napoli and Tyler Moore are also out there. Any one of those three has the potential to mirror Reynolds' success without tying down the club long-term at the position.
In this scenario the Rockies' best chance to win it all is 2018; they'll have significant work to do in 2019 to fill holes on the roster left by Blackmon and LeMahieu, but at least they'd have Arenado long-term.
Scenario 2: Chuck and DJ Stay, but No More Nolan
Hard as it may be for some Rockies fans to imagine, there's a possible future that does not have Nolan Arenado playing third base at Coors Field. Arenado is under team control through 2019 (his final year of arbitration eligibility). After that he is looking at a long-term deal that could be worth as much as $400 million. If the Rockies decide that price tag is simply too rich for their blood (and really, who could blame them?), they could use some of that money to lock up Charlie Blackmon and DJ LeMahieu on longer deals. That would allow them to ride out the Blackmon-LeMahieu-Arenado trio through the 2019 season, making two legitimate runs at the World Series.
In this scenario, Colorado doesn't have to be so desperate for an impact starter in 2018 and they can even experiment with Ian Desmond at first base like they planned to do in 2017. Still, they'll have to make some moves to bolster the weak spots on the roster.
Move 1: Bring Back CarGo
Carlos Gonzalez was the only Rockies player on the 2017 Wild Card team who also played in the 2009 playoffs for Colorado. No one player represents the Rockies over the past decade more than "CarGo." But it's possible he'll be "Gone-zalez" in 2018. CarGo remains a free agent, with teams treading lightly after he struggled mightily (by his standards, at least) in 2017. But his value to Colorado isn't different. Gonzalez held down the right field corner at Coors Field as well as anyone ever has, and his corner locker was the hub of the Rockies clubhouse.
In the event the Rockies decide they won't pursue Arenado beyond 2019, they'll have some money to pay Gonzalez in the short term. Spotrac has him valued at $15 million for this year. The Rockies won't pay that, and it's unlikely anyone will. CarGo has long wanted to contribute to playoff success in Colorado, and Jeff Bridich (with help from Bud Black) may just be the man to convince him to take a hometown discount to make that happen. With Desmond at first base and Blackmon in center, Gonzalez can maintain his familiar spot in right field and hope that last season's poor batting performance was an anomaly and not a trend. Worst-case scenario: If Gonzalez can't sustain starters' at-bats at a high level, the Rockies will have spent a little extra on bringing back their longtime clubhouse leader who would also be a dangerous bat off the bench and a reliable fourth outfielder.
Move 2: Add a Depth Starter
Bridich and Black have confidence in their young starting pitchers, and they've given themselves some room for error with seven starters under 30 (and another three or four knocking at the door in the minors) all capable of claiming a spot in the rotation. Still, only Jon Gray has started a postseason game, which ended very poorly for the big right-hander. Adding a depth starter with a little more experience (think Tyler Chatwood but with better home/road splits) could be the stabilizing element needed to carry the young rotation through 2018 and give them confidence heading into what would be a make-or-break 2019 season in this scenario.
Rockies fans might shudder to hear a name like Brett Anderson, but it's a pretty steep drop off in the lower ranks of available starters after Jason Vargas and Chris Tillman. There are some potential diamonds in the rough, including Mat Latos and Wade Miley, and Colorado could even flirt with an Ubaldo Jimenez (more shudders, perhaps?) reunion.
Bridich doesn't have to make a move on a starter, but he would be wise to have a backup option or two in the event his young pitchers stumble out of the gate.
This scenario bids farewell to Arenado after 2019, but it gives him two legitimate shots at a World Series between now and then alongside Blackmon and LeMahieu.
Scenario 3: Go All-In for 2018, Then Pray
The common belief is that Colorado long-term will have to choose between Nolan Arenado, Charlie Blackmon and/or DJ LeMahieu. Keeping all three isn't realistic, given the depth in the farm system and the high price tag each will command. But there's even a scenario in which all three are playing elsewhere by 2020.
If the Rockies aren't sure they can commit to any of those three beyond their current contracts, they could make a very bold move and add two more big-name players at the last minute for 2018, then start to blow things up in 2019.
It would mean paying a huge payroll this year, saying goodbye to Blackmon and LeMahieu after 2018 and could mean trading Arenado midseason in 2019. But would it be worth it to make the World Series this year? Here's how it could happen.
Move 1: Pay for an Ace
Does Dick Monfort want to pay Yu Darvish or Jake Arrieta more than $20 million a year on a multi-year deal? No. Does Dick Monfort want to make it to another World Series? Yes.
Adding Darvish or Arrieta would give the Rockies a bona fide No. 1 starter. Either one would immediately be a pitcher that Bud Black could match up against the top starter that Arizona, Washington and the Dodgers would march out in the opening game of a playoff series. Neither Darvish nor Arrieta are at the level (especially year after year) as Zack Greinke, Max Scherzer or Clayton Kershaw, but either one can certainly match up against that group better than anyone currently on the Rockies' roster.
The Rockies were on Darvish's 10-team no-trade list last year, but so were the Red Sox and Cubs — both division winners. Perhaps he'd be more open to pitching at Coors Field now that Bryan Shaw and Wade Davis would be following him in relief. Arrieta, meanwhile, would come with the added bonus that he would get to bat at Coors Field in half his starts. (He hit .262 with the Cubs in 2016.)
Neither one would guarantee a World Series appearance — even Kershaw couldn't do that — but both would offer a major boost in 2018 and give the Rockies an arm that could single-handedly win games for them in 2019 (and beyond when the big three completely dissolves in this scenario).
Move 1a: Sign Eric Hosmer
Yes, Eric Hosmer would cost the Rockies another $20-plus million dollars on top of the money they're already spending on Davis and what they'd have to spend on an ace in this scenario. But he would immediately elevate the Rockies' lineup from "one of the best" to "hands down the best" in the National League for 2018.
Hosmer hit a career-high .318 in 2017 and slugged 25 home runs for the second consecutive season. Protected by the other big bats in the Rockies lineup and playing at Coors Field, Hosmer would be a legitimate threat to win a batting title. Hosmer and Arenado would be, for 2018 and '19, the best corner duo in baseball (offensively and defensively). The Rockies, although they'd have one of the biggest payrolls in baseball in 2018, would have to be a favorite to win the NL pennant.
Even without Blackmon and LeMahieu in 2019, the Rockies might have enough (especially with a stud starter like Arrieta or Darvish) to make another run at a pennant on the backs of Arenado, Hosmer and Desmond. And if things don't pan out, the Rockies could trade Arenado at the deadline in 2019 for a haul of prospects.
In this scenario, 2020 and beyond would be played without Arenado, Blackmon and LeMahieu. But it would include Hosmer, Desmond and an ace — not to mention players like David Dahl, Trevor Story and other up-and-coming Rockies.
It's certainly not the most prudent play, and it might burn some bridges with fans who want to see Arenado, Blackmon or LeMahieu locked up as a "Rockie for life," but it would pry wide open the 2018 championship window.
Where's the Money?
The Rockies upped their payroll significantly for 2018, knowing that this may be the last hurrah with Blackmon, LeMahieu and Arenado all on the same roster. They've assembled what, on paper, should be a lights-out bullpen. But they're also leaning heavily on a young, mostly unproven starting rotation and entered February without a first baseman, officially.
Pitchers and catchers report in a week. The first full Spring Training workout is less than a fortnight away. The free agency levee is going to break sooner than later.
There are moves Jeff Bridich can make to improve his team's chances in 2018 (and 2019), but in the end it's Dick Monfort's money. How badly Monfort wants to improve those odds will dictate which of these scenarios (if any) plays out.