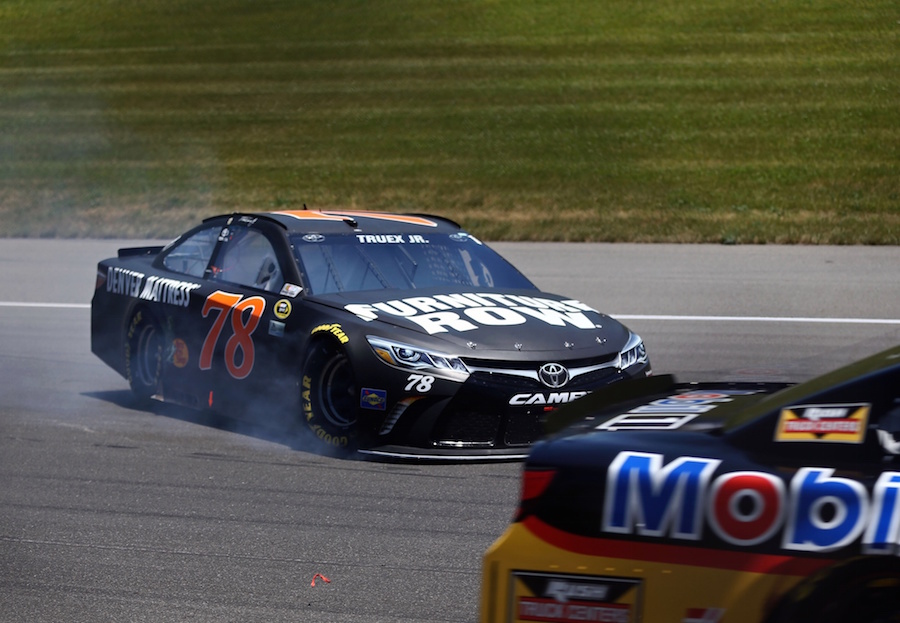 In the end, it wasn't a hot dog wrapper that proved to be Martin Truex Jr.'s undoing in Sunday's FireKeepers Casino 400, but it didn't help.
Truex battled back from a spin out to post a 12th-place finish in the NASCAR Sprint Cup Series race at Michigan International Speedway.
After qualifying second, Truex started the race leading the first 10 laps before the Furniture Row Racing driver encountered his first problem of the day. A piece of paper (possibly a hot dog wrapper) got stuck on the car's grille, causing the water temperature to rise. To prevent possible engine damage, Truex was instructed by team crew chief Cole Pearn to drop back behind the second-place car (Joey Logano) to facilitate the paper from blowing off the grille.
"Our Furniture Row/Denver Mattress Toyota was awesome in clean air and we were rolling right off the bat," said Truex. "The paper debris on the grille was too bad, but nothing major at that point of the race."
The wrapper on the grille was nothing compared to what was about to happen to Truex, but were it not for the rogue wrapper he might have never found himself in the position to begin with.

Following a green flag pit stop on Lap 46 of 200, Truex returned to action in second place, but a short time later he and Clint Bowyer got close to each other in a turn and the result sent Truex spinning into a smoky-like burnout.
Truex was forced to make two unscheduled pit stops for repairs, effectively ending any hopes of bringing the No. 78 Toyota to Victory Lane.
"It just wasn't our day, a tough one for sure," said Truex. "Leading and having a spin out like that with a lapped car definitely hurt our chances. It wasn't anyone's fault. Clint and I talked after the race and there were no hard feelings. Just one of those racing deals."
After the spin out, Truex went from a major contender all the way back to the upper 20s in track position.
"Running in traffic was very difficult," noted Truex. "If you got behind somebody you were absolutely junk. All-in-all we had a good car, better than 12th, but had some weird things happen to us."
After 15 races, Truex is eighth in driver points and eighth in Chase playoff points.