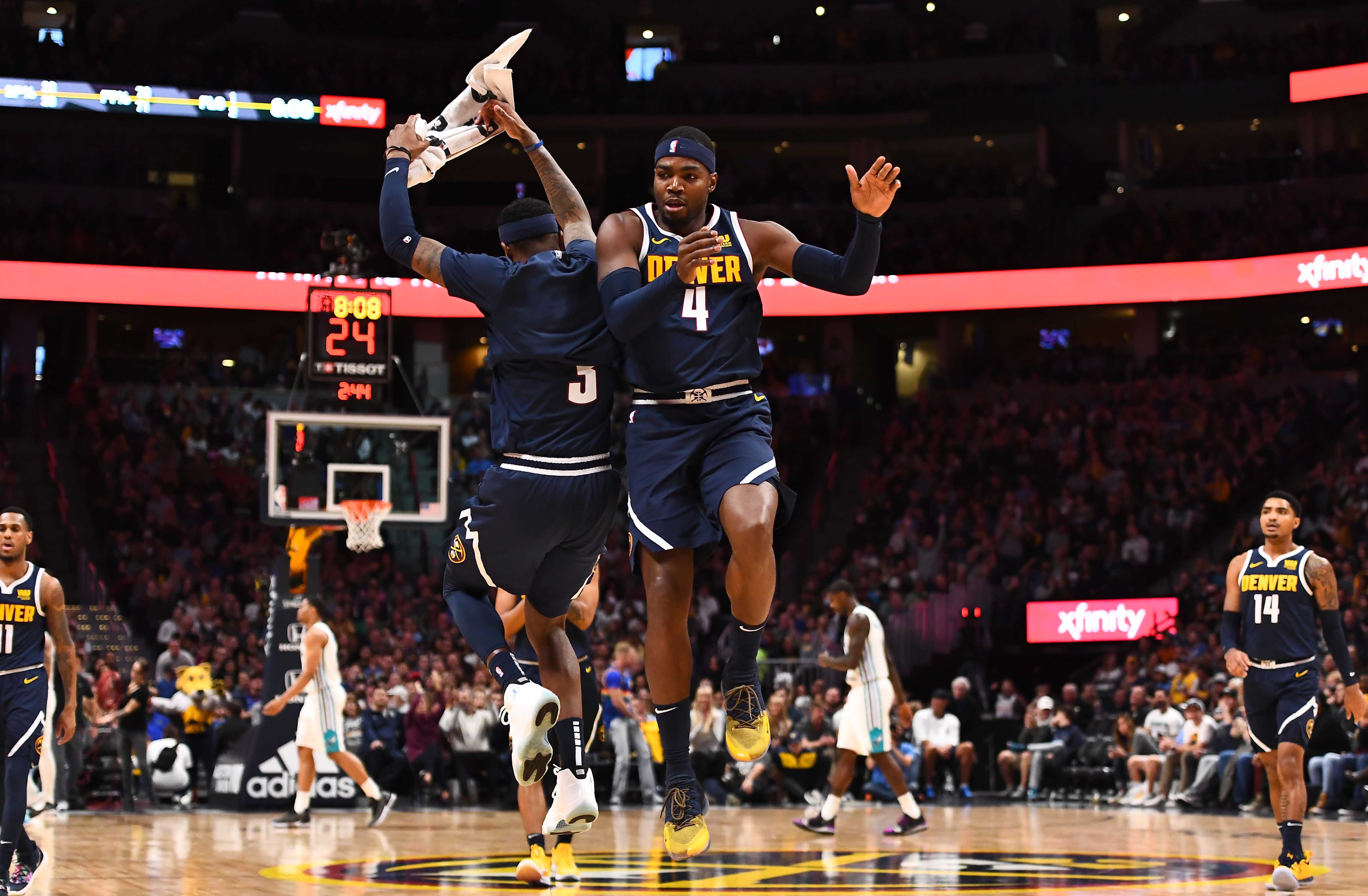 The Denver Nuggets continued their dominating play at home this season with a 123-110 victory over the Charlotte Hornets.
After losing in Charlotte just over a month ago, Denver got some revenge, while picking up their 10th straight home win in the process. It was the Nuggets' fifth consecutive win overall, and marked the team's ninth victory in their last 11 games. The victory also pushed Denver's record to 26-11, which is still good for first place in the Western Conference.
So, without further ado, lets dive into the five takeaways from yet another convincing win for the Nuggets.
The Nuggets continue to defend their home court 
A solid recipe for winning in the postseason is the ability to get home court. Being successful at home is key in the overall success of your team, and its something the Nuggets have been able to achieve so far this season. With their win over the Hornets, Denver is now 16-3 at home this season, which is first in the Western Conference and the third-best mark in the entire NBA.
The win was also Denver's 10th straight at home, which shows they are getting in a pretty solid rhythm of playing at the Pepsi Center. Moreover, it's not as if Denver is just beating bad teams at home. In their 16 home wins, the Nuggets have beaten the likes of Golden State, Boston, Oklahoma City, and Toronto. All those teams are at the top of their respective conferences and really show just how well Denver has defended their home court this season.
Alone with that, gone are the days of people staying at home and not showing up to the Pepsi Center. Even for a matinee affair like Saturday's game, there was barely an open seat in the house, and thats a huge testament to how the Nuggets have gotten the city of Denver to buy into this team.
Garry Harris looks like… well, Gary Harris again. 
After missing 11 games with a right hip injury, Harris played in his third straight game Saturday afternoon, it was a good one. The first two games of Harris' return showed signs of his former play before he was injured, but you could tell he was still working some rust off. All that rust came off on Saturday afternoon as Harris played like the best player on the floor and was key in leading the Nuggets to victory. Whether it was a three-pointer or a thunderous poster dunk, Harris was doing it all against Charlotte.
BUZZ-WORTHY DUNK pic.twitter.com/r2tM4e6q6U

— Denver Nuggets (@nuggets) January 5, 2019
That dunk set the tone for the rest of Harris' night as he finished with 17 points on an efficient 7-of-15 shooting from the field. Harris also made 3-of-8 from three-point land, while also dishing out five assists and hauling in six rebounds. All in all, it was a really solid game for Harris, who looks to be getting close to 100 percent again. Even though Harris has come off the bench since his return, a trip back to the starting lineup could come in the near future, as there is no denying just how important Harris is to this team. Whether he is coming off the bench or starting, the Nuggets' star shooting guard is back to making an impact on this team.
Nikola Jokic guides the Nuggets to victory  
Like he has done all season, Jokic was a surgeon with the Nuggets' offense against Charlotte. Not only was Jokic looking to score, he did a great job getting his teammates involved while also collecting offensive rebounds. Coming into the day averaging a near triple-double — 18.2 points, 10 rebounds, and 7.6 assists — Jokic almost topped all those numbers with a dominating performance against the Hornets.
Finishing the night with a season-high 39 points, 12 rebounds, and six assists, Jokic was the key reason why Denver picked up their 10th straight win at home. It was also a solid shooting game for Jokic as he had a career-high 29 attempts, while making 16 of them in the process. Jokic scored in every way imaginable as he was making floaters, fade aways, three-pointers, and even a coast-to-coast dunk.
🚨 NIKOLA JOKIĆ HAS DUNKED TWO GAMES-IN-A-ROW 🚨 pic.twitter.com/hjQ11qEgRI

— Denver Nuggets (@nuggets) January 5, 2019
Like the caption states, it was Jokic's second dunk in his many games, which is a rare sight for the Nuggets' big man. Still, it shows that Jokic is playing at a high level while he showcases just another way he can impact the game offensively.
Since the Nuggets suffered injuries during the early stages of the season, Jokic has taken over as the Nuggets' leading player offensively. Its even more encouraging to see Jokic doing this as the Nuggets return to full strength. Jokic asserting himself as the catalyst for Denver's offense is key in their success, and it's something he showcased yet again on Saturday.
Denver continues to be one of the NBA's top offensive rebounding teams 
Coming into Saturday afternoon's game, the Nuggets were second in the NBA with an average of 12.4 offensive rebounds per game. Against the Hornets, Denver imposed their will on the glass yet again, finishing the game with 17 offensive boards. Eight of those rebounds came in the first half as Nikola Jokic collected five of his own. Jokic and the Nuggets' work on the offensive glass was a major reason why the Nuggets led at half, and its a key reason why they ultimately won the game.
The Nuggets trail the Oklahoma City for first place by just 0.4 boards per game. One of the things Denver's offensive rebounding also provides them is plenty of opportunities for second-chance points. The Nuggets certainly made the most of those on Saturday as they finished the night with 31 second-chance points.
On the season, Denver is averaging 15.4 second-chance points per game, which is third in the NBA and only 0.3 points behind the New Orleans Pelicans for first place. The effort Denver continues to play with on the offensive boards has keyed their second-chance points, and it's a big reason why the Nuggets still sit atop the Western Conference standings.
Just like with Harris, Paul Millsap seems to have shaken off the rust 
After missing eight games with a fracture to his right big toe, Millsap played in his third game back Saturday afternoon and continues to show no ill effects of the injury that sidelined him. Millsap built off a solid performance against the Sacramento Kings on Thursday night with another great game against Charlotte, going for 18 points on an efficient 7-of-14 shooting from the field. It was not just scoring though; Millsap also affected the game by hauling in six rebounds, while also dishing out three assists.
Paul and Nikola. Marvelous. Marvelous, we tell you. pic.twitter.com/Fb6bwkTDB5

— Denver Nuggets (@nuggets) January 5, 2019
Millsap also brought his usual play on the defensive end of the floor. Finishing the night with four steals, Millsap did a great job getting his hands into the Hornets' passing lanes and creating some easy fast break opportunities for the Nuggets. There is no question that Denver missed the defense Millsap provides them while he was out. Just like Harris, Millsap came off the bench for another game, but should certainly slot into the starting lineup sooner rather than later after yet another solid performance.