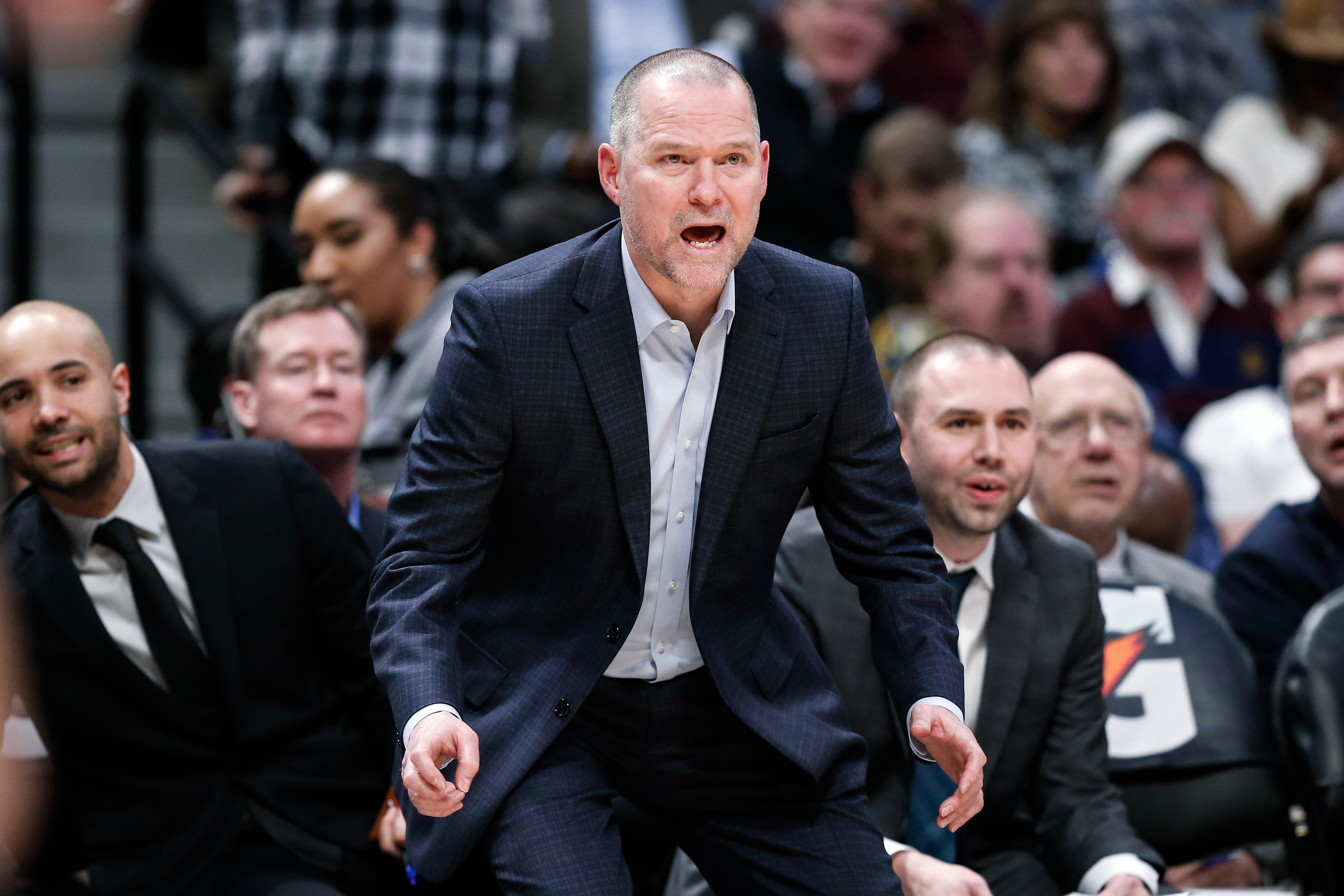 The Denver Nuggets, after beating the Los Angeles Clippers 121-100, have continued their dominance of the Western Conference. Denver now has the best record against Western Conference teams and the league's best record at home as they continue to keep their strangle hold on the first seed in the West.
In Denver's win over Los Angeles Nikola Jokic had his second-straight triple-double, Jamal Murray played a strong and well-rounded game, Torrey Craig and Malik Beasley continued to produce at a high-level for the Nuggets, and Denver's bench unit returned to form.
Here are five takeaways from the Nuggets 28th win of the season.
Nikola Jokic is a walking highlight reel
There were many plays that boggled the mind by Nikola Jokic in Denver's win over the Clippers, but two of those plays stood above the rest.
The first highlight reel play from Jokic was an absolutely absurd one-handed full-court heave to Jamal Murray for a dunk, but what makes this play so spectacular is the artistry that Jokic adds.
First off, the reason Nikola Jokic decided to throw this pass was because he realizes that Murray was a step ahead of Avery Bradley before he was even turned to the basket to grab the rebound. So, because Jokic has already decided he is going to throw this pass, he does not need to hesitate before throwing the pass to look for Murray; he already knows where he is going to be. Jokic trusts that Murray is already leaking out and spins on a dime to throw an absolute missile to him for a leak-out dunk.
The other incredible part of this play is how Jokic never actually had to put two hands on the basketball to be able to throw a seam route to Murray. He somehow had enough control to, with one hand, corral the rebound and put the pass into the only window available. If this pass is just an inch or two long or short, it is most likely a turnover. This pass had to have perfect timing and execution to be able to be completed, and somehow Jokic was able to do so with only one hand.
For a cherry on top, Jokic unleashed a move that has not been seen from him before; the pass off of the backboard to himself. Usually, when LeBron James or Kobe Bryant have pulled off this move, they slammed down a monster dunk off of the pass, but in true Jokic fashion, he barely even gets off the ground when he jumps to make the initial pass and he put up a layup after catching the ball off the backboard.
The best part of the play above is that Jokic premeditated it all the way. He could have kept his dribble alive when he rejected the dribble handoff and split two defenders, but instead he was aware enough to realize how wide open the painted area was. Then, in true Jokic fashion, he used a pass to mitigate his speed issues and to allow him to get an easier look at the rim. This is basketball poetry.
It is honestly hard to understand how Jokic was able to feel all of these things happening around him at once. His awareness is second-to-none and it makes for some spectacular plays.
Jamal Murray's strong game on both ends of the floor
Murray had a couple rough moments in the win over the Clippers — almost all of which had to do with his game-high four turnovers — but overall, Murray was strong on both ends of the floor.
He was highly efficient as a scorer. Murray shot 10-of-16 from the field to produce 23 points and was able to hit 2-of-4 3-pointers. Murray was scoring at the rim, in the midrange, from 3-point distance, and was throwing down dunks and reverse layups alike. Murray was showing off his full arsenal of moves and was able to impact the game in a number of offensive ways.
But Murray was more than a scorer against the Clippers. He also was a big reason that Shai Gilgeous-Alexander, Avery Bradley, and Patrick Beverley combined to shoot 3-of-13 from the field and had four turnovers. Denver's defense is at its best when they have strong perimeter containment and that starts with Murray. Against the Clippers, he was strong in that regard.
Torrey Craig and Malik Beasley continues to produce
Gary Harris has missed 15 of Denver's 40 games while his locker mate Will Barton has missed 37 games this season. Even without the production of Barton and Harris, the Nuggets have been able to not just stay afloat, but thrive. The biggest reasons for that fact is the inspired play of Malik Beasley and Torrey Craig; both of whom had strong games against the Clippers.
Craig continued to play hyper-active defense as he has his entire NBA career, but he also added in 14 points on 6-of-8 shooting as well as a perfect 2-for-2 from 3-point distance. His emergence as a part-time scorer and mistake-free offensive player has allowed the Nuggets' offense to take off once again.
The same can be said for Malik Beasley. His game has taken multiple leaps this season and his performance against the Clippers was no different. It was Beasley's third-career start and he filled in as if he was a seasoned veteran. He worked hard on defense, hit his open shots, but also showcased another aspect of his game that has not been utilized much this season — his ability to create of the bounce as a scorer and facilitator. Beasley hit a couple elbow jumpers off of a dribble and also added in five assists against zero turnovers as well.
Beasley and Craig have both worked extremely hard to be ready for when the Nuggets needed them to step up and their preparation has paid off thus far.
Bench unit is returning to form
One causality of the Nuggets insane injury issues was that their once-dominant bench unit was ripped apart in order to field five starters.
At different points this season, all six of Monte Morris, Malik Beasley, Torrey Craig, Juancho Hernangomez, Trey Lyles, and Mason Plumlee have been inserted into the starting lineup. Having that much inconsistency with the bench unit took its toll, but now that Denver is slowly getting healthy, the bench unit is returning to its weaponized form.
The Nuggets reserve unit revolves around the Morris-Plumlee two-man game. When Denver was decimated by injuries, they had to play both players extended minutes which took away from their overall effectiveness. Now, instead of stretching both Morris' and Plumlee's minutes, Denver can unleash their two-man games on opposing reserves in highly concentrated doses. That led to Morris and Plumlee each playing 23 and 20 minutes respectively and combining for a whopping 33 points on 13-of-20 shooting from the field to go with 14 rebounds and nine assists and only one total turnover.
If Denver can get even 70 percent of that production from their bench unit, they will return to their dominant selves very soon and that should scare the rest of the league.
Nuggets continue to have the best win profile in the West
The Nuggets win over the Clippers was important for multiple reasons — most of which have everything to do with potential playoff seeding.
First off, the Nuggets win over the Clippers guarantees Denver will have no worse than a split in head-to-head match-ups and it gives Denver a chance to secure the tiebreaker with a win in their fourth matchup with the Clippers. Considering that the Clippers have been within striking distance of Denver all year, that tiebreaker is likely to come in handy.
Denver's win over the Clippers in the friendly confines of the Pepsi Center was also the Nuggets' 11th-straight win at home and it improved Denver's home record to a league-leading 17-3. Denver regaining their home-court dominance is an extremely important development as they continue to battle for playoff positioning.
Lastly, Denver's win over Los Angeles improved the Nuggets record against Western Conference teams to 19-6 which is the best mark in the West. If Denver ends up in a tie with a non-divison team, the conference record becomes the tie breaker if the head-to-head record is also a tie.
Denver may just have the best win profile of any team in the National Basketball Association and their win over the Clippers is just another example of that fact.