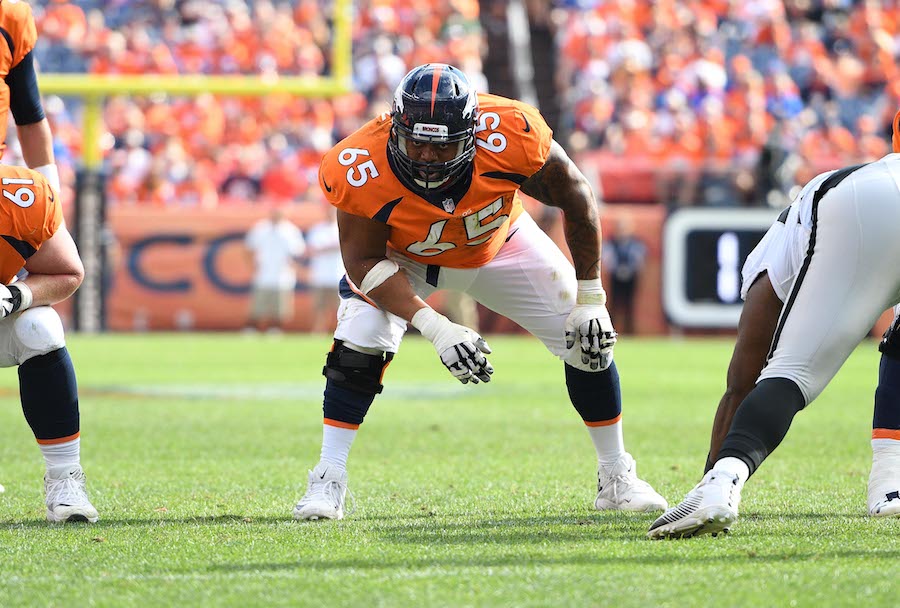 Like many Broncos fans, starting left guard Ron Leary found himself frustrated at the number of penalties that the offensive line committed in Sunday's 27-14 loss to the Ravens – and knows that they're holding the team back.
"All the penalties are something we have control over," Leary told Eric Goodman and Les Shapiro of Mile High Sports AM 1340 | FM 104.7. Both starting guard Connor McGovern and starting left tackle Garrett Bolles had a pair of holding calls in a sloppy performance. Bolles led the league in holding penalties last year with seven, and is on pass to surpass that before the halfway mark of the season.
Leary explained why it's important for the Broncos to not only reduce the penalties, but to keep their cool and prevent things from spiraling out fo control like they did in Sunday's loss. "It's a sign of a mature team and a mature player; when you know bad things are going to happen, you've just got to go to the next play," Leary said. "Next time, we have to clean it up the penalties – and I think we will have a better result."
Now, the 2-1 Broncos are set to face the unbeaten Chiefs, who have been running roughshod over opponents to the tune of 39 points a game behind second-year quarterback phenom Patrick Mahomes II. Leary believes that, despite losing Aqib Talib in the offseason, and despite an alarming lack of depth at cornerback, that the Broncos' defense will be up to the task. "I have all the faith in the world in our defense and I think that they will take that as a challenge," Leary said. "You know we have a lot of great guys on defense. They're watching [Mahomes]; they're seeing all the hype he is getting – and he deserves it, because he is playing good. But I know our defense and I know the men in the locker room, and they are up for the challenge."
Leary's more concerned about his side of the ball, anyway. "Honestly… I know that whatever is going on on that side, they will fix it. I have all the faith in the world in them," Leary explained. "I think, right now, we are just trying to fix our issues with offense. I think once we fix our offense, the defense will get themselves going – and you will see the Broncos that we all want to see."
Click here to listen to the full interview with Ron Leary, including some of his thoughts on the NFL's latest rules changes.
Catch Afternoon Drive with Goodman and Shapiro every weekday from 4p-6p on Mile High Sports AM 1340 | FM 104.7 or stream live any time for the best local coverage of Colorado sports from Denver's biggest sports talk lineup. Download the all-new free Mile High Sports Radio mobile app for Apple or Android.