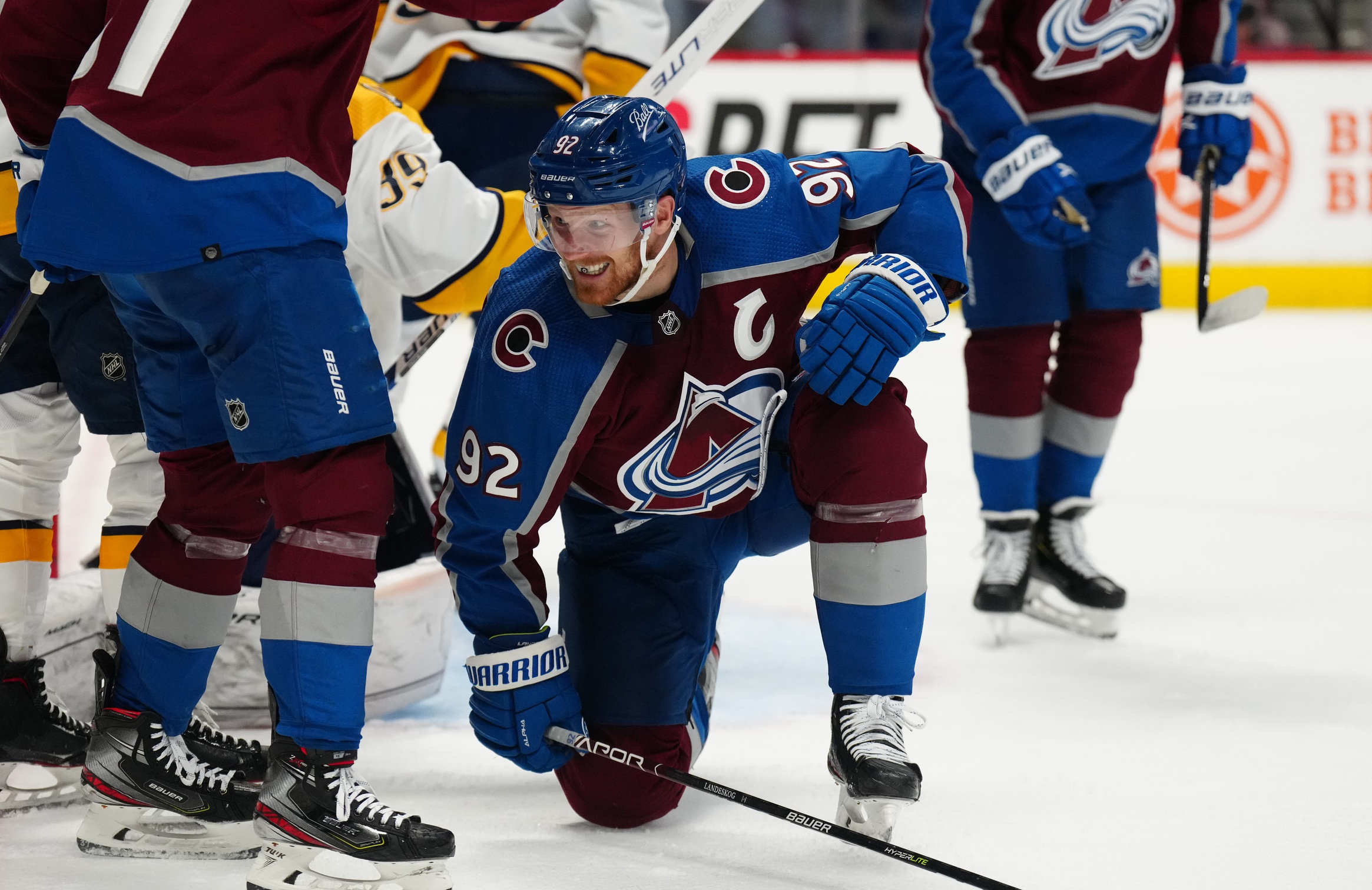 Following a dominating 7-2 victory over the Nashville Predators in Game 1, the Avalanche are looking to take a stranglehold of the series on Thursday.
The Avs, who were fully healthy for the first time all season, had a couple of injury scares to their depth forwards on Tuesday, one of which will not play.
Andrew Cogliano out
Forward Andrew Cogliano suffered an upper-body injury and will not play in Game 2. He skated alongside Darren Helm and Nico Sturm — the other forward that was injured and returned. Head coach Jared Bednar would not name Cogliano's replacement following morning skate but Logan O'Connor was not skating with the extras, which likely means he's slotting in.
Cogliano played just 4:38 after absorbing a hit from Preds defenseman Matt Benning. He failed to score a goal in 18 regular-season games with Colorado but capitalized on a shorthanded opportunity in the first period after a great individual effort to give the Avs a commanding 3-0 lead.
Nashville bounce back
The Avs were the runaway favorites heading into the series but if patterns from Wednesday continue, it's unlikely Colorado continues to dominate as it did in the opener.
In Wednesday's four Game 2 matchups, only one team (Carolina) was able to grab a 2-0 series lead.
Toronto defeated Tampa Bay 5-0 in Game 1 only to drop the second game 5-3. And in the Western Conference, Minnesota rebounded from a 4-0 loss in Game 1 to defeat St. Louis 6-2 in Game 2 while Edmonton rebounded from a tough Game 1 loss with a 6-0 victory over the L.A. Kings.
Landeskog's successful return
Bednar spoke in length about captain Gabriel Landeskog's successful return in Game 1 both on the ice and in a leadership aspect.
Landeskog was on Colorado's second line with Nazem Kadri and Artturi Lehkonen — a spot he will once again occupy. Landeskog and Lehkonen had never skated together in game action prior to Game 1 but were able to build instant chemistry.
Valeri Nichushkin is expected to continue to play on the top line with Nathan MacKinnon and Mikko Rantanen.
__
Aarif Deen is our Colorado Avalanche beat reporter. He covers Avs games live from Ball Arena and attends practices, media availabilities and other events pertaining to the Avs on the daily beat. He is also a co-host of Hockey Mountain High: Your go-to Avalanche Podcast. Deen joined Mile High Sports upon completion of his bachelor's degree in journalism and master's in business administration from the University of Michigan – Dearborn. Before Mile High Sports, Deen worked for the Michigan Wolverines Athletics Department as the assistant sports information director.
Listen to "Avalanche Smash Nashville in Game 1" on Spreaker.