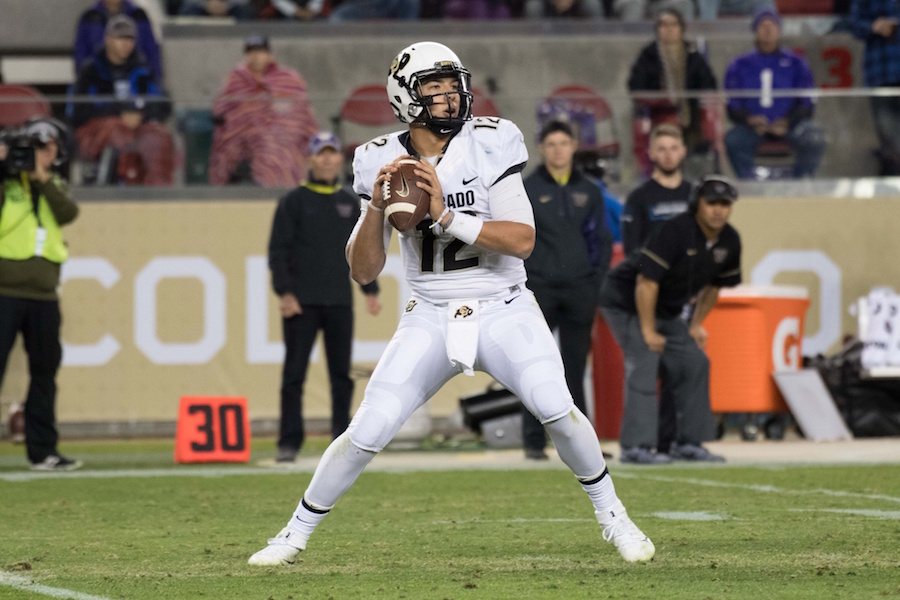 The University of Colorado saw flashes in 2016 of what could be in 2017 and beyond from freshman quarterback Steven Montez, who saw action in nine games and posted a QB rating of 138.0 in relief duty of starter and outgoing senior Sefo Liufau. After the annual CU spring game, Pac-12 Network's Yogi Roth says he saw enough from Montez to think the El Paso, Texas native could become an elite quarterback in the Pac-12 Conference.
"He's made big strides," Roth says of Montez, "big improvements. Obviously he's tightened up his body – he's down to 225 pounds. But I think he's compacted his release, his base, his balance, the ability to load and get the ball out, his anticipatory skills, to read, to adjust off the screen. He's not an elite quarterback yet in the Pac-12, but he's knocking on the door."
In his nine appearances last season, including starts against Oregon, Oregon State and USC, Montez passed for over 1,000 yards and nine touchdowns. He completed 59 percent of his passes and threw five interceptions on 140 attempts. On the ground, Montez added 231 yards and a touchdown on 52 attempts.
Montez certainly has the arm strength to be an elite quarterback in the Pac-12, and he showed that he can continue the dual-threat, run-pass hybrid offense that was so successful under Liufau in 2016. Montez has the benefit of returning three of Colorado's biggest offensive threats next season. Running back Phillip Lindsay should contend for the Pac-12 rushing title, while Bryce Bobo and Devin Ross should be one of the top receiving duos in the conference in their senior seasons.
"I think the biggest step now for him will be from now until training camp," Roth continued, "from training camp obviously to game one – can he master specific situations and when given opportunities make big plays? You can't miss in this conference, in this division."
Colorado won its first ever Pac-12 South title thanks in part to Montez's stellar play in the Oregon and Oregon State games. They'll face stiff competition in USC in 2017, though, who returns possibly the best quarterback in the conference, Sam Darnold.
The best news for Colorado is that they should have Montez for at least two more years – plenty of time for him to develop into the player Roth believes he can become.