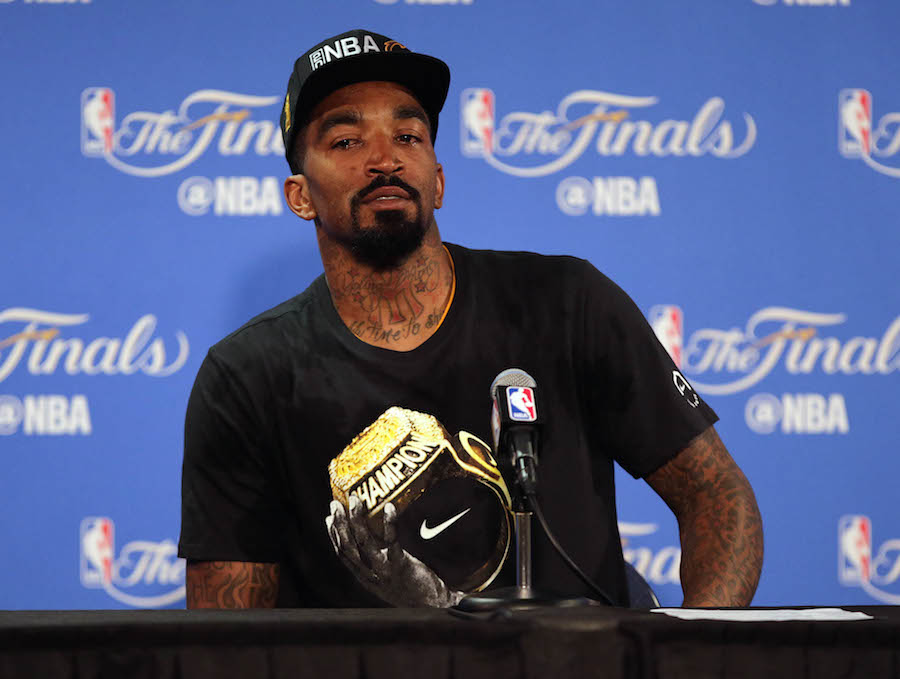 Part of this gig is having opinions and expressing them. I'm a natural-born fence rider, but writing a weekly column and talking on the radio from time to time has forced me out of my comfort zone, which resides squarely atop the fence. I have learned to take a stance.
Kinda. Sorta. Mostly. Almost…ish.
A wise columnist once told me that if you write something that at least someone doesn't disagree with, you're not doing it right. The best scenario is when you have two sides, some agreeing and some disagreeing – vehemently.
He never told me, however, that if you applaud, defend or – gasp! – like J.R. Smith, well, then you're just plain wrong.
And despite my normal tendency to seek "the middle," when J.R. Smith was a Denver Nugget, I never wavered on what I can only call the most unpopular opinion I've ever had.
I always have liked – and always will like – Earl Joseph Smith III.
In his article that followed Sunday night's NBA Final, Justin Tinsley of theundefeated.com summed it up perfectly: "Throughout Smith's career, whether in New Orleans, Denver, New York or even at times in Cleveland, he's been seemingly unable to escape being labeled as 'immature' or a 'team cancer.'"
When he came to Denver in 2006, I was intrigued by Smith's sheer talent. In 2004, when Smith opted against playing hoops for powerhouse North Carolina, instead choosing to jump to the NBA straight out of high school, not everyone was getting drafted out of high school. If a prep was drafted, it was a risky proposition, but generally speaking, they always had God-given talent. You could see Smith had it from the day he arrived. The thought that Smith – not even 21 at the time – would be pairing with Carmelo Anthony, then 22, was exciting.
He averaged 13 points per game that first season and almost every one of them was entertaining. Better yet was watching George Karl's blood boil with every one of Smith's questionable decisions. But it wasn't just Smith's 1.8 turnovers per game, his inconsistency within Karl's seemingly complex defensive schemes or the fact he was running the wrong plays in the palyoffs. He screwed up off the court, too. He was involved in the Melee at Madison Square Garden, he got in trouble at a Denver night club, he ultimately pleaded guilty to a 2007 reckless driving incident that ultimately led to the death of his friend. He spent some time in jail and even got speeding tickets after that. And the list went on, long after he left Denver.
But he also seemed like a decent enough kid – and he was a kid. We always act surprised when a kid is taken out of high school, given millions of dollars and then doesn't handle it well. And Smith didn't often handle it well. He understandably made dozens of dumb decisions. A certain prank played on Kenyon Martin was my favorite displays of poor judgement – but damn was it funny, and who could blame Martin for being ticked?
But the prank was him. It wasn't malicious; he just didn't think before acting. Plenty of 20-somethings do that, don't they? I spent enough time around him to know he wasn't "bad."
And he was so fun to watch. On any given night at Pepsi Center – assuming Karl was up for playing him that night – anything could happen. He was one of the rare talents in the Association who could do things that literally hadn't been seen before. He regularly defied gravity. He could hit shots he had no business taking. He could get so red hot that a red hot George Karl had to keep him in no matter how bad he wanted to bench him. He could win a game or he could shoot his team out of one, but no matter what, he was entertaining.
I always thought if Karl would have handled him differently – loved him up more than punish him – he'd have really had something. Then again, I didn't have to spend countless hours coaching the presumably untamed talent. Over his career, he seems at his best when he's got strong leaders – Chauncey Billups, LeBron James – around him.
Every time Smith did something good, I'd write about it – as if he'd finally turned the corner. Every time, I'd feel the wrath of every basketball purist who couldn't stand what Smith did or how he did it.
I always believed that he could make a difference (for the better) in the right situation. And he has done that over the course of his career – the Nuggets don't go to the Western Conference Finals in 2008 without Smith; the Cavs don't win it all this year without him.
On Sunday night, I couldn't help but smile when Smith began the third quarter by slapping eight points on the Warriors before they knew what hit them. And I was reminded that he was, and still is, not that bad of a guy, when he thanked his parents and broke down in tears while doing so in the postgame press conference.
He's not perfect. But he's still a player I'll always love.
That's my opinion, right or wrong.