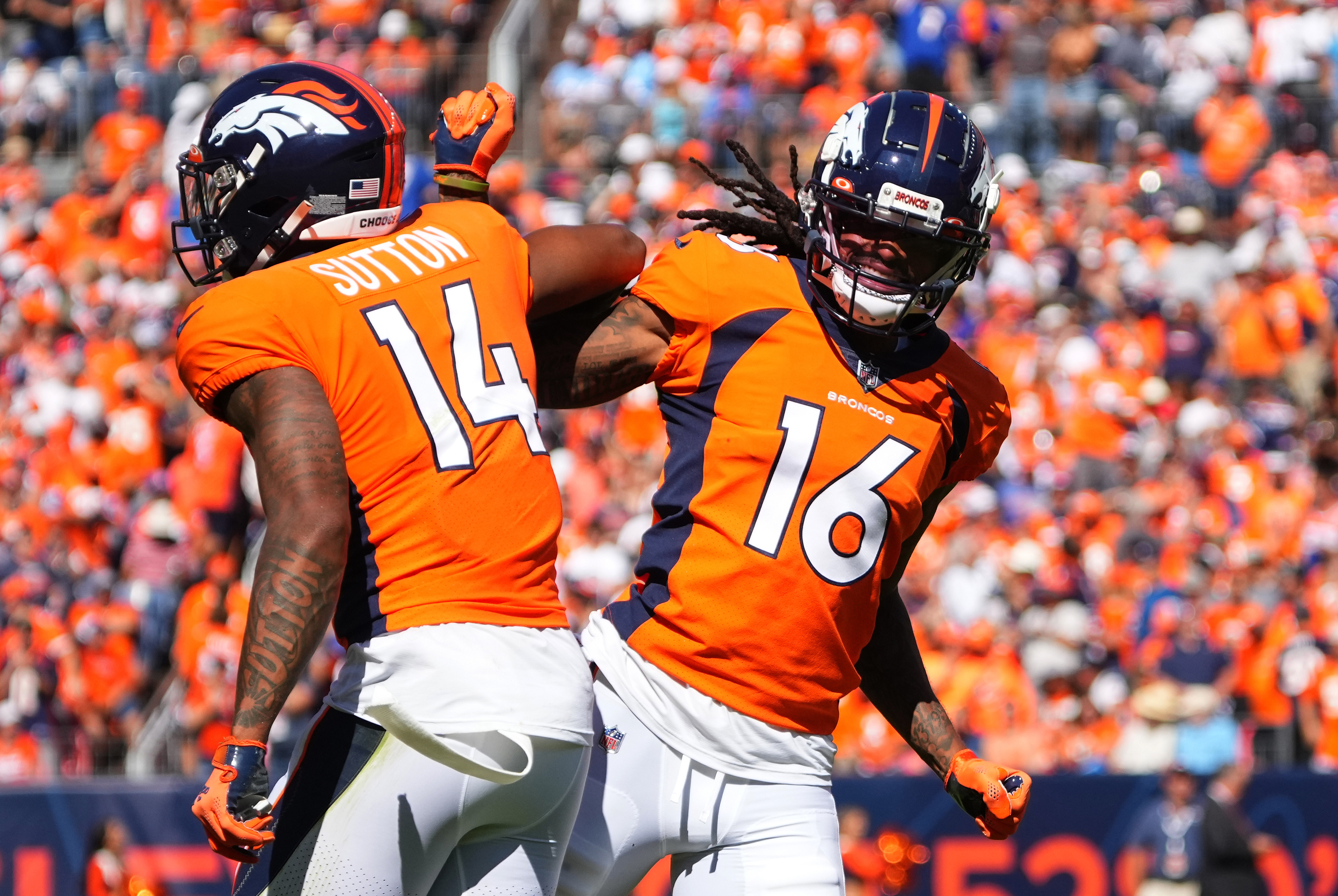 Technically speaking, the Denver Broncos won on Sunday in their matchup with the Houston Texans, but boy, it sure didn't feel like it.
Between that victory over Houston and last season's win over Washington, Denver must own two of the ugliest wins in NFL history. Nonetheless, at the end of the day, a win is a win, and it took some remarkable performances to save the day from near disaster.
Who was responsible for those standout showings and who almost steered the Broncos over a cliff? Let's look.
Stock Up for the Denver Broncos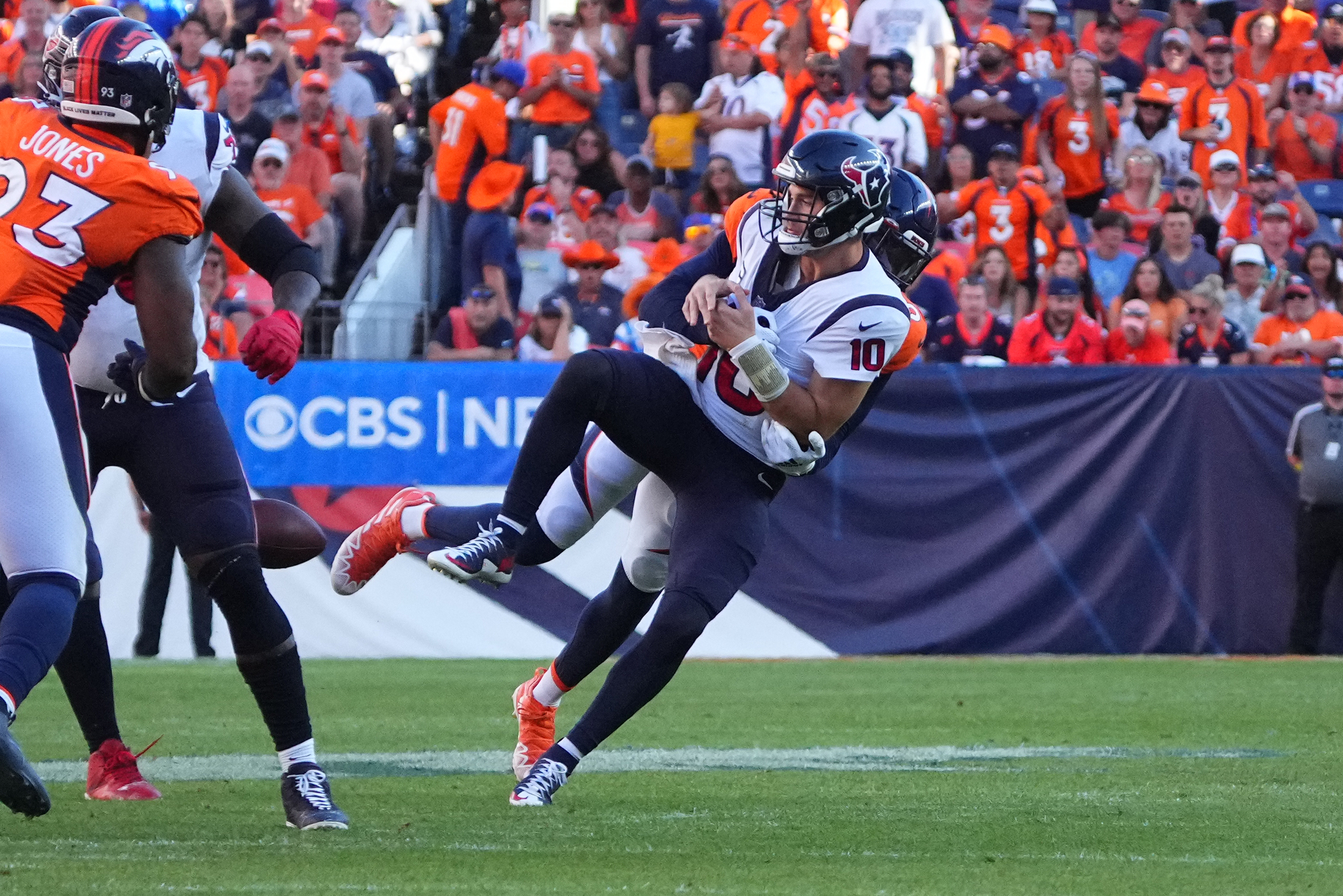 Courtland Sutton
The first draft of this section opened with a lengthy rant about how painful it was to watch the Denver Broncos' attack today, as everything seemed to come so difficult for them. Moving the ball felt like pulling teeth and to properly frame just how impressive Courtland Sutton's day was, we have to acknowledge how hard it was for the rest of the offense to execute.
Because, on a night when seemingly nothing was coming easy for the offense, targeting Sutton remained a productive offensive strategy.
When targeting Sutton, Russell Wilson was 7-for-11 (63.6% completion percentage) for 122 yards (11.1 yards per attempt). When targeting anyone else, Wilson was 7-for-17 (41.2% completion percentage) for 97 yards (5.7 yards per attempt) and a touchdown.
Nice route by Sutton vs Stingley pic.twitter.com/6MmYYqE0V6

— Billy M (@BillyM_91) September 18, 2022
Sutton carried the Broncos' aerial assault today, and he did so while drawing a matchup with the opposing team's clear-cut No. 1 cornerback for much of the contest. It's looking more and more like 2019 Courtland Sutton is back.
Unfortunately, it looks like the rest of the 2019 Denver Broncos might be back too, with a struggling elder quarterback addition and fledgling new head coach.
Dre'Mont Jones & D.J Jones
When the Broncos signed D.J. Jones, it was easy to immediately begin fantasizing about what his pairing with Dre'Mont Jones could look like.
So far, the results have lived up to the fantasies, with both looking impressive through the first two weeks of the season.
D.J. Jones dominated his matchup against the Seattle Seahawks a week ago, and this week, he was at it again. From the jump, the newly acquired Jones made his presence felt, helping to blow up a screen on first down and then making a good hustle play to hammer the running back short of the first down marker on third down.
One could argue Jones should have been even more dominant against Scott Quessenberry, but he had a terrific game and remained a constant force in the center of the television screen, which Houston always had to account for.
Meanwhile, Dre'Mont Jones was impacting the game as a pass-rusher, recording a pair of sacks from the interior, and forcing a fumble. This makes it two-straight games that the Denver Broncos have had a pass rusher record multiple sacks and force a fumble.
Dre'Mont Jones with a sack on Davis Mills. pic.twitter.com/zpjpjNvScB

— Main Team (@MainTeamSports2) September 18, 2022
On top of being an impact pass-rusher, Jones was also a force in the run game, and as a result, ultimately tied for the team lead in tackles, with six.
Dre'Mont Jones strips Davis Mills on third down! Texans recover #BroncosCountry pic.twitter.com/QqcEPd9NTX

— Pro Football Culture (@proftblculture) September 18, 2022
Generally speaking, that's the type of defensive performance that can flip the outcome of the game. Hopefully, the Broncos begin doing a better job of taking advantage of such performances.
Randy Gregory & Bradley Chubb
Against the Texans, Randy Gregory joined Von Miller as the only two Denver Broncos to ever open the season with a forced fumble in each of the team's first two games of the season.
😤 @RandyGregory_4 😤

📺: CBS pic.twitter.com/guCeP73HTP

— Denver Broncos (@Broncos) September 18, 2022
The forced fumble couldn't have come at a better time either, as Houston was driving into Denver's side of the field in the fourth quarter, with a chance to tie the game. Although the Texans wound up recovering the fumble, the play still backed Houston up to a 2nd-and-19 which they were unable to convert.
Gregory's impact extended well past that one play though, as he finished the game with an impressive number of hits on the quarterback (three) and a bevy of pressures.
Bradley Chubb also had a terrific day, finishing with his fair share of pressures and two quarterback hits, and it's clear the tandem of him and Gregory is a marvelous one.
Montrell Washington
So far, Montrell Washington is looking like a really nice draft pick, though his role is small.
On special teams, he recorded 59 punt return yards across four returns, giving him an excellent average of 14.8 yards per return. Not only that but that total isn't being bolstered by one lengthy return and a bunch of milquetoast efforts.
Washington was consistently creating extra yards, on his way to returns of 12, 13, 15, and 19 yards on the day. He did have a punt return that went for only three yards in Week 1, but as of now, his average of 12.4 yards per return ranks sixth in the league, and everyone ahead of him is working with a smaller sample size.
He also showed legit offensive ability on an end-around, shaking off a tackle nine yards in the backfield, and turning the play into a 19-yard gain. And that 19-yard figure is post-penalty, so if it weren't for a foolish Melvin Gordon holding penalty, Washington's offensive feat would be even more impressive.
Caden Sterns & Kareem Jackson
Last week, it seemed that the safety room — primarily Kareem Jackson — played a role in both of the two touchdowns that the Denver Broncos defense allowed.
This week, despite being without superstar Justin Simmons, they somehow managed to perform better, and avoid the back-breaking gaffes of last week (at least in the safety room).
Jackson and Caden Sterns wound up tying Dre'Mont Jones for the team lead in tackles, demonstrating how vital they were to slowing down Texans back Dameon Pierce, but they were also much better in coverage, practically eliminating the explosive plays from Houston's offense.
The cracks in the dam created by losing Simmons will probably start to show more next week, especially if Patrick Surtain II is out, but Sterns and Jackson were excellent fill-ins this week.
Damarri Mathis
When Patrick Surtain II went down, Damarri Mathis was thrust into the flames.
Following a rocky preseason, expectations for Mathis were understandably low, and Mathis comfortably cleared that bar. Mathis was consistently sticky in coverage, which was a concern following the preseason, and he came up to make multiple big plays in the run game.
He did get lucky on the goalline, as he was beaten badly on an out-breaking route, only for Davis Mills to throw a poor pass that darted low and fell incomplete. Though, he quickly rebounded by breaking up a pass in the endzone.
His tackling ability and overall athleticism stood out today, especially on his one-on-one tackle of Dameon Pierce, and Broncos Country can start to hope that the team has finally hit on a mid-round cornerback selection.
Stock Down for the Denver Broncos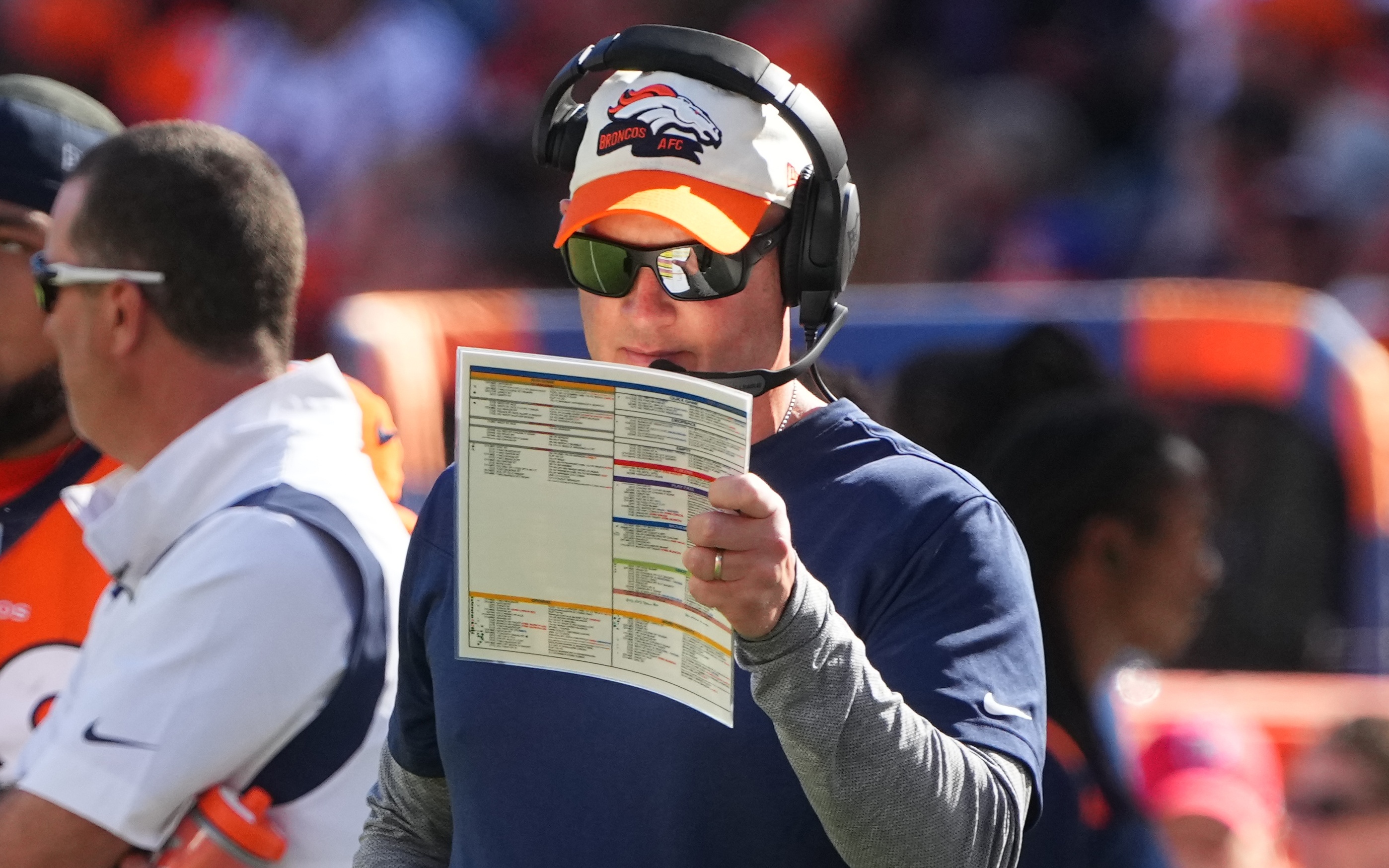 The Denver Broncos coaching staff
No coaching staff has performed worse through two games in the history of the NFL. You can cling to the 1-1 record in protest if you want, but we both know that a 1-1 record against that opening schedule is a disappointment. The Denver Broncos didn't win on Sunday because of the coaching, they won because of the talent on their roster, the lack of talent on Houston's roster, and in spite of coaching.
Now, let's take a quick moment to praise Ejiro Evero for the work he's done with the defense, as he deserves to escape critique, for now. However, the rest of the coaching staff looks like a tire fire, and that might be an insult to tire fires.
When analyzing coaching, people will generally point to the same areas. They'll primarily point to time management, penalties and situational football, and the Broncos have been fairly horrific in all three areas so far.
In regard to time management, the Denver Broncos burned through all three timeouts in the second half of Sunday's game, and yet still suffered delay-of-game penalties, two of which came on special teams. There was also the obvious disaster from Week 1. Things are so bad that we're only two weeks in and fans are counting down the play clock for the players and staff inside the home stadium.
Broncos fans are helpfully/mockingly shouting out the play clock on every play as Denver struggles to manage the clock. pic.twitter.com/53p339HGME

— Kyle Clark (@KyleClark) September 18, 2022
Plus, the metrics back that point up, as Denver currently leads the league with four delay of game penalties. Combine that with the six false start penalties, and you can start to see the penalty problem that is also ravaging the Denver Broncos right now.
They're the most penalized team in the league in regard to accepted penalties, total flags thrown, and total penalty yards assessed. When you look at their rate stats for penalties, it's even worse. The Denver Broncos have been penalized 8.8 times per 100 plays. The second-most penalized team is averaging 5.5 penalties per 100 plays. That gap of 3.3 penalties per 100 plays between the most penalized team and the second-most penalized team is the same as the gap between the second-most penalized team and the third-least penalized team.
Broncos penalty stats 🧵:

DEN ranks 1st in penalties(25), total flags(28), and total yards(206) through two weeks. 2nd place has 17, 20 and 183 respectively.

— Zach Segars (@Zach_Segars) September 19, 2022
They've also been horrific situationally.
Forget the redzone troubles, the Broncos have been in a goal-to-go situations five times so far this season, and have produced nine points. That means they're producing 1.8 points on drives that reach the opponents 10-yard line. The Denver Broncos offense as a whole is averaging 2.0 points per drive. They're somehow 10 percent worse at generating points when placed just 10 yards away from the endzone.
How is that possible?
To add further context, the Chicago Bears offense, which hasn't been all too impressive through two weeks, is averaging 1.9 points per drive overall.
It's not just converting touchdowns either. These problems have shown up in short-yardage situations too.
The Broncos have had third- or fourth-&-1 (including goal-to-go) seven times so far in 2022. What happened:

Third-&-1

Javonte Williams fumble
Incomplete, but defensive holding
Williams +2 run
Incomplete
Beck -1 run

Fourth-&-1

Melvin Gordon fumble
Delay of game on FG attempt

— Andrew Mason (@MaseDenver) September 19, 2022
The Broncos have had a positive result on just one of their seven 3rd- or 4th-and-1 situations, and were bailed out on another thanks to penalty. Otherwise, it's been nothing but pig slop.
Denver's offense in critical situations has been dreadful, and that reflects on coaching.
Most frustrating has to be the fact that Broncos Country actually had high expectations this season, and it's easy to see why. They were expecting things to finally change and for the Denver Broncos to finally become a fun source of entertainment. Watching the display they did on Sunday had to have been soul-crushing.
The health of the Denver Broncos
In accordance with the in-vogue coaching philosophy, Nathaniel Hackett limited the offseason wear-and-tear his players had to face, as a way to prevent injury.
Unfortunately, that strategy hasn't been successful, as the Broncos now have questions surrounding the health of Jerry Jeudy, K.J. Hamler, Tim Patrick, Quinn Meinerz, Billy Turner, Josey Jewell, Patrick Surtain II, and Justin Simmons, among others. That's a lot of bad injury luck.
Now, to be clear, this philosophy has become popular because it has been effective in most other spots, and the costs of having a rustier team haven't been so severe. That said, the Broncos are presently facing a rash of injuries and look horribly rusty and ill-prepared. It's understandable that fans are frustrated they have to deal with both of those problems.
Setting that angle aside, losing Patrick Surtain II, Justin Simmons, Quinn Meinerz, and Jerry Jeudy all in a seven-day period is tremendously horrible news for the Denver Broncos. Each of those players is not only a starter, but a key contributor. If they all miss next week, it spells doom for Denver.
UPDATE: Both Patrick Surtain II and Jerry Jeudy are "day-to-day"
Russell Wilson
It feels like what made the Denver Broncos offense so ridiculously frustrating to endure this Sunday was the fact that it almost felt no different from the painful offensive showings that Broncos Country was forced to get accustomed to from 2017 to 2021.
Teddy Bridgewater and Drew Lock are both out and serving as backups, Pat Shurmur and Vic Fangio are out of the NFL entirely, and yet, the Broncos' passing offense still felt inept. Some of that blame falls on the coaching staff, but some of it falls on Wilson too.
After two weeks, Wilson doesn't look like the type of premier quarterback worthy of the trade George Paton made to acquire him, or worthy of the contract he signed Wilson to, in order to keep him in Denver.
Russ finally finds him and ends up beaning it off of Roy Lopez's helmet lmao pic.twitter.com/myUexN2a9j

— Benjamin Solak (@BenjaminSolak) September 19, 2022
Patience is a virtue to lean on here, and there's a good chance Wilson improves on today's performance, but there's also a chance that he continues to look over the hill, casting the Denver Broncos deeper into the woods than they've ever been before.
Andrew Beck
Andrew Beck's stock shot up like a bottle rocket after Week 1, as he made impact plays as both a blocker and as a receiver.
Now, it's dropping like a cinderblock off a balcony, after struggling as a blocker, special-teamer and as ball-carrier.
To be fair, the last of those is more on Hackett for thinking it was a good idea to call it, than it is on Beck for not pitching the ball. He's probably never pitched a ball to a running back in his football career. He's a tight end.
Nate Hackett tried to install a Sean Payton gadget play and it just didn't work at all lol pic.twitter.com/0iJKb2ZKDc

— Benjamin Solak (@BenjaminSolak) September 19, 2022
Though, to continue talking out of both sides of the mouth, Hackett had seen it work firsthand with other players in the Beck role, and had Beck been less hesitant on the pitch and Cam Fleming executed his blocking assignment, it might've worked. We have seen it executed by other NFL teams.
Release the end, get to the backer, make the pitch quick https://t.co/3gk7tUi1eN

— Benjamin Solak (@BenjaminSolak) September 19, 2022
That said, missing his block badly on the end-around to Sutton and running into the kicker were ugly errors that put an end to all the Beck hype.
Cam Fleming
Entering Week 1, Cam Fleming was viewed as a major liability, but a strong blocking performance changed that perception.
On Sunday, it became clear that he was a serious liability. He was no longer a snow plow in the run game, his pass protection continued to leave quite a bit to be desired, and he helped contribute to the Broncos' penalty woes.
Hopefully, the return of Billy Turner can help jumpstart the offense.