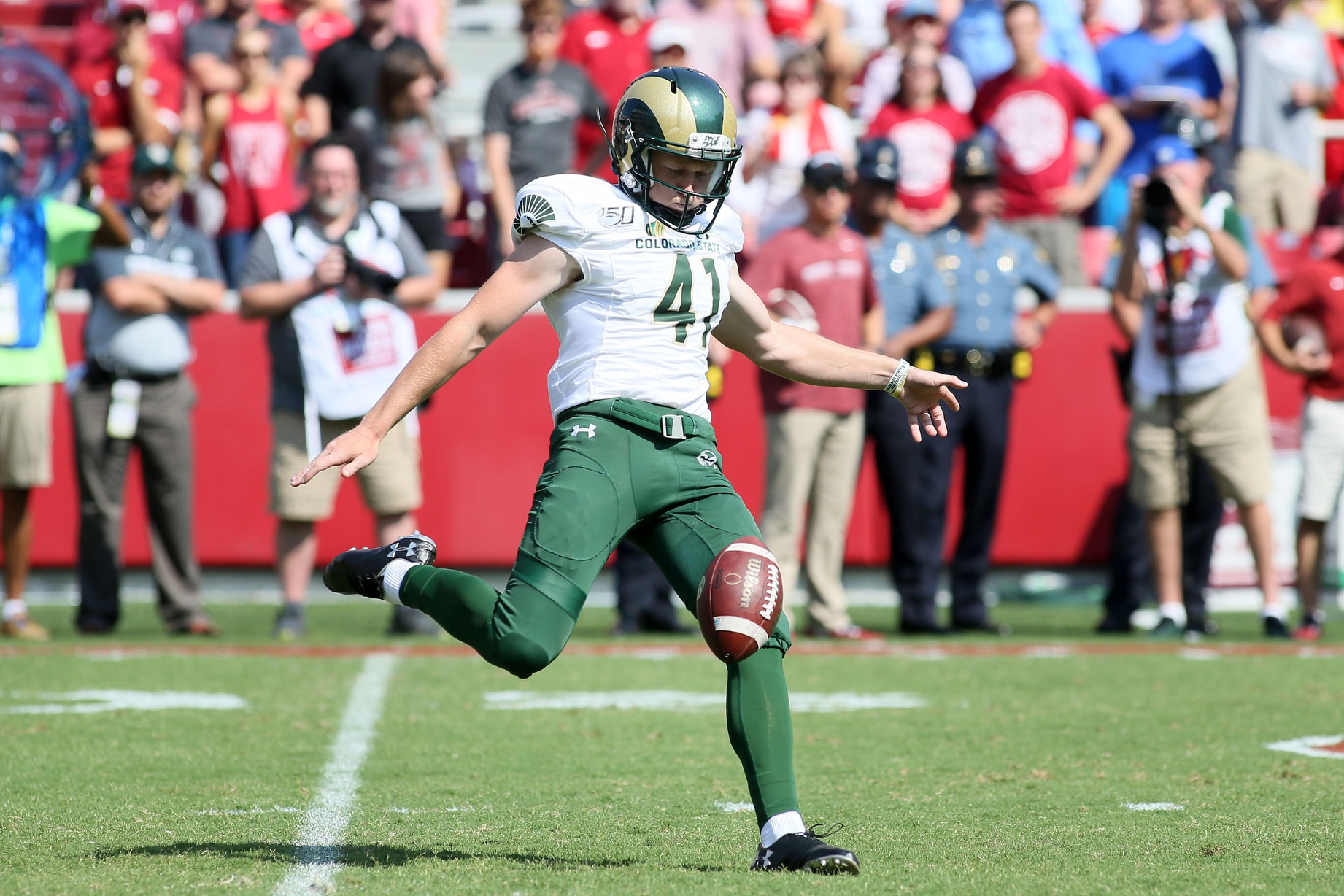 Colorado State's shortened 2020 football campaign still produced some strong individual performances, recognized Tuesday with the announcement of the All-Mountain West football team.
The Rams were represented by punter Ryan Stonehouse and defensive lineman Scott Patchan on the first team; wide receiver Dante Wright, tight end Trey McBride and linebacker Dequan Jackson were all second-team selections. An additional seven Rams picked up honorable mention nods: offensive linemen Elijah Johnson, Cam Reddy and Barry Wesley; defensive linemen Manny Jones and Toby McBride, kick returner Thomas Pannunzio and Wright as a punt returner.
The Rams had their eight-game schedule limited to just four contests due to a variety of circumstances tied to the COVID-19 pandemic. They played the fewest games among team in the Mountain West, both overall and in terms of conference play.
Stonehouse, a senior, becomes a three-time first-team selection, the only Ram to do so in the Mountain West. He is the NCAA's career leader in punting average at 46.8 yards over 186 career attempts. He averaged 45.3 yards this season, placing eight of his 26 attempts inside the 20 yard line, with nine punts of 50 yards or better.
Patchan, a transfer from Miami, led the conference in both sacks per game (1.38) and tackles for loss per game (1.88), numbers which ranked him third and sixth nationally, respectively. He had 5.5 sacks and 7.5 tackles for loss overall, adding 22 total tackles and three quarterback hurries.
Wright, a sophomore, finished with 20 catches for 315 yards, averaging 15.8 yards per catch and 105 yards per game. He posted 100-yard games in two of the three games he played this season, establishing career highs of 10 receptions for 146 yards in the win over Wyoming. He ranked second in the MW in receptions per game, third in yards per game.
McBride, a junior, ranked tied for seventh in catches per game and sixth in yards per game – the best totals of any conference tight end. His overall numbers stood at 22 receptions for 330 yards, both of which led the Rams, as did his four touchdown catches.
Jackson led the Rams with 40 tackles, averaging 10.0 per game. He added 5.5 tackles for loss and 2.0 sacks with a quarterback hurry and one recovered fumble. He tied his career best with 13 tackles against San Diego State, and his three tackles for loss in the win over Wyoming established a career standard for the junior.