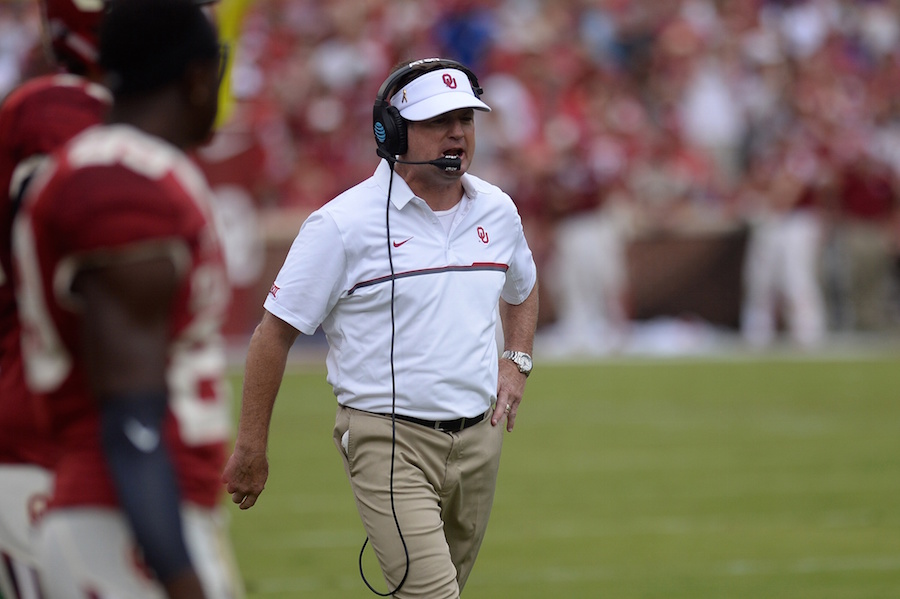 Bob Stoops is 56 years old. He won the Big XII conference title 10 times and in the year 2000 won a BCS National Championship, beating Florida State 13-2, shutting down Heisman Trophy winner Chris Weinke in the process. Big Game Bob won 198 games as the Sooners' head coach and comparatively only lost 48 games. Stoops on Wednesday, made a big announcement. At only 56 years of age, he is walking away from being the head coach of the Oklahoma Sooners, effective immediately.
Who will coach the 2017 Oklahoma Sooners? Thirty-three-year-old offensive coordinator Lincoln Riley. Riley now takes the helm as the youngest coach in college football, by three years.
Boomer Sooner success, which was guaranteed for the last 18 years under Stoops, is now an unknown. The future in Norman is now uncertain.
Colorado now has something up on Oklahoma besides the altitude. It has certainty, at least in regards to coaching. For the time being, all three FBS programs in Colorado – Air Force, Colorado State, and the University of Colorado – have stability and strength in their football coaches, and as of today that doesn't seem to be changing any time soon.
During the Fisher DeBerry era at Air Force, a winning record was almost a certainty. DeBerry while at the Academy only had five losing seasons from 1984 to 2006. Deberry is in the Liberty Bowl Hall of Fame, the Colorado Springs HOF, the South Carolina HOF, and was inducted into the College Football Hall of Fame in 2011. DeBerry, after 23 years at Air Force, was going to be hard to replace.
Enter Troy Calhoun, who took over for the legendary coach in 2007. Coach Calhoun, an Air Force Academy grad, was an offensive assistant for both the Denver Broncos and the Houston Texans before going back to serve as head coach of the Falcons. Since arriving back in Colorado Springs, Calhoun has only had two losing seasons in the Mountain West. In the past three seasons he has a combined record of 28-12. Air Force has been to a bowl game in nine of Calhoun's 10 seasons at the helm. The Falcons are in safe hands when flying with Coach Calhoun.
Mike Bobo entered Colorado State under strange, but mostly positive circumstances. Jim McElwain, a former offensive coordinator of Alabama, brought success to Ft. Collins but left in short order for swampier pastures, returning to the SEC to coach the Florida Gators. While at CSU, McElwain introduced a pro-style offense and sent several players to the NFL including center Weston Richburg of the New York Giants, 49ers and former Denver Broncos running back/rapper Kapri Bibbs and tight end Crockett Gillmore of the Baltimore Ravens (to name a few). McElwain left the Rams in decent shape, going 10-3 overall his final season. Bobo, with a new stadium and new facilities looks like the man who can take the Rams one step further. Bobo, at age 43, doesn't look like he is retiring or moving on anytime soon, and that is a great thing for the CSU Rams.
Mike MacIntyre, despite the recent Joe Tumpkin turmoil, doesn't seem to be interested in retiring from football in the near future. Of the three coaches, his future does seem the most questionable if only in the very immediate future. MacIntyre, like Stoops, took over a mess. Before MacIntyre arrived Colorado was 1-11 in Jon Embree's last season, and the Buffs had not had a 10-win season since 2001. In just four years MacIntyre had the Buffs back on top with an 8-1 conference record (10-4 overall), earning them first place in the Pac-12 South. MacIntyre, earlier this season, signed a $16.5 million extension which would make him the coach of the resurgent Buffs through 2021. However, his extension is currently under review, and should be voted on soon by the Board of Regents. While MacIntyre's future is not guaranteed, he has certainly made the Buffaloes unimaginably better in the past four years. It's unlikely the Tumpkin situation will result in his fall, especially after engineering "The Rise."
So, while its doom and gloom over the plains of Oklahoma, it looks like there are plenty of sunny Saturdays to come in the Rocky Mountains.