A Legendary Broncos Career Summarized In Ten Games
The retrospectives on Peyton Manning's career began pouring in almost as soon as the news broke Sunday morning that No. 18 was hanging up his cleats after 18 years in the NFL. The looks back on what will certainly be a first-ballot Hall of Fame career ranged from the all-encopassing summaries of his life in football as the son of an NFL quarterback, down to microscopic views like "Peyton Manning's Top 10 Career Moments."
Here at Mile High Sports, we're obviously concerned primarily with what Manning did in the final four years of his illustrious career, those he spent in Denver. Simply put, the Broncos experienced the best four-year span in team history with Manning as their quarterback.
(Yes, the Broncos went to three Super Bowls from 1986-87 to 1989-90, but none of those resulted in victories and in 1988-89, they missed the playoffs entirely.)
During the Manning era, Denver won four consecutive AFC West titles, two AFC Championships and a Super Bowl.
Manning was 45-12 in the regular season as a starter, a .789 winning percentage that is best in team history. In just four years he became the No. 2 winningest quarterback in franchise history and broke dozens of single-season and career NFL records wearing the orange and blue.
In the playoffs with the Broncos, Manning was 5-3 including a perfect 3-0 in his final season despite being hampered by injury during the second half of the year.
And Manning will leave Denver with incredible memories from many superb performances, there were some that remind fans that he was indeed human.
For this week's edition of "Studs & Duds" we look back on 10 games that defined Peyton Manning's time in Denver, both good and bad.
Dud No. 5 – Peyton's Homecoming
Oct. 20, 2013
Broncos 33 @ Colts 39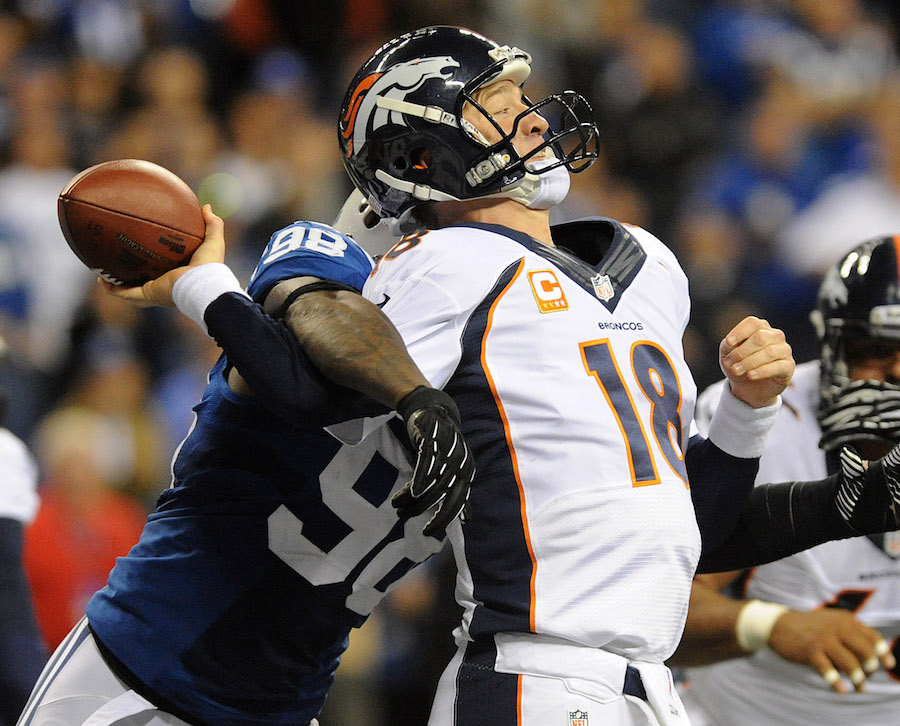 After a full year in Denver, Peyton Manning returned to the NFL city he called home for the first 14 years of his career, carrying with him a perfect 6-0 record. It was an emotional night for the fans in Indianapolis, as well as for Manning. Manning and the Broncos looked tight and ultimately couldn't climb out of what was a 33-14 hole late in the fourth quarter.
Manning passed for 386 yards and three touchdowns, but his completion percentage was below 60 percent for the first time that season. He was strip-sacked for a safety that started a 23-0 run for the Colts; later, he threw a critical fourth-quarter interception that set up Indy's final points of the game.
Stud No. 5 – Peyton's Debut in Denver
Sept. 9, 2012
Steelers 19 vs. Broncos 31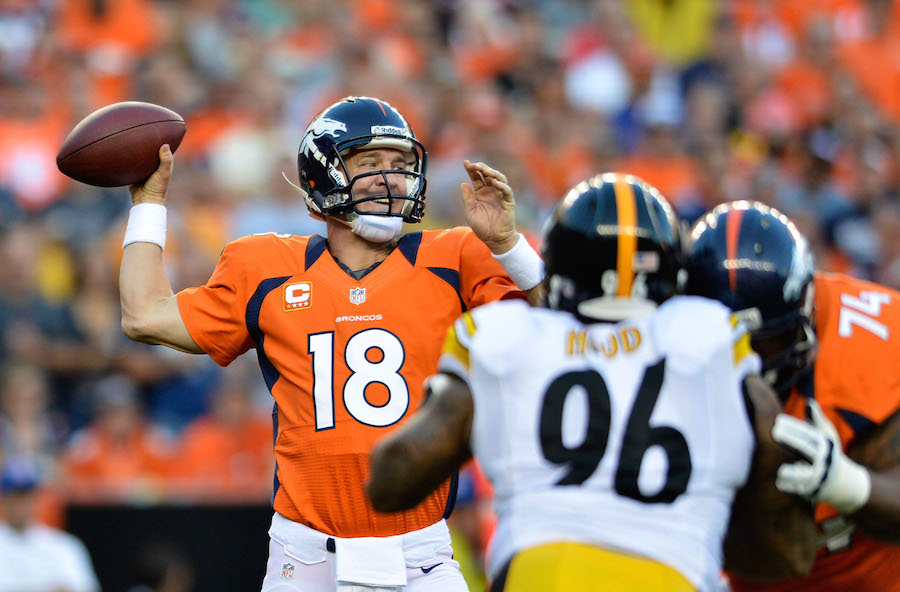 The final score belies how close this game truly was. Denver actually trailed 19-14 in the fourth quarter of this Sunday Night Football matchup that had all of America wondering if Manning had recovered from the four neck surgeries that kept him out of football for a year.
Manning didn't put up eye-popping stats – he finished just 19-of-26 for 253 yards – but he did connect on two touchdowns, including a go-ahead variety to Jacob Tamme in the fourth quarter. Manning had a lost fumble, but ultimately got the best of Ben Roethlisberger to tell the football world, "I'm back and ready."
Dud No. 4 – Super Bowl XLVIII
Feb. 2, 2014
Seahawks 43 vs. Broncos 8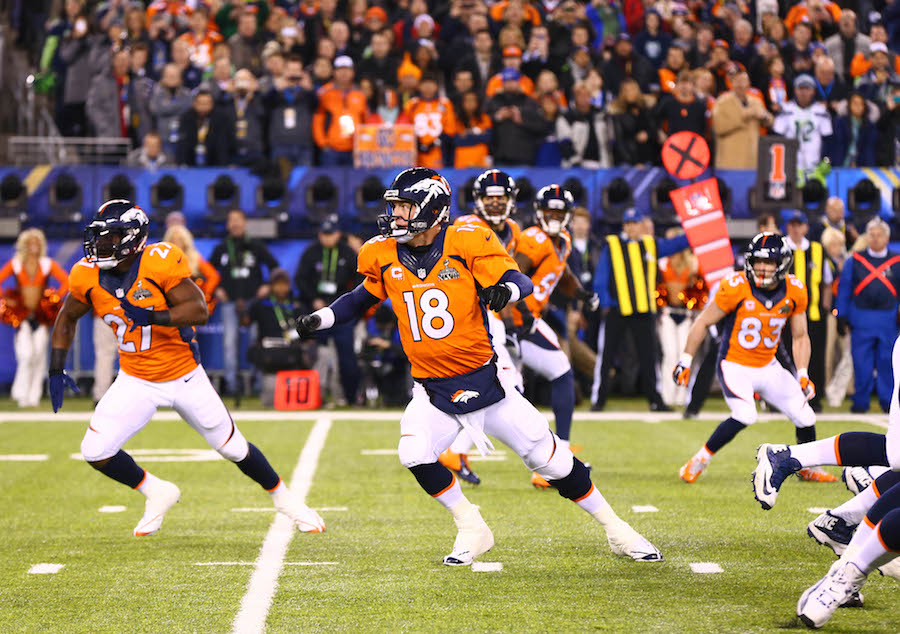 It's impossible to blame the Super Bowl XLVIII meltdown entirely on Peyton Manning, but his performance certainly didn't help. From the very first play, it was clear it wasn't going to be the Broncos', or Manning's day.
Blame Manny Ramirez for sending that first snap of the game over Manning's head into the end zone for a safety, but Manning had two interceptions in the first half – including a 69-yard pick six – that saw Seattle jump out to a 22-0 lead. A fumble on Denver's penultimate drive of the night was the capper on a terrible night for Manning and everyone playing and rooting for Denver.
Stud No. 4 – Manning Comes off the Bench
Jan. 3, 2016
Chargers 20 vs. Broncos 27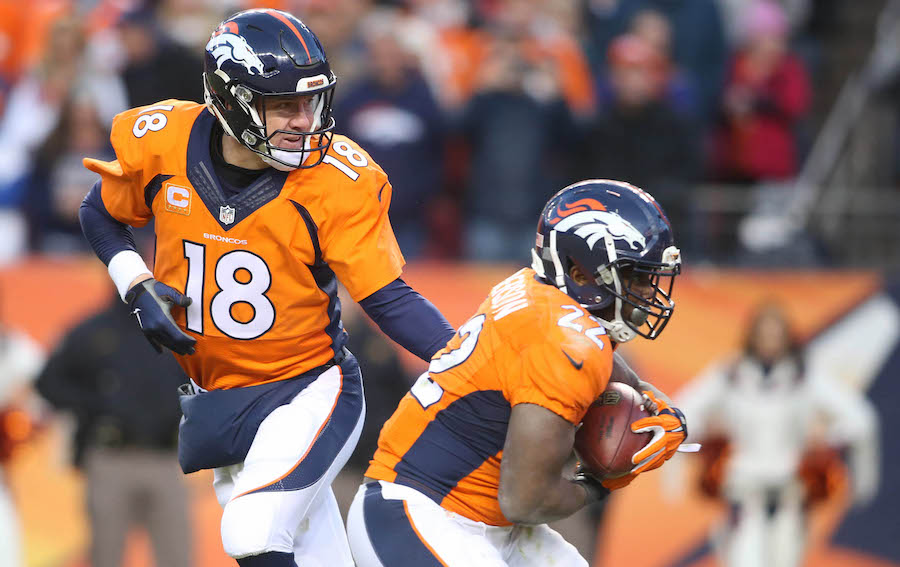 For the first time in his NFL career, Peyton Manning found himself on the sidelines as a backup after suffering a major foot injury that caused him to miss six games late in the 2015 season. Finally healthy, Manning suited up for Denver's final game, playing backup to Brock Osweiler.
With a possible No. 1 seed in the AFC on the line and the Broncos seemingly falling apart under the pressure, head coach Gary Kubiak took the ball from Osweiler and gave it to Manning. The Sheriff rallied his team from a 13-7 deficit, putting points on the board in three of four possessions, before finally icing the game on a fifth and final drive.
Manning wasn't asked to save the game with his arm, but his calming presence and checking into the right plays ultimately saved the game and gave Denver home-field advantage on their way to an eventual Super Bowl victory.
Dud No. 3 – Broncos Bounced by Baltimore
Jan. 12, 2013
Ravens 38 vs. Broncos 35 (2OT)
Manning carried the Broncos to a No. 1 seed in the AFC in 2012, but a three-turnover performance in the Divisional Playoff against Baltimore cast a dark shadow over the first year of the Manning Era in Denver.
Rahim Moore and his blown coverage on Jacoby Jones with less than a minute remaining in regulation will always share the brunt of the blame in this game, but Manning held his fair share of the fault. Manning threw two interceptions – including a 39-yard pick-six – and lost one of his two fumbles on the day. Fans often forget that Manning's second interception, which came in Denver territory in overtime, ultimately set up the game-winning field goal for the Ravens.
Stud No. 3 – Revenge Comes in Sevens
Sept. 5, 2013
Ravens 27 vs. Broncos 49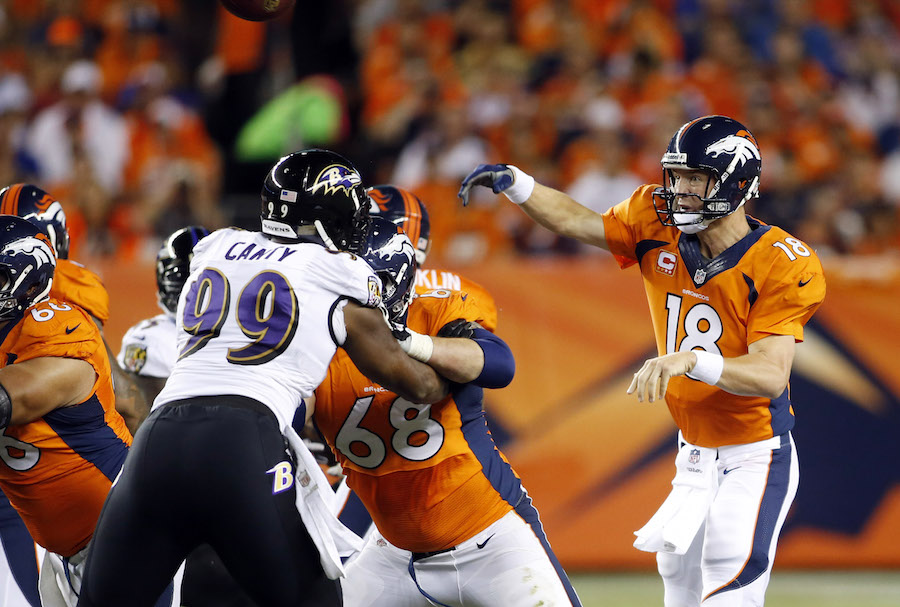 Nothing will ever truly erase the disappointment of that playoff loss to the Ravens, but Manning did his best to try in the opening game of the 2013 season when he tied a NFL record for touchdown passes in a game with seven.
Those seven touchdowns against Baltimore set the stage for what would be a record-shattering year for Manning and the Broncos offense. The team would score more points than any other team in league history and Manning's 55 touchdowns that season were also a league record. The 462 passing yards he had in the game were also the third-most of his career.
Dud No. 2 – History, Intercepted
Nov. 15, 2015
Chiefs 29 vs. Broncos 13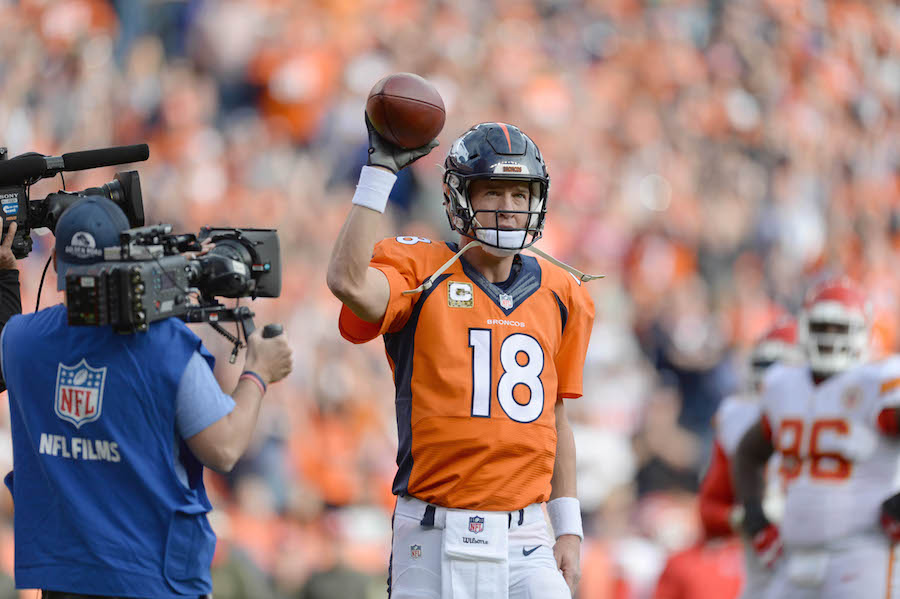 Needing just four yards to break the NFL all-time passing yards record and one victory to break the all-time wins mark, Manning had the worst statistical day of his career against the Kansas City Chiefs in Week 10 of the 2015 season.
Manning was intercepted on his first pass attempt of the game – one of four interceptions he would throw on the day – and was benched in the third quarter with the Broncos losing 22-0. Manning left the game with a 0.0 rating on 5-of-20 passing. He would pass Brett Favre in passing yards with a four-yard toss to Ronnie Hillman, but the all-time regular season wins record remains a tie between Manning and Favre.
Stud No. 2 – 400 Yards and an AFC Title
Jan. 19, 2014
Patriots 16 vs. Broncos 26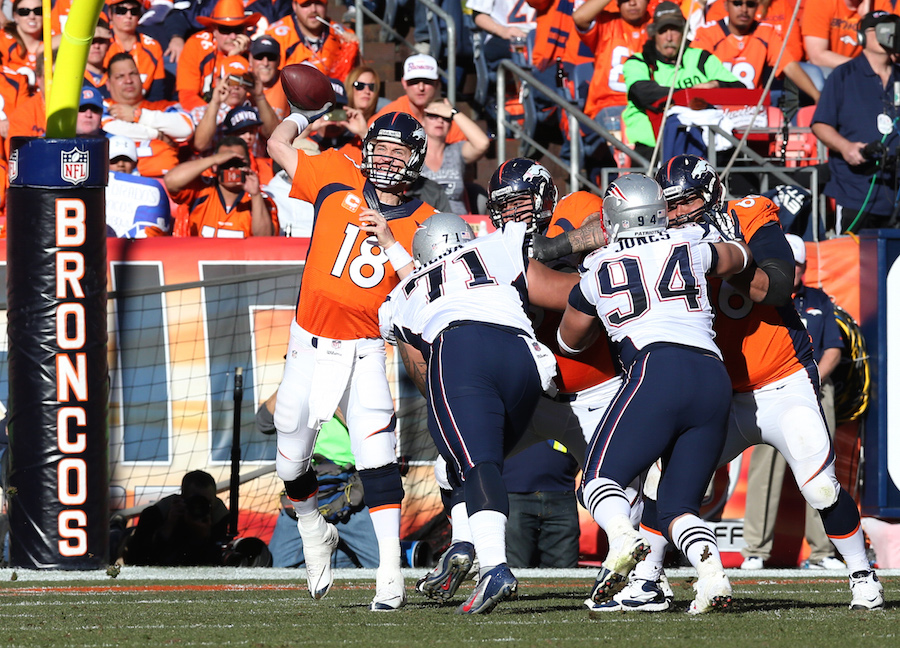 The game wasn't even as close as the final score would indicate. In his first AFC title game as a member of the Denver Broncos, against longtime nemesis Tom Brady, Manning was simply spectacular. Denver dominated, at one point leading 23-3 in the fourth quarter, behind Manning's two touchdowns and 400 yards passing on 32 of 43 attempts.
Brady will ultimately retire with more Super Bowl wins and possibly even more regular season wins for his career, but head-to-head in the playoffs while in Denver, Peyton Manning never lost to Tom Brady.
Dud No. 1 – Kicking and Screaming
Jan. 11, 2015
Colts 24 vs. Broncos 13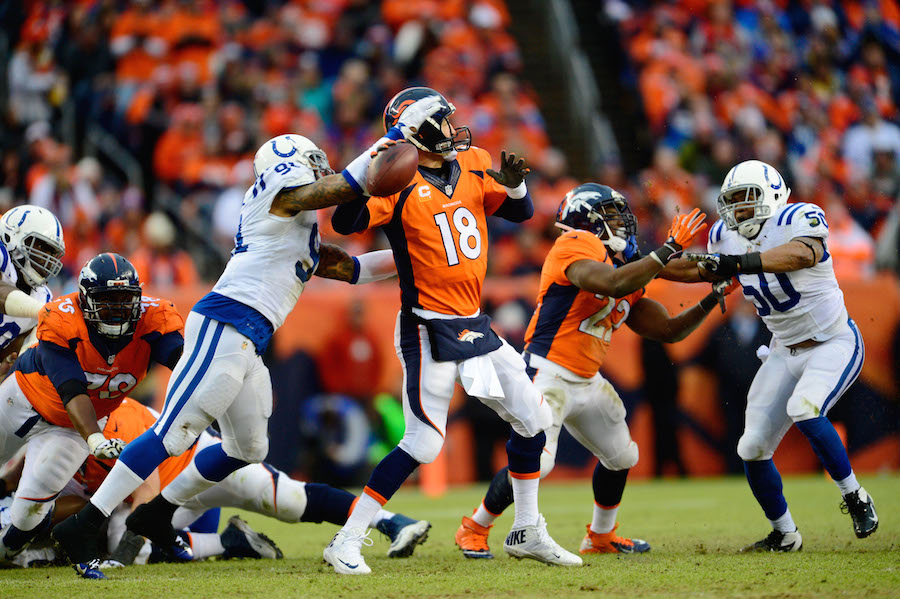 Despite a difficult second half of the 2014 season in which he struggled with a leg injury, Manning led the Broncos to a No. 2 seed and a home Divisional Playoff game against the Colts, whom they'd beaten in Denver once already to open the season.
Manning connected with Demaryius Thomas for the only score of the first quarter, but it was all downhill from there. Manning was strip-sacked and fumbled in the second quarter and passed for just 56.52 percent on the day.
The defining play of the game came early in the third quarter when Manning elected to try and complete a third-down pass to Emmanuel Sanders down the sideline rather than running for what looked to have been an easy first down.
John Elway would go on to say his team didn't go down "kicking and screaming," and while Manning was only one of many culprits, that play was the one fans and the media referenced most often as an example.
Stud No. 1 – Brady vs. Manning, The Final Chapter
Jan. 24, 2016
Patriots 18 vs. Broncos 20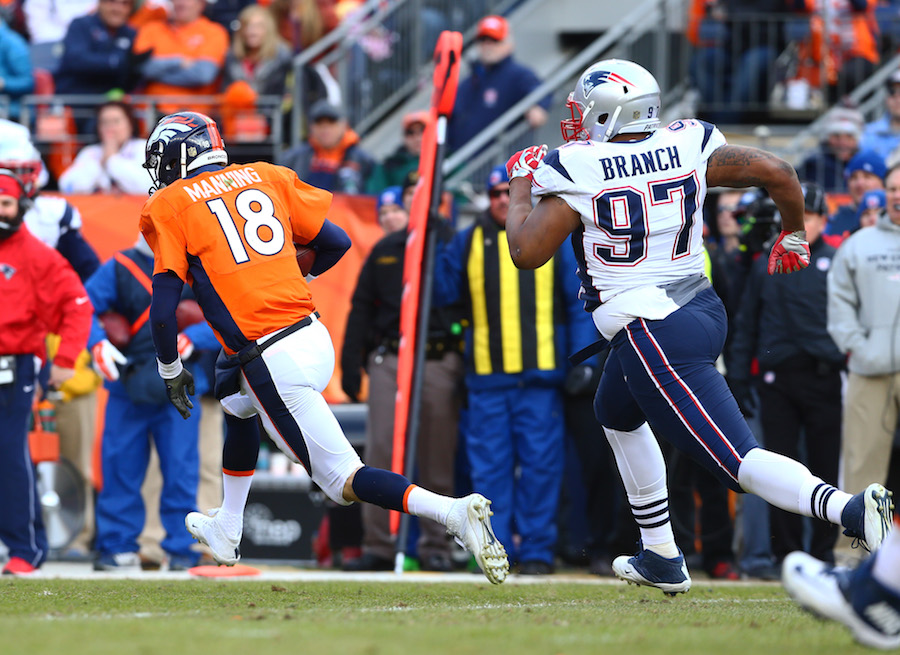 Denver's second AFC Championship against New England in three years was ultimately left to be decided by the Broncos defense, but that was Gary Kubiak's game plan. Manning was asked only to get the Broncos the lead and let their world-class defense do the rest.
Manning did that, but he did more.
The Broncos set the tone with a perfectly executed opening drive to give them a 7-0 lead on a Manning touchdown pass to Owen Daniels. New England soon tied the game, converting a turnover, but Manning returned the favor shortly thereafter with another strike to Daniels. Denver took a 17-9 lead into halftime over the heavily favored Patriots.
Manning exorcised the demons from that playoff loss to the Colts when he took off and ran for a crucial first down midway through the third quarter. The 12-yard run sent a shockwave of energy through the stadium that lasted through the final play of the 20-18 victory (and through the Super Bowl 50 win) and showed that Manning was going out just as his boss had demanded, kicking and screaming.