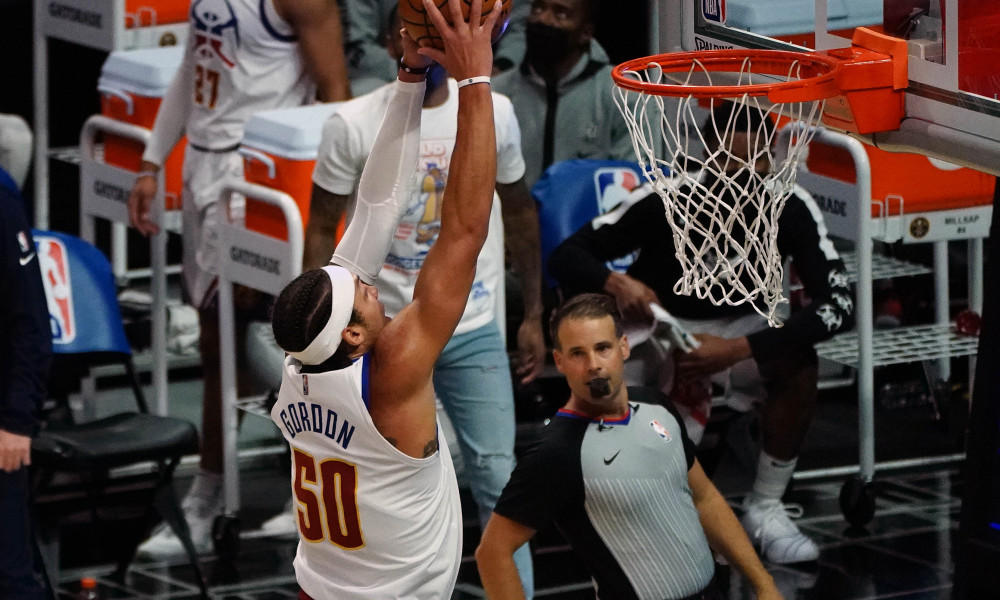 "Soft and scared." 
That's how Aaron Gordon described his teams' performance Monday night after losing game one of the Western Conference Semifinals against the Phoenix Suns 122-105. The Nuggets led by as much as 10 points in the third quarter until the Suns caught fire and closed the third on a 28-9 run to take a 9 point lead.
"This game to me was eerily similar to game one against Portland," Michael Malone said. "I think we had way too many breakdowns tonight from a coverage standpoint. I think seven of their 13 threes they made were from the corners and a lot of that was missed assignments and not communicating. We gave up eight and-ones tonight and had a soft mentality." 
It looked like Denver had things under control for the first two and a half quarters. Michael Porter Jr started firing from three scoring 6 early points to give the Nuggets a 16-9 advantage. Nikola Jokic had 10 points in the quarter on 5 of 6 shooting but then Deandre Ayton went to work with a midrange jumper and a dunk to score 9 points. Jae Crowder was also in attack mode and helped lead Phoenix back to tie it up at 28. 
Second quarter, Malone went to his bench and got some production from his veteran big Paul Millsap who scored 7 points. Porter Jr still had a hot hand and scored another 6 points. He finished the first half with 12. The Nuggets combined for 54 percent shooting from the field  while the Suns shot 46 percent. Mikal Bridges went 2 of 3 from the field for 7 points and Devin Booker had 6. Nuggets had the 58 to 57 lead at halftime. 
The Nuggets opened the third quarter on a 9-1 run. Aaron Gordon wanted to set the tone and was aggressive early. He missed his shot but stayed with it for the put back. Facu Campazzo found Jokic for a three and then Jokic laid in the floater to take a 67-58 lead. The Suns called a timeout and that's where the momentum shifted. Bridges hit back to back three-pointers out of the time out and then Crowder hit a three. Ayton joined the party and scored to help ignite a 10-0 run for Phoenix. 
Denver went scoreless for over 4 minutes and then to make matters worse, Jokic shot an airball. He went 3 of 10 from the field in the quarter. Everything was falling apart. The Suns were shooting 58 percent from the field and 57 percent from the three. The Nuggets on the other hand were 30 percent from the field and 38 percent from three. A complete turn around. Bridges finished the quarter with 13 points to help give the Suns an 88-79 advantage. 
Chris Paul hit 4 of the Suns first 6 shots to open the fourth quarter. He was unguardable. He took over the game in typical CP3 fashion by hitting a couple midrange jumpers and attacking the glass. He went 6 of 6 from the field for 14 points. The Suns as a whole shot 70 percent from the field and went to the free throw line 5 times. The Nuggets shot 50 percent from the field and didn't pay a visit to the free throw line. In fact, the Suns had a 20-6 free throw advantage. Malone says this team has to do a better job attacking so that they can get to the line more. 
"I think when you settle it's hard for a referee to call a foul," Malone said. "Sometimes you got to put your head down and attack that basket and put pressure on that official to make the call and we didn't do that enough tonight but Aaron did."
Despite being down, Gordon kept attacking and scored 12 points in the second half on 5 of 9 shooting. He was the only one making an effort. 
"Can't look until the second half to attack," Gordon said. "It's got to be from the jump. I know my team, they're looking at me to set the tone along with some other people. It got to be from the jump. I can't just wait until the second half to implement that attack mentality." 
The Suns were just too much to handle both on the perimeter and inside. 
Porter Jr. was seen coming out of halftime with a wrap around his back which is very concerning if you're Denver because the last thing this team needs is more injuries. They're already undermanned. 
"I'm always concerned when I see a guy having a wrap on his back," Malone said. "I didn't think in that second half Michael was moving the way that I'm used to seeing him move but I just spoke to him and I think he just tweaked it a bit. He'll get some treatment tonight and all day tomorrow and I full expect Michael to be ready to go come Wednesday."
Every time we've seen the Nuggets get blown out, we've always seen them bounce back the next game so we'll see what adjustments are made for game 2 on Wednesday night in Phoenix.